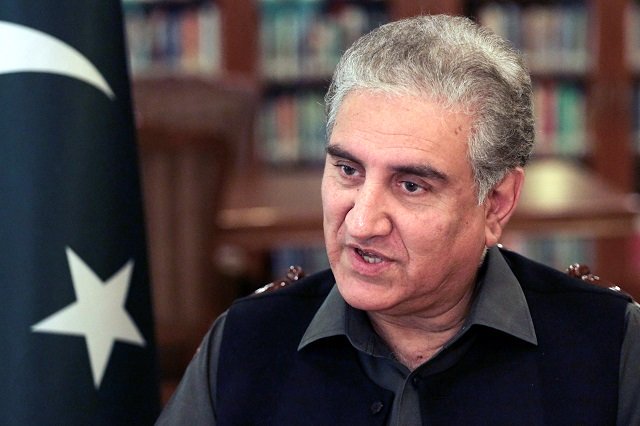 ---
'Terrorism should by no means be used as a tool to malign any country or religion'
FM Qureshi invokes spirit of unity, sense of purpose at int'l level to triumph against coronavirus at SCO summit
---
Foreign Minister Shah Mehmood Qureshi on Wednesday emphasised – while addressing a virtual summit of the Shanghai Cooperation Organisation (SCO) – that tackling terrorism and extremism must continue to be a priority, but terrorism-related allegations must not be used as a political tool to malign and victimise any country or religion.

The foreign minister called on the international community to condemn and hold accountable the perpetrators of state terrorism, including against people under illegal occupation.

He also stressed the importance of rejecting xenophobic ideologies including Islamophobia.

The minister stressed on the need for unity and sense of purpose at an international level to triumph against the coronavirus pandemic. FM Qureshi observed that the world was fighting an unforeseen and unknown enemy.

"In a matter of weeks, the Covid-19 virus has spread like wild-fire, overwhelming communities and health systems, devouring scarce resources, consuming precious lives, and paralysing economies and businesses the world over," said Qureshi.

He added that nothing of this scale and magnitude has been witnessed in a century. Some 4.1 million have been infected and nearly 300,000 have fallen prey to the deadly pathogen, and within days, the world that was known and understood went through a radical transformation.

"Covid-19 continues to assault lives and livelihoods, and paralyse civilisation," said the foreign minister. "On this sombre occasion, I wish to offer heartfelt condolences on the on-going losses. Our travails are common, and our grief is shared. May I also acknowledge with appreciation, the initiative by the Russian Federation to convene this timely meeting," the minister stated.

Qureshi said that he was confident that this video-conference would galvanise the SCO into forging a stronger and more coherent front against the pandemic.

Opposition continues criticism of govt's coronavirus strategy in NA

"This meeting coincides with the 75th Anniversary of victory against fascism, militarism and violent nationalism, and the 75th Anniversary of the founding of the United Nations (UN)," he said, adding that the UN is currently facing among the most serious stress tests to its efficacy.

"It is a matter of satisfaction that the SCO has, since its inception, upheld the UN Charter, and carried forward the baton of multilateralism," Qureshi said.

"As home to 40 per cent world population, and a quarter of its GDP, SCO region has all the technological, material, human and financial resources needed to mount a successful effort to surmount the pandemic," he added.

The foreign minister further added that animated by the Shanghai Spirit of common benefit, mutual trust and mutual respect, the SCO can lead the charge in forging a comprehensive regional response commensurate with the challenge.

"The People's Republic of China in particular offers one of the most effective and successful templates in this fight," Qureshi said.

He said that Pakistan lauds China's responsible handling of the crisis at home, and the generous support extended the world over, including Pakistan, to those in need.

"Since its first case on 26 February 2020, Pakistan has pursued a carefully calibrated policy of containment," he said.

"While expanding our capacity to Test, Trace and Quarantine, Pakistan has been instituting smart lockdowns," he said, adding that a relief force of volunteer youth is being raised to support the needy.

A financial stimulus package of $8 billion had also been announced. Some 12 million families have benefited, the minister said while talking about the country's social safety net programme.

"Those rendered out of work due to lockdowns and slowing demand, are being re-employed in our ambitious 10 billion tree tsunami project," he said. "Incentives packages have been announced for labour-intensive industries to keep the wheels of the economy running."

FM Qureshi added that to strengthen the resilience of the country's health system, the Pakistan Preparedness and Response Plan (PPRP) worth $595 million has been launched.

"At over 30,000 cases and 659 deaths, it is not entirely clear if the situation in Pakistan has peaked," he said. "Although the number of infections is rising, with increased testing, we have not seen an explosive rise in cases, and the number of fatalities have remained limited. We realise though that there is no room to let our guards down."

Lockdown can be reimposed if SOPs not followed: Asad Umar

Perhaps the economic challenge is much graver than the heath that the developing countries face, he said.

"While Pakistan welcomes the debt restructuring measures initiated by the World Bank, IMF and the G20, we feel more will be required," he added.

"The Prime Minister's 'Global Initiative on Debt Relief' for developing countries aims at a comprehensive plan of action of debt relief and restructuring to free up resources, shore up economies and promote sustainable growth."

SCO's role in coordinating Pakistan's response to collectively confront this challenge will be crucial, he stressed, adding that while we grapple with Covid-19, other challenges to regional security must continue to command our attention.

"The US-Taliban Peace Agreement has been a landmark development that raises the hope of restoration of peace and stability in Afghanistan after long decades of war," he said.

The minister further observed, "It is now for the Afghan leadership to seize the historic opportunity and work out a comprehensive and inclusive settlement."

Through the SCO-Afghanistan Contact Group, SCO can play its due role for peace and security at this juncture, Qureshi suggested.

"We welcome the proposed SCO Agreement on Cooperation in countering epidemics as well as the MoU between SCO and WHO. We reaffirm Pakistan's commitment to join the collective endeavours," he observed.

The minister went on to suggest the following at the SCO meeting.

"Firstly, at a normative level, we must acknowledge the primacy of principles of international law and centrality of the UN and its agencies. In the context of Covid-19, there must be no discrimination against any segment of society on religious, racial or ethnic grounds, nor should any community be stigmatised and targeted."

"Secondly, to share best practices and learn from each other's experience, there should be frequent and regular interaction among our ministries of health."

10th NFC agenda tilts in favour of Centre

"Thirdly, we should develop mechanisms for pooling scientific and technical resources for joint research on a vaccine and possible cure for the virus."

"Fourthly, SCO countries should exchange views and perspectives on supporting the economically vulnerable sections of the society. Pakistan's proposal for the establishment of an SCO Joint Working Group on Poverty Alleviation and Center of Excellence merits consideration."

"Finally, we should enhance further cooperation between our hospitals and laboratories and work on formalising the SCO Hospital Alliance."

Urging for unity, the foreign minister said that SCO has the wherewithal to make this happen.