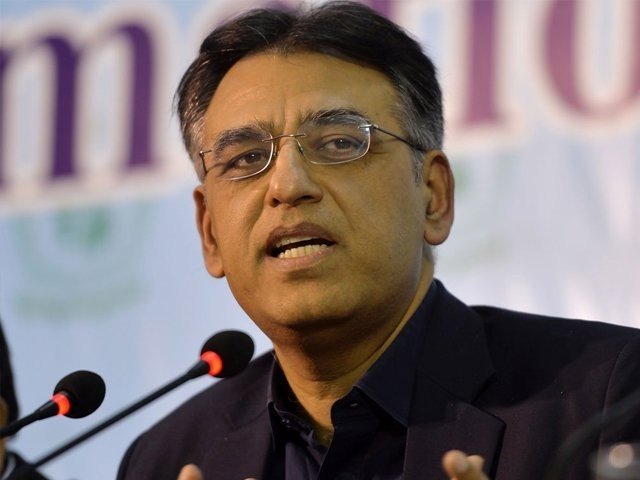 ---
Lockdown can be reimposed if SOPs not followed: Asad Umar
Umar urges the public to understand the gravity of the situation
---
ISLAMABAD: Federal Planning and Development Minister Asad Umar warned on Tuesday that the lockdown can be reimposed if the standard operational procedures (SOPs) are not followed.

While presiding the National Command and Operation Centre (NCOC) meeting, the planning minister expressed concern over the public's complete disregard of maintaining social distance in markets upon easing the lockdown.

"It seems people believe that lockdown has been completely lifted," the minister said. "Do shop for Eid but, do not put your loved ones in danger. I hope that people would understand the gravity of the situation."

On a separate occasion, while addressing a ceremony related to the 'Corona Relief Tiger Force', Umar said the district administration would assign duties to the volunteer force and work in collaboration.

"Tiger Force would assist in monitoring utility and food stores," he said. "They would also help in testing, tracking, quarantine and  gathering data of people in need."

Punjab govt to reimpose lockdown if SOPs flouted

Earlier, Punjab Minister for Industries and Trade Mian Aslam Iqbal has warned that the government would reimpose the eased lockdown restrictions if the traders do not follow the SOPs agreed earlier.

Addressing traders at the Lahore Chamber of Commerce and Industry (LCCI), the provincial minister said the government was making all-out efforts to curb further spread of the novel coronavirus.

If traders would not pay attention to the SOPs, the government would have to take stricter measures which would be painful for everyone, he said.

The minister added that the provincial capital has become a coronavirus hotspot in the country, where local transmission is on the rise and the traders would have to show a sense of responsibility to avoid the reimposition of the lockdown.