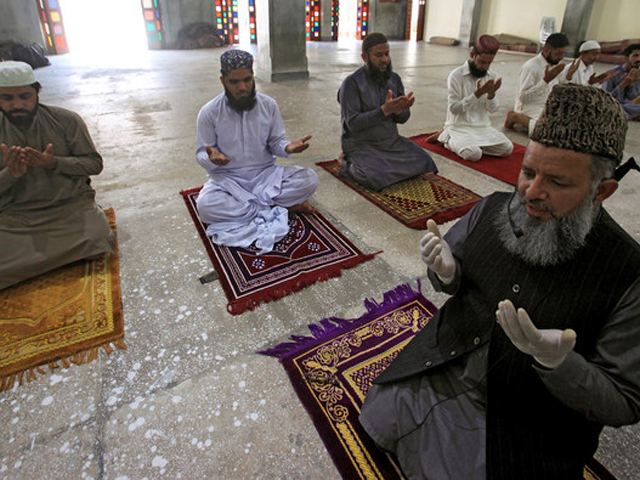 ---
LIVE: Govt bans Youm-e-Ali, Eid congregations as nationwide Covid-19 tally hits 35,392
Interior ministry issues SOPs for last 10 days of Ramazan, Eidul Fitr
---
ISLAMABAD / KARACHI / PESHAWAR / LAHORE / QUETTA / MUZAFFARABAD: The novel coronavirus emerged in the central China city of Wuhan towards the end of last year and proliferated to almost the whole world within a couple of months. ItÔÇÖs not the virulence or fatality, but the infectivity of the new virus ÔÇô also known as SARS-CoV-2 ÔÇô that has set off a global frenzy.

The Covid-19 respiratory illness caused by this mysterious contagion has so far infected more than 4.3 million people in 202 countries and territories of the world ÔÇô and over 295,000 of them have died and counting.

Pakistan, despite its close proximity with China, remained coronavirus-free until February 26 when a young man from Karachi tested positive after returning from Iran ÔÇô one of the worst-hit countries. After a brief hiatus following the first case, Covid-19 cases spiked as more pilgrims returning from Iran tested positive for the virus.

The nationwide tally of Covid-19 patients stands at 35,392 with 13,225 cases in Punjab, 13,341 in Sindh, 5,021 in Khyber-Pakhtunkhwa, 2,158 in Balochistan, 482 in Gilgit-Baltistan, 759 in Islamabad and 94 in Azad Jammu and Kashmir.

The virus has claimed at least 762 lives while at least 8,812 coronavirus patients have recovered.

The situation remains fluid and┬áweÔÇÖre updating stats as soon as new figures are officially released.

Follow┬áThe Express TribuneÔÇÖs live coverage of the pandemic┬áhere.




1:05am: Religious processions, gatherings restricted amid coronavirus fears

The Sindh home department issued a notification on Wednesday clarifying that religious processions and gatherings were prohibited in the province, in the wake of confusion about restrictions on them.

According to the notification, the restrictions on religious gatherings, including Taraweeh, rallies and processions, that were announced on April 23 would remain intact.

It added that the decision had been made in consultation with religious scholars.

Despite the government ban, however, the Majlis Wahdat-e-Muslimeen (MWM) announced that they would go ahead with processions planned to commemorate Youm-e-Ali, which falls on Ramazan 21.

Details here




12:17am: Court orders opening OPDs, emergency wards in Sindh public, private hospitals

The Sindh High Court ordered all government and private hospitals on Wednesday to open their out-patient departments (OPDs) and emergency wards.

A two-member bench, comprising Justice Muhammad Ali Mazhar and Justice Yousuf Ali Sayeed, issued the order over a plea complaining of the unavailability of medical facilities to patients suffering from ailments other than Covid-19. Most hospitals have restricted their operations amid the pandemic.

While the petitionerÔÇÖs counsel cited the example of a policeman, who died on Tuesday due to the unavailability of treatment, the respondentsÔÇÖ counsel maintained that OPDs at private hospitals were functioning as usual.

Read full story here




12:14am: Five more diagnosed with Covid-19 to raise AJK tally to 94

With five more persons testing positive for Covid-19, the total number of patients has risen to 94 in Azad Jammu and Kashmir, health officials confirmed.

69 patients have recovered from the mysterious disease with one death in the state so far.




12:07am: Six more test positive for Covid-19 in G-B

The Gilgit-Baltistan Health Department has confirmed six more cases of coronavirus to raise the regionÔÇÖs tally to 482. Five more patients recovered from the disease in the region.

The virus has claimed four lives and infected 482 people in the region so far.


Daily #COVID19 cases summary in Gilgit-Baltistan #FightCorona #CoronaFreeGB #InshaAllah pic.twitter.com/JZR5lQAgTu

— Health Department Gilgit-Baltistan (@HealthDeptGB) May 13, 2020


12:04am: UN agencies see sharp increase in new cases after lockdown eases

Pakistan recorded a single-day spike of 2,225 new case of Covid-19 on Tuesday, a day after the country embarked in a phased easing of lockdown, according to two situation reports released by the World Health Organisation (WHO) and the United Nations Office for the Coordination of Humanitarian Affairs (OCHA) on Wednesday.

The reports stated that 2,255 new cases of Covid-19 on May 12, represented a 97.80% increase over the 1,140 new cases reported on May 11. The report came as markets across the country reopened on Monday, as the nationwide lockdown was eased.

Read more here




12:02am: Major markets sealed in Karachi over violation of coronavirus SOPs

Several markets in Karachi and Rawalpindi were sealed on Wednesday for not following the standard operating procedures (SOPs) issued by the government to curb Covid-19 infections after easing the coronavirus-induced lockdown and allowing business to reopen.

The moves comes a day after both the federal and Sindh governments expressed their frustration over thousands flocking to shopping centres in the two cities and flouting social distancing and other guidelines to prevent the spread of the pandemic.

In Karachi, the authorities sealed major markets in Saddar and other downtown areas as shopkeepers were neither wearing masks, nor using a hand sanitiser. They had allowed their shops to become crowded in violation of the rules. Besides, the markets were packed with thousands of shoppers who were not following the guidelines either.

Details here




11:34pm: 83 new cases raise BalochistanÔÇÖs Covid-19 tally to 2,239

The Balochistan Health Department, in its daily situational report, has confirmed 82 more cases of coronavirus in the province to bring the tally to 2,239.

The virus has claimed 27 lives while 326 patients have recovered from the disease in the province so far.




11:26pm: 11 more doctors contract coronavirus in K-P

Professional Doctors Association (PDA) has confirmed that 11 more doctors fighting Covid-19 have tested positive for the novel coronavirus in Khyber-Pakhtunkhwa (K-P), bringing the total number of virus-stricken doctors to 160 in the province.

One doctor has succumbed to the deadly disease.

The PDA, in a statement issued on Wednesday, demanded of the government to provide protective kits to doctors and paramedic staff. They also asked the government to announce martyrs package, double salary and risk allowance for the healthcare workers.

Doctors including Niaz Afridi, Muslah-ul-Din, Asghar, Ashiq Mohammad, Rasheedullah, Bakht Buland, Amjad Khan, Mohammad Akram and lady doctors Mrs Ashiq Mohammad and Mrs Fakharuddin have been diagnosed with Covid-19 in the province so far.




10:48pm: Punjab reports first police personnelÔÇÖs death due to coronavirus

A head constable of Punjab police succumbed to Covid-19 as the tally of infected police personnel in the province has reached 233.

According to Additional IG operations Inam Ghani, Shams was a suspected coronavirus patient.

Shams was deputed in Harbanspura police station in Lahore.




10:37pm: Sindh's slow Covid-19 recovery conundrum

Though as many as 606 Covid-19 patients were sent home after recovery on Wednesday - by far the highest number reported in a day yet - this did little to raise Sindh's coronavirus recovery rate, which has been sluggish compared to those of other provinces.

One of the primary factors contributing to the province's slow recovery rate is the increasing burden of re-testing the samples of infected persons on laboratories.

Naturally, as the government increases the province's testing capacity, more and more cases continue to emerge. But at laboratories, the number of tests conducted daily is much higher than the tally of suspected cases screened for the infection every day.

Read more here




10:23pm: Over Rs3.5 billion donated to Corona Relief Fund

More than Rs3.5 billion has so far been donated to the Prime Minister Corona Relief Fund to help the people affected by lockdown in the wake of coronavirus pandemic, Prime MinisterÔÇÖs Focal Person on Corona Philanthropy Drive Khurshid Alam said on Wednesday.

Speaking in a programme of Radio Pakistan, Alam said that the people from all walks of life, government departments, private organisations and philanthropists were contributing to the fund. He added that the prime minister would soon announce start of disbursement of the fund among the deserving people.

ÔÇ£The prime minister wants collection of about Rs20 billion at the initial stage to better help the people, whose employments have been affected because of lockdown,ÔÇØ he said, adding that a database would be prepared on the pattern of Ehsaas Programme to identify the deserving people.

Read more here




9:45pm: Over 730 fresh coronavirus cases surface in Sindh amid lockdown relaxation

The emergence of 731 more coronavirus cases and 16 infection-related deaths in Sindh on Wednesday coincided with Sindh Chief Minister Syed Murad Ali ShahÔÇÖs statement about an ÔÇ£upsurge in coronavirus cases in May, as projected by health experts.ÔÇØ

Keeping in view the numbers of cases and deaths reported as of Wednesday morning, the CM observed that the provinceÔÇÖs virus tally had climbed to 13,341 and its death toll had reached 234.

ÔÇ£This shows that the cases and deaths are still rising steeply, which calls for observing the pandemic standard operating procedures (SOPs) in their true letter and spirit,ÔÇØ he stressed, noting that more cases would be detected if the ambit of screening was expanded.

Read story here




8:50pm: COAS directs army to facilitate people of far flung areas of Balochistan

Chief of Army Staff General Qamar Javed Bajwa on Wednesday directed all commanders to reach out to people in far-flung areas of Balochistan to help mitigate challenges faced by masses due to Covid-19 pandemic, according to a statement of Inter-Services Public Relations (ISPR).

ÔÇ£Balochistan is future of Pakistan and it is our duty to fully assist its government and the people towards a peaceful and prosperous province,ÔÇØ Gen Qamar was quoted by the militaryÔÇÖs media wing as saying during his visit to Quetta.

Read more here




8:45pm: Sindh amends epidemic diseases act

In an attempt to prevent violations of government orders imposed to curb the spread of coronavirus, Sindh Governor Imran Ismail approved the Sindh Epidemic Diseases (Amendment) Ordinance, 2020, on Wednesday, bringing it into force across the province.

According to the ordinance, citizens caught violating orders passed under the Sindh Epidemic Diseases Act are to be fined at least Rs200,000 and up to Rs1 million.

Furthermore, individuals and institutions found responsible for spreading coronavirus would be penalised. For instance, if a Covid-19 patient leaves quarantine and infects another person, or if there is an outbreak in an institution due to an infected employee, they would be fined by the authorities.

Read more here




7:05pm: Govt bans Youm-e-Ali processions, Eid congregations

The Interior Ministry has issued SOPs to all provinces and AJK and G-B for the last 10 days of Ramazan and Eidul Fitr holidays with regards to post May 9 lockdown strategy devised by the National Command and Operation Centre (NCOC).

According to the notification, 20-point SOPs for Taraweeh prayers will remain in place for the last Ashra of Ramazan and for Eid prayers.

It also barred all religious processions in connection with Youm-e-Ali and last Ashra of Ramazan across the country.




6:30pm: K-P reports eight more deaths, 231 new Covid-19 cases in last 24 hours

The Khyber-Pakhtunkhwa (K-P) health department has confirmed eight more casualties ÔÇô four in Peshawar, two in Nowshera, and one each in Khyber and Dir Lower ÔÇô due to coronavirus in the province to raise its death toll to 275.

231 new cases were also reported in the last 24 hours, taking the total confirmed cases to 5,252 in the province.

Moreover, 87 more patients have recuperated from the mysterious disease to raise the total number of recoveries to 1,392 in the province. Number of active cases stands at 3,585.


231 new cases confirmed today taking the total confirmed cases to 5,252 in KP. 8 new deaths were confirmed (4 Peshawar, 2 Nowshera, 1 Khyber, 1 Dir Lower) taking the total to 275. 87 new patients recovered taking the tally to 1,392. Active cases at 3,585. pic.twitter.com/qDEmRiJbz5

— Health Department KP (@HealthKPGovt) May 13, 2020


5:30pm: Sindh launches helpline for people facing mental health issues during pandemic

Sindh Chief Minister Syed Murad Ali Shah has launched Sindh Mental Authority helpline 021 & 022- 111-117-642 established to help and support people facing issues of mental health during lockdown imposed to contain spread of coronavirus.

The initiative has been taken to meet the need of psychological crisis intervention in the context of ongoing coronavirus outbreak, he said. ÔÇ£The coronavirus has developed mental stress, depression, anxiety and other psychological issues among people,ÔÇØ said the CM, adding that people can call anywhere from the province to share their issues with experts.

Earlier, Sindh Mental Health Authority Chairman Dr Karim Khuwaja, while briefing the chief minister, said the helpline has been established with UAN 111-117-642. ÔÇ£If the phone number is dialed with 021-code it will be connected to Jinnah Post Graduate Institute, Karachi and when dialed with code 0221 it will be connected with Sir Cowasjee Jahangir Institute of Psychiatry, Hyderabad. He added that in both hospitals leading psychiatrists will guide the callers.

The helpline facility will be available from 8am to 3pm and the time would be extended as per future requirement.


4:20pm: Private bank branch sealed after employee tests positive 

A branch of a private bank in the Parliament House has been sealed after an employee tested positive for Covid-19.

The remaining employees were also tested.


3:45pm: Asad Umar stresses need to follow SOPs

Minister for Planning and Development Asad Umar stressed the importance of following standard operating procedures (SOPs) in order to contain the spread of the virus.

Although the lockdown has been eased, the threat of the pandemic still exists, the minister added.




3:10pm: FM Qureshi emphasises unity at international level to combat Covid-19

Foreign Minister Shah Mahmood Qureshi emphasised the importance of unity and sense of purpose at the international level to combat the virus.

Addressing a virtual SCO-CFM meeting, he said there must be no discrimination against any segment of society on religious, racial or ethnic grounds.

He further maintained that there should be frequent interaction between health ministries to share experiences with one another.

The foreign minister said we should develop mechanisms for pooling scientific and technical resources for joint research on a vaccine.


2:30pm: Punjab reports 1,356 new cases

Punjab reported 1,356 new cases, raising the provincial tally to 13,225.

Out of the 1,356 new cases, 816 emerged from Lahore.

The province's death toll stands at 214, while at least 4,452 patients have recovered.

140,212 tests have been carried out since the start of the pandemic in the country.




2:05pm: PSF, HEC to join hands to study affects of Covid-19 on industries

Federal Minister for Science and Technology Fawad Chaudhry said the government is launching a joint study of Pakistan Science Foundation (PSF) and Higher Education Commission (HEC) to ascertain how the coronavirus will affect the country's industries, which new industries will emerge and which will collapse.

In addition, HEC will issue guidelines to universities to reset their degree plans according to future industrial needs.



Launching a joint study of Pak Science foundation and HEC to ascertain how #coronavirus ll effect Pak Industry, which new industries ll emerge and which to collapse, HEC shall then issue guidelines to Unis to reset their Degree plans according to future industry needs.

ÔÇö Ch Fawad Hussain (@fawadchaudhry) May 13, 2020
1:50pm: Protective items from China have arrived, says NDMA chairman

The National Disaster Management Authority (NDMA) Chairman Lt Gen Muhammad Afzal said protective items from China have arrived via 11 flights.

"We are working with the health ministry since March 13. We have completed the task of setting up a 300-bed quarantine centre in Islamabad," he said.

He further added that N95 masks are being locally prepared and all needs are being met, except for ventilators.

Lt Gen Afzal said committees have been formed for the preparation and procurement of items to curb Covid-19. He said committees are responsible for distributing the items.


1:30pm: Sindh reports 731 new cases

Sindh health authorities said in the last 24 hours, 4,223 tests were carried out and 731 persons tested positive. The province's tally stands at 13,341.

Out of the 731 new cases, 585 emerged from Karachi.

Sindh Chief Minister Murad Ali Shah said 16 patients succumbed to the virus, taking the province's death toll to 234, while at least 606 patients recovered.


1:15pm: Education minister responds to former PM's accusations

Federal Minister for Education Shafqat Mahmood said yesterday's Senate session was an attack on the government, instead of a discussion on how to deal with the pandemic.

The minister responded to the accusations of not taking provinces on board while making imperative decisions and said the premier had formed the National Coordination Committee (NCC) and National Command and Operation Centre (NCOC) where all the representatives of the provinces are present.


1:00pm: Former PM criticises govt for making decisions alone

Former prime minister Shahid Khaqan Abbasi criticised the government for not taking provinces on board while making decisions.

During a National Assembly (NA) session, he said the opposition is willing to work with the government. He urged them to form a unified strategy to fight the coronavirus.

"People of Pakistan are laughing at this parliament," Abbasi said, adding that there should consistent awareness campaign, a strategy to deal with the crisis, containment strategy and economic management policy.

Abbasi said that the rise in Covid-19 cases is unprecedented.

"We have a 19 per cent infection rate," he said. There is no testing or treatment protocol. People are getting tested randomly."

"On March 3, the federal cabinet decided not to give personal protective equipment (PPEs) to the provinces and then they question our behaviour," Abbasi said.


12:20pm: NCOC discusses lockdown decisions, SOPs, ventilators

The National Command and Operation Centre chaired by Federal Minister for Planning and Development Asad Umar.

The meeting discussed the opening of shops and markets and adherence to standard operating procedures (SOPs) and timing, the implementation mechanism of provinces, lockdown decisions, need assessment for critical medical equipment, city-wise demand and requirement of ventilators.

It also discussed resuming domestic travel and an update from medical experts.



Under the Chair of Asad Umar, meeting of NCOC discussed following points as part of the agenda

1. Ground situation with respect to opening of shops/ Markets and adherence to SOPs/Timing
2. Implementation mechanism of provinces ÔÇô Post 11 May lockdown decisions#COVIDÒâ╝19
1/3 pic.twitter.com/klK5dkoxhx

ÔÇö Prime Minister's Office, Pakistan (@PakPMO) May 13, 2020
 
11:25am: FM Qureshi to participate in SCO-CFM to discuss Covid-19

Foreign Minister Shah Mahmood Qureshi will participate in a virtual meeting of the Shangai Cooperation Organisation (SCO) Council of Foreign Ministers (SCO-CFM) to discuss the pandemic.

The conference will allow countries to develop a united response to Covid-19 at the SCO level.


11:00am: More than 200 stranded Pakistani students in US repatriated

The United States (US) Embassy in Islamabad thanked Pakistani authorities for facilitating flights to repatriate stranded Pakistani nationals in the US.

More than 200 exchange students in the US have returned to Karachi and Lahore.



Welcome home! @StateDept, @USEFP, @iEARNPAK, @iEARNUSA & @usembislamabad worked together to recently bring more than 200 Pakistani #exchange students in the United States back to #Karachi & #Lahore. Thanks to the Pakistani authorities for facilitating the flights. #ExchangeAlumni pic.twitter.com/bqy0mr8Mme

ÔÇö U.S. Embassy Islamabad (@usembislamabad) May 13, 2020
10:40am: FATA senator tests negative for Covid-19

Federally Administered Tribal Areas (FATA) Senator Mirza Muhammad Afridi has recovered from the coronavirus and tested negative.


10:20am: NDMA distributes relief goods to K-P, AJK

The National Disaster Management Authority (NDMA) has distributed medical equipment to Khyber-Pakhtunkhwa and Azad Jammu and Kashmir.

52,500 face masks and 25,473 others, including N95 masks, were distributed to hospitals in K-P, while AJK received 10,500 face masks and 5,095 others.

K-P also received 31,278 protective suits, 28,875 pairs of gloves and 7,917 shoe covers, while hospitals in AJK received 6,256 protective suits, 5,775 pairs of gloves and 1,583 pairs of shoe covers.

The NDMA distributed 1,995 surgical caps, 4,200 face shields and 2,940 safety goggles to K-P and 400 surgical caps, 840 face shields and 588 goggles to AJK.

Doctors in K-P received 2,100 surgical gowns, while 420 were distributed to those in AJK.

The distribution of medical equipment to Sindh, Punjab and Gilgit-Baltistan is still in process.


9:40am: Punjab minister urges traders to fully implement SOPs

Punjab Minister for Industries and Trade Mian Aslam Iqbal said the government has opened markets on the request of traders, but traders did not live up to their expectations.

The minister urged traders to fully implement standard operating procedures (SOPs) and to depute security guards at entry points of markets.

He appealed to the masses to avoid bringing children to the markets.
9:00am: Pakistan reports 2,255 new cases

After Pakistan reported 2,255 new coronavirus cases, the nationwide tally jumped to 34,336.

In the last 24 hours, 31 persons succumbed to the deadly disease, raising the country's death toll to 737, whereas at least 8,812 patients have recovered.


8:40am: Alvi asks medical universities to research Covid-19

President Dr Arif Alvi has asked medical universities to research on the coronavirus, while following international research standards.

He called on vice-chancellors of medical universities in Islamabad.

The vice-chancellors briefed the president about healthcare initiatives taken by medical universities.

The meeting was informed that medical universities have established an information technology infrastructure to provide online education.

Alvi lauded the role of healthcare professionals and medical universities in the wake of the pandemic.


8:20am: Usman Dar lauds volunteer work by masses

Special Assistant to the Prime Minister on Youth Affairs Usman Dar lauded the masses for volunteering to help those affected by the pandemic by joining the Corona Relief Tiger force.

He appreciated efforts of the civil administration of Punjab and Khyber-Pakhtunkhwa (K-P) for actively engaging volunteers.


7:50am: 'Govt focusing on reviving the economy through industrial, construction sectors'

Minister for Power Omar Ayub said the federal government is focusing on opening the industrial and construction sectors in an attempt to revive the country's economy.

He said the government is working towards helping those affected by the pandemic, particularly te daily wage workers and labourers.


7:30am: Ali Nawaz urges political parties to join hands

Special Assistant to the Prime Minister on Capital Development Authority (CDA) Affairs Ali Nawaz has urged the country's political parties to join hands to contain the spread of the virus.

He said the federal government is taking provinces on board in the decision-making process to cope with the pandemic.