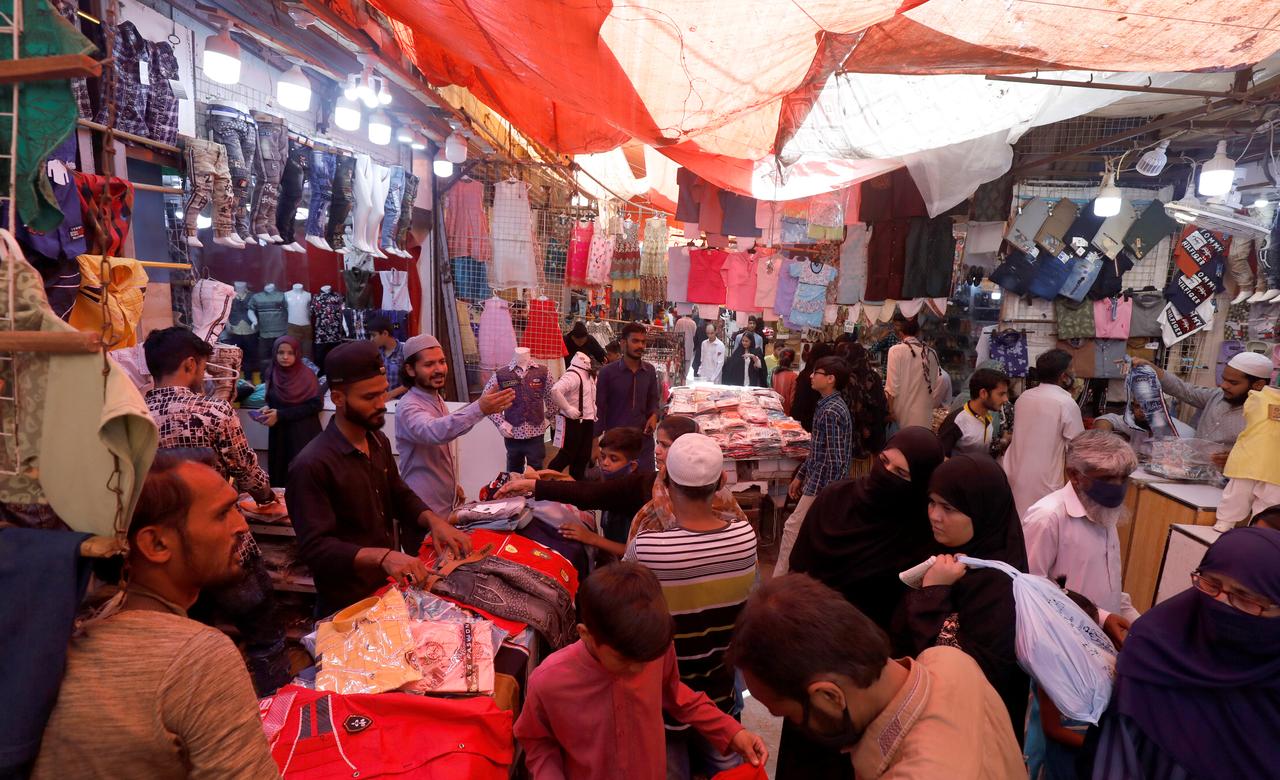 ---
Punjab govt to reimpose lockdown if SOPs flouted
Shopkeepers directed to invest in precautionary measures
---
LAHORE: Punjab Minister for Industries and Trade Mian Aslam Iqbal has warned that the government would re-impose the eased lockdown restrictions if the traders do not follow the standard operating procedures (SOPs) agreed earlier.

Addressing traders at Lahore Chamber of Commerce and Industry (LCCI), the provincial minister said the government was making all-out efforts to curb the further spread of coronavirus. If traders would not pay attention to the SOPs, the government would have to take stricter measures which would be painful for everyone, he said.

The ministers said the provincial capital has become a coronavirus hotspot in the country where local transmission is on the rise and the traders would have to show a sense of responsibility to avoid re-imposition of the lockdown.

"We have opened the markets but the business and trade community did not live up to our expectations. The provincial capital has become a coronavirus hotspot in the country where local transmission is on the rise," the minister warned.

"Traders will have to show a sense of responsibility. God forbid if some coronavirus case surfaces in shops the government would have to seal the shop and quarantine the entire staff," the minister said.

"I am well aware of the situation how traders and shopkeepers are opening their businesses in Anarkali, Mochi Gate, Icchra, Township and other areas," he said, adding it was a horrible spectacle that small shops are being crowded and putting citizens' lives at great risk.

He asked traders to show a sense of responsibility by providing hand sanitisers and masks to their customers. Instead of paying bribes in the police station, traders should spend on precautionary measures.

Iqbal highlighted that office-bearers of the big shopping malls association, the other days, had assured him that they will provide free facemasks and hand sanitisers to all their customers. They also agreed to keep their food courts and play areas closed to maintain social distancing. They also committed to bear all medical treatment expenses if any of their customers or shopkeepers got infected despite all precautions.

LCCI President Irfan Iqbal Sheikh, who also owns a big retail chain, agreed with the minister. He said that coronavirus cases have surfaced in a few markets and these markets will be closed. He also urged traders to fully implement the agreed SOPs and depute security guards at the entry points of the markets.

Meanwhile, small traders' representatives demanded that the government allow retail businesses to operate round the clock to avoid undue crowding. Addressing a news conference at the Lahore Press Club, Anjuman Tajran Lahore General Secretary Naeem Mir and Mall Road Traders Association's Sohail Butt underscored that 9am to 5pm business hours were suitable for wholesale markets but it was not feasible for retail markets, especially Eid related business.

Mir said the government should instruct deputy commissioners to issue a fresh notification with revised working hours schedule for retail markets across the province. The government's decision to keep retail business closed for three days a week is also not justifiable and not acceptable to small traders. "Traders are ready to cooperate with the government because we understand that we cannot fight with coronavirus but take precautions to save ourselves," he maintained.

He said earlier the government had agreed that it would constitute police-traders liaison committees to implement SOPs but this idea had not yet materialised. The government should immediately constitute these committees and empower them to take action if they witness any violation of the SOP, he said.

Published in The Express Tribune, May 13th, 2020.