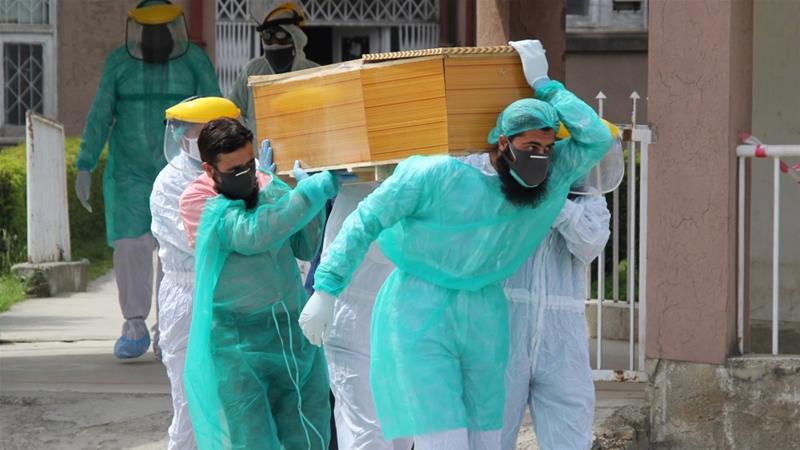 ---
Sindh reports 18 more Covid-19 deaths
CM Syed Murad Ali Shah warns of tightening the lockdown again if people continue to violate SOPs
---
KARACHI: Expressing ire over the reports of violations of standard operated procedures (SOPs) issued in connection with the coronavirus pandemic, Sindh Chief Minister Syed Murad Ali Shah warned on Tuesday that if people continued to disregard government instructions, he would be left with little choice but to tighten the lockdown again.

The warning came in the wake of Sindh reporting 593 more coronavirus cases and 18 more virus-related deaths- highest in a day yet- as of Tuesday morning.

In a video statement, the CM said that he had agreed to ease the lockdown after he had received assurances from traders that SOPs would be followed in true letter and spirit during a meeting on Sunday last week. "[But] I am sorry to say, I have received reports that nobody, including traders, has been following the SOPs," he added. "If people continue to disregard the SOPs, I would have no option but to toughen the lockdown and [again] impose restrictions on business activities."

"Why are you [people] going out without any valid reason?" he asked. "We all will have to adapt to a new pattern of life in the Covid-19 era…. I do not want to tighten the lockdown, but you [citizens] fail to realise the severity of the pandemic which has spread throughout the country, making it necessary for all of us to abide by SOPs," he further stated, fearing that otherwise, the healthcare system might collapse under the growing burden of Covid-19 cases.

He maintained that the SOPs for traders was devised with the aim to curb the spread of the infection and save people's lives, and hence, it was mandatory for all, including traders and buyers, to observe them.

Coronavirus prevalence

On a different note, the CM said that after the emergence of 593 more cases, the province's tally had climbed to 12,610 and with 18 more deaths, the Covid-19 death toll in Sindh had reached 218.

Besides, he said, 10,613 patients were under treatment in the province, of whom 8,668 were isolated at their homes, 915 at isolation centres and 590 at different hospitals. Among them, 82 patients, including 14 on a ventilator, are in critical condition, he added.

The CM said that of 593 new cases, 412 belonged to Karachi, of which 124 were reported from South district, 92 from East district, 63 from Central district, 51 from Korangi district, 45 from West District and 37 from Malir.

Apart from these, 41 cases were diagnosed in Jacobabad, 24 in Hyderabad, 22 in Ghotki, nine in Sukkur, four in Tando Allahyar, three in Larkana, and two each in Tando Muhammad Khan and Khairpur, he stated.

He said that 68 patients were sent home on Tuesday after recovery, raising the total number of recovered patients to 2,149.

Published in The Express Tribune, May 13th, 2020.