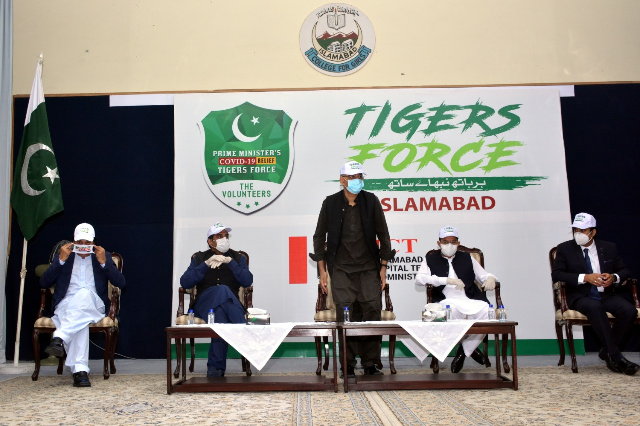 ---
PM Imran issues guidelines for Tiger force
Asad Umar addresses launching ceremony of the force in federal capital
---
ISLAMABAD: Prime Minister Imran Khan issued guidelines to the provincial chief ministers and chief secretaries regarding the Corona Relief Tiger Force constituted to dispatch relief efforts across the country during a high-level meeting on Tuesday.

"The volunteer activities of Tiger Force should be expanded and the force should be mobilised at district, tehsil and union council levels. Besides, the volunteers could assist in Ehsaas Labour Registration Programme," said the prime minister, issuing directives to ensure smooth coordination at the administrative level.

The attendees of the meeting included Punjab and Khyber-Pakhtunkhwa chief ministers, chief secretaries and commissioners of the four provinces who participated through video link.

A weekly report regarding the activities of the force at the provincial level was presented to the prime minister during the meeting.

Hailing the efforts of the volunteers, the prime minister said, "The brave youth of Tiger Force are the asset of the country and our heroes who have spared time for the needy in a difficult time of the pandemic."

Besides, Minister for Planning, Development and Special Initiatives Asad Umar addressed the launching ceremony of Corona Relief Tiger Force activities in the federal capital.

Tiger Force unwilling to work without 'compensation'

Umar warned people the government would implement complete lockdown again if they failed to act in a responsible and cautious manner in the wake of Covid-19.

"People apparently take the decision of easing the lockdown casually by freely visiting markets and other places without any purpose," said Umar during his address.

"After witnessing public rush in the markets, it seems that the virus has vanished away and the situation has become normal," he said, adding the threat of the virus still existed and it could even aggravate if the people did not follow precautionary measures.

He said the prime minister had decided to ease the restrictions only for the sake of the poor people who were unable to earn their livelihood during the lockdown.

The minister paid special tributes to the Tiger Force who expressed their determination in supplementing the relief activities of the government.

Sharing the views of the prime minister, he said, "The PM is leading the activities against the coronavirus in the country and he wants people to play active role in curbing the spread of virus."

The minister expressed satisfaction on the situation in hospitals terming it 'under control' and hoped it would remain the same in the future.

He urged people to prepare for Eid with utmost responsibility to stem the spread of coronavirus in the country.