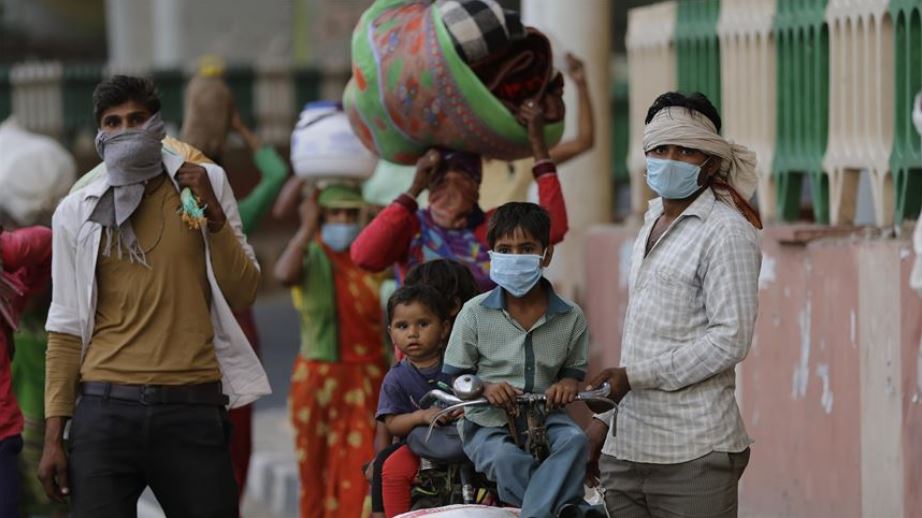 ---
Pandemic hits India's poorest trying to return home
The Modi government last week announced that special trains to ferry migrant workers
---
NEW DELHI: "I saw my companions die in front of me. I'll never forget the scene of the accident," Shivmaan Singh, one of the four survivors of a train accident in India said.

At least 16 migrant laborers were mowed down by a goods train near Aurangabad in the western state of Maharashtra on May 8. The workers were walking along the railway tracks on their way home in the central state of Madhya Pradesh, hundreds of kilometers away. A freight train plowed through them at daybreak.

"We worked in an iron company in Jalna near Aurangabad and hoped to catch a special train for our native state Madhya Pradesh from Aurangabad," said Shivmaan to Anadolu Agency.

"We had set out on foot to reach Aurangabad and had covered about 36 kilometers [22.3 miles] but were so exhausted that we fell asleep on the rail track. I was sleeping a little distance away. But I woke up and frantically raised an alarm when I heard the sound of a fast-approaching train early the next morning. But my shouts went unheard."

The workers thought that all train services had been suspended during lockdown to curb the bead of the novel coronavirus. But, they did not know that goods trains were still operating.

Special trains

The Indian government last week had announced that special trains to carry "Shramik" migrant laborers workers who wanted to urgently return home after 40 days of lockdown. But, many despairing laborers have started walking back on their own due to delays in getting required clearances.

The lockdown has closed public transportation, trains and flights, in a bid to prevent people from traveling, and has rendered millions jobless across the country. India implemented a three-week nationwide lockdown on March 24 to curb the spread of the virus. The lockdown was extended until May 3 and has again been extended until May 17.

According to figures compiled by the New Delhi-based SaveLIFE Foundation, an organization working to improve safety on roads, shows that 73 migrant workers have lost their lives while returning home.

Foundation chief Piyush Tewari told Anadolu Agency that a large number of workers "are dying on the roads before they can reach home. Besides, many of them are also dying in accidents."

The pandemic has hit the poorest workers the hardest in India, with locked factories and other workplaces leading to massive internal migration as laborers try to return to their hometowns. Some states have tried to stop workers from returning home, while in others there were reports of stampedes towards train and buses, despite many workers lacking even the money to buy food, let alone fare.

Taking flak for charging workers' return journeys, the government recently said those returning to their hometowns would not have to pay for their bus or train trips.

Special trains were reserved in different stations across the country on May 1 for the first time since the lockdown was introduced on March 25 to transport the workers home. These trains are intended to help millions of workers, and others stranded by the lockdown, return home.

However, a large number of workers have not been able to board these trains and are setting off on their arduous and hazardous journeys on foot, with a large number of having lost their lives along the way.

Dying on road

Migrant laborers going home have been forced to walk hundreds of kilometers on highways and over 35 migrants were accidentally hit by automobiles in different incidents since the lockdown began. Many others have died due to hunger or exhaustion.

Laborer Santraj, 32, was a resident of Malharganj in the northern state of Uttar Pradesh. He worked in a factory in Palghar, Maharashtra. He set on foot for his home but his condition suddenly worsened when he reached close to a toll plaza in Rajgarh district of Madhya Pradesh on way to his hometown.

He died before medical treatment could be provided to him. Daytime temperatures have gone up above 40 C (104 F) in most parts of the country.

In Surat city in the western state of Gujarat, hundreds of migrant workers from Odisha state breached lockdown restrictions on May 7 and hit the streets after learning that the Odisha government had withdrawn permission given to the three trains coming from Surat carrying migrant workers.

The anxious workers left only after officials told them that as per court orders, only those testing negative for coronavirus would be permitted to board the Odisha-bound trains. Powerlooms and textile units in Surat employ thousands of people from Odisha and other states who are now jobless and stranded because of the lockdown.

An official statement of the Indian Railways said that since May 1, 302 Shramik special trains were operated to transport over 304,000 migrant workers, students, pilgrims and tourists stuck across India due to the nationwide lockdown to their home states.