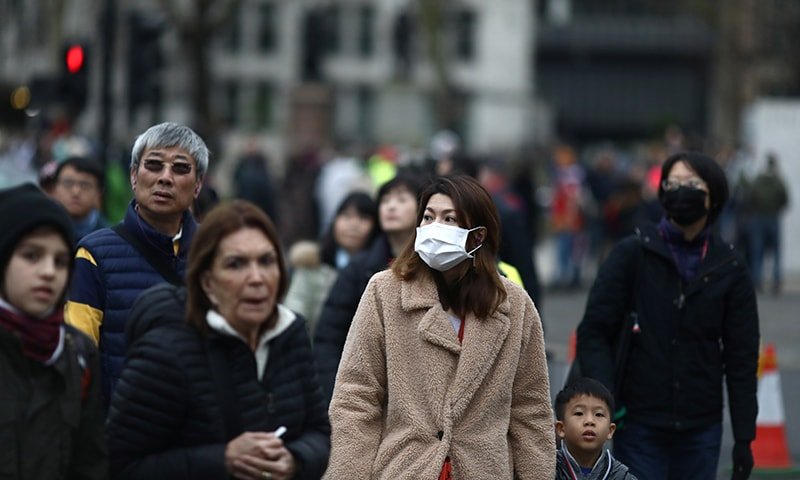 ---
No mask, no shopping in Hazara division
Implementation of SOPs ordered after lockdown ease
---
ABBOTTABAD: To get more people to wear a face mask when out in public, the Hazara division police on Monday launched a campaign whereby people will not be allowed to shop or even buy fuel if they are not wearing a mask.

The drive comes as the provincial government lifted lockdown restrictions, imposed to curb the spread of the novel coronavirus (Covid-19).

With the slogan, 'No mask no shopping and no mask no petrol', the campaign was officially launched in the eight districts of Hazara division by the police on Monday.

SOPs cast away as shops reopen in Karachi

Hazara Region Deputy Inspector General (DIG) Police Qazi Jamilur Rehman, who launched the campaign, explained that "the objective of this campaign is just to protect the public from Covid-19 and create awareness so that people protect their families from this pandemic."

He further directed all District Police Officers (DPOs) to ensure the implementation of precautionary measures in their respective districts.

The DPOs were further directed by DIG Rehman to ensure that all traders abide by the standard operating procedures (SOPs) listed by the government, including the use of face masks and sanitisers while refusing to sell anything to a customer who is not wearing a mask.

Similarly, more than five people should not be allowed to enter any shop at a time for maintaining physical distancing. Strict action will be taken against people violating the SOPs.

The Hazara police chief also asked the DPOs to further direct DSPs and SHOs to create awareness in their respective areas. Furthermore, he asked officials to make announcements that no one will be allowed to move in markets if they are not wearing masks.

Mask may become mandatory in K-P

Similarly, all fuel stations in the region have been directed to follow these instructions by ensuring that their workers use masks and do not provide fuel to any vehicle owner who does not wear a mask.

To ensure that the instructions are being implemented, special teams will be constituted to monitor the activities and will be required to submit daily reports, he added.

DIG Rehman also asked the traders to take precautionary steps after relaxation in the lockdown as difficulties will be increased for police as well as traders who may become more vulnerable.

Published in The Express Tribune, May 12th, 2020.