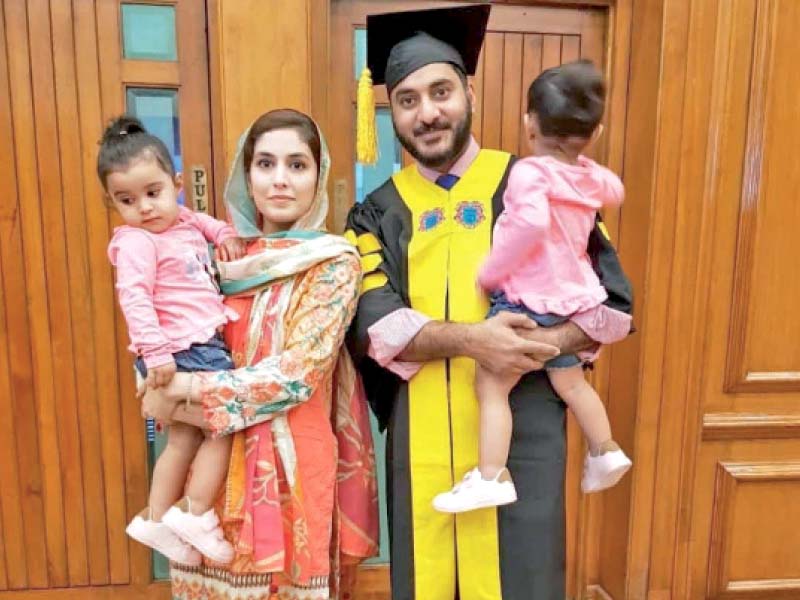 ---
LAHORE: As a nuclear imaging trainee at Lahore's Shaukat Khanum Memorial Cancer Hospital, Namra never thought that her line of work could one day place her on the frontline of a global pandemic. However, when she and her team were summoned to a meeting with the hospital's Chief Medical Officer (CMO), it was evident that time had come for the nuclear medicine physician to stand by her Hippocratic Oath.

"Duty in the coronavirus camp starts tomorrow!" the CMO notified. The mother of two couldn't help but feel a slight tremor run down her spine, as the full extent the chief officer's words began to sink into her conscience. "I remember I couldn't get any sleep that night, I just stayed up looking at my twins as they lay nestled between me and my husband," recalled Dr Namra.

'Bilawal should avoid point scoring on pandemic'  

"It felt as if time stood still as one unnerving thought after another raced through my mind, but I was aware of my responsibility and knew what I had to do," she added.

Testing positive

It had been a month working in the camp and nothing appeared to be slowing down. While the sweltering heat and the month of Ramazan had made shifts nightmarish, Namra was now beginning to feel growing dryness in her throat. For the first few days, the physician dispelled her misgivings of working in a high-risk facility and associated the coarseness to fasting and the lack of hydration. But when the hot beverages could not soothe the throat, the worst of Namra's fears came life in the form of frequent dry coughs. "It was then that I realised that my health has been compromised." After discussing the situation with her team leads, Namra decided to take the Covid-19 test, half hoping that the results will do away with her mounting anxieties. "I was glad that my babies were already at their grandparent's place, which I had avoided visiting out of precaution," she with a sigh of relief.

However, much to Namra's dismay, she had tested positive for Covid-19 on May 2, and the next 14 days of her life, as she recalls, were to be brimming with uncertainty. "My voice quivered as I picked up the phone to inform my husband, who himself is a surgeon. It was all too unnerving but I had to act braver than I was for my family," she called to mind.

Did pandemic start earlier than we think?

Road to recovery

As Namra's anxieties grew, the first few days of her treatment were spent self-counselling. As a mother and wife, her fears revolved around being separated from her family or infecting them.

"I was relieved that my babies are safe at their grandparents' house, but it was my husband who took care of me while I was isolated at my residence. Although, as a doctor himself, he would consider all precautions when taking my vitals, I couldn't help but be worried for him."

However, where Namra's symptoms were disappearing one end, she could feel her mental health spiraling on other. Noticing the change, her husband made a leap of fate; choosing love over logic and decided to isolate with her for the rest of the recovery period. "As terrifying as the probable consequences were, the presence of my husband by my side gave me the strength that I needed to fight the voices in my head and after nine days in turmoil, I'm finally on the road to recovery," she expressed.

With additional reporting by Muhammad Phaseeh Ul Haque 

Published in The Express Tribune, May 12th, 2020.