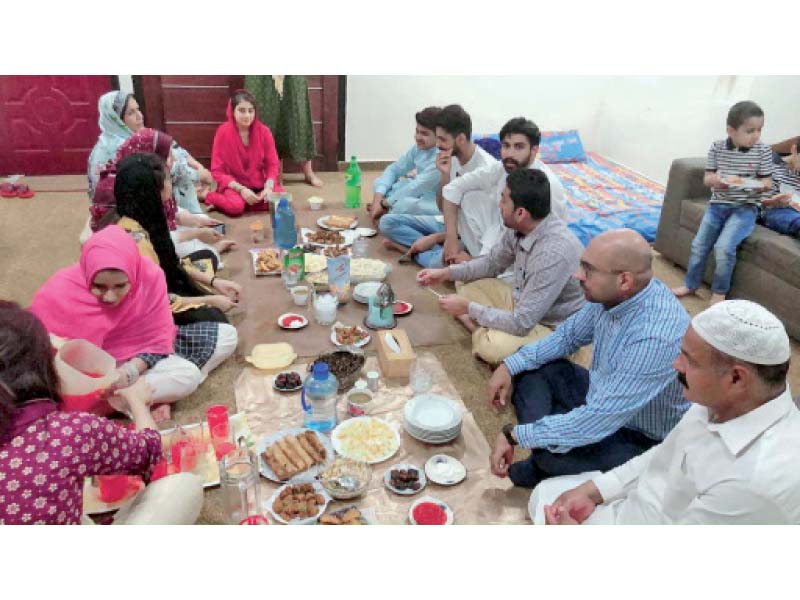 ---
Gatherings ban fails to stop Iftar parties
Families claim taking precautionary measures, including use of sanitiser
---
LAHORE: Iftar gatherings have been banned during the month of Ramazan due to the coronavirus pandemic, but a number of families are arranging parties in each other's homes in which their members participate to share their happiness and pain.

Saleem Raza, a resident of Central Park, Ferozepur Road, had arranged Iftar for his family at his home. He had invited his married sons and daughters to the Iftar, due to which they were very happy.

Ghazal Jazib, the wife of his eldest son Jazib Ali, was also helping the family in preparing Iftar, although she was a guest on the occasion. Ghazal said that life had become colourless and difficult because functions were banned, markets were closed and she could not go out due to the lockdown enforced to curb the contagion. "In this suffocating city environment, Ramazan has brought the traditional activities in households," she told The Express Tribune.

Saudi Arabia forms police unit to enforce coronavirus curbs

She added that this was the first social event in the last one and a half months in which she was participating. "It is very exciting because everyone in the family has come."

Jazib told The Express Tribune that he did not get a chance earlier to meet and sit together with his parents and siblings due to work and business commitments but it was possible for him to do so during Ramazan. "Today me, my brother and other members of the family gathered at my father's house and here we are sharing happiness and sorrow." The head of the house, Saleem, commented that he was relieved on the occasion because his sons and daughters-in-law were all together after a prolonged period.

Spending valuable time with his family members, he further said that the greatest joy for him was that he was playing with his grandchildren. "I do not get this opportunity on normal days. Everybody gathers for Eidul Fitr or any other occasion of happiness and this is the only time I see my grandchildren."

He maintained that public gathering was banned due to the coronavirus but they had taken care of the precautions too. "Everyone, including children, has washed hands with sanitiser and soap and the home was also disinfected with spray."

Iran allows prayer gatherings in areas seen as low coronavirus risk

On the other hand, many families get a chance to eat and drink together for a whole month during the month at joint family dinners.

Hafeez Chaudhry, a resident of Model Town, said that he and his three brothers live in the same house with their parents. The three elder brothers are married while the younger brother is unmarried.

There were two portions of the big house in which the family resides. The extended family lives in the same house divided into portions with separate kitchens.

All families cook according to their likes and dislikes. When the month of Ramazan begins, the distance between the families comes to an end. They close down their separate kitchens and all food is prepared in the kitchen of Hafeez's mother.

Published in The Express Tribune, May 12th, 2020.