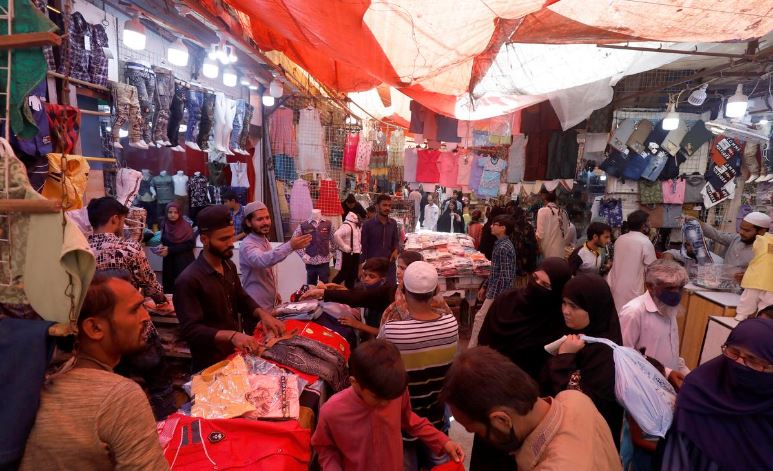 ---
SOPs cast away as shops reopen in Karachi
Customers throng markets as business activities resume
---
KARACHI:

As thousands of people thronged shops and businesses across the metropolis on the first day of resumption of business activity in the province, the standard operating procedures (SOPs) devised by the Sindh government were seemingly swept to the side without a worry about the spread of the coronavirus.

Large crowds flowed into retail markets in Saddar, Gulshan-e-Iqbal, Tariq Road, Liaquatabad, Jamia Cloth, Light House, Denso Hall and other areas, with few among them – not even the shopkeepers – wearing the mandated masks. Meanwhile, though public transport continues to be suspended as per government orders, rickshaws were openly plying the road in blunt violation, carrying as many as five or six passengers at a time..

According to the SOPs issued by the Sindh home department, shopkeepers were not to cater to any customers without face masks, while also ensuring that a distance of at least six feet was maintained between each person.

"Shop owners may only deal with one customer at a time and must provide masks and disposable gloves to all employees, while also displaying posters about precautionary measures inside and outside their shops," stated the SOPs, adding that the retailers must keep hand sanitisers in their shops and check the temperatures of customers and staff with thermal guns. With few exceptions, though, shops across the city lacked these necessary facilities.

The regulations also prohibited physical contact, such as handshakes and other greetings, between workers and customers. This, too, was ignored as people greeted each other with gusto after days of confinement to their homes.

"Shops have reopened after a month and a half, and Eidul Fitr is approaching fast. How can we convince these massive crowds to follow the rules?" asked a retailer at a garments store on Tariq Road, dismissive of the virus threat. "The coronavirus [pandemic] is now over. Nothing will happen."

The hordes of customers swelled to such an extent on Tariq Road that one footwear outlet was left without space for anyone to enter from outside. And even in these throngs, few had adopted the precaution of wearing a mask.

"Masks make me feel suffocated. We are tired of wearing them for the past two months. This is nothing but a business of fear," asserted a customer.

In Jodia Bazaar and Bohri Bazaar, the crowds made it impossible to walk freely as people turned out to buy goods.

"A few of us shopkeepers have kept sanitisers and are following the SOPs. We realise our responsibilities, but the majority of shop owners believe nothing will happen to them if they violate the rules. They say, who cares?" said Zahid Ahmed, who owns a shop in Bohri Bazaar, insisting that the government should take action against those who refused to follow the regulations.

The situation was much the same in the other districts and towns of Sindh too, as reports of violations poured in from across Hyderabad, Sukkur, Mirpurkhas and Shaheed Benazirabad divisions.

In some areas, though, the police refused to permit traders to pull up their shutters. In Khairpur's Pir Jo Goth town – which emerged as a virus hotspot over the weekend with over 250 new cases in a day – traders staged a sit-in after law enforcers kept them from reopening their businesses.

Meanwhile, taking notice of the blatant violations of government orders, Sindh Chief Minister Syed Murad Ali Shah expressed concern, appealing to citizens to understand the gravity of the situation and follow the guidelines. He further directed the commissioners and deputy commissioners to ensure the implementation of the SOPs.

Visiting various areas in the city, Karachi commissioner Iftikhar Shallwani distributed masks among shopkeepers too. ""We will not allow anyone to violate rules. Strict action will be taken and shops will be sealed if we discover any negligence," he told the media.

According to the SOPs, retail shops are to remain open four days a week, Monday to Thursday, from 6am to 4pm. However, Friday, Saturday and Sunday have been declared 'safe days' with a complete lockdown except for shops selling essential services, such as grocery stores, medical stores, milk shops, bakeries, butcheries and vegetable shops.

If any workers show signs of fever or flu, shop management must notify district health authorities, while the business owners or CEOs will be responsible for the treatment and welfare of any staff member contracting the virus.

Malls, cinemas, public transport, intercity buses, parks, educational institutions, marriage halls, beaches, restaurants and hotels are still to remain closed.