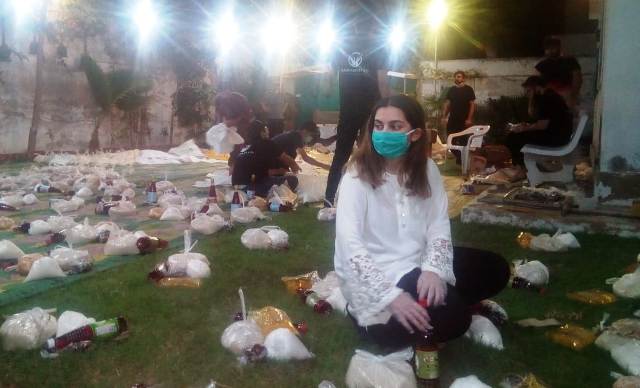 ---
KARACHI: With the government struggling to combat a rampant disease outbreak and scores finding themselves at a loss for their livelihoods, it is nothing less than inspirational to see students stepping forward to support a society in crisis.

It may be rare, but it happens. And it did.

An initially small group of students from Karachi, now numbering around 100, has taken it upon itself to help vulnerable persons and communities, including minorities, transgender persons, fishermen and AIDS patients, worst hit by the pandemic.

Under the banner of their collective venture, Hamdard Haath [Helping Hands], they provide ration bags and Sehri and Iftar parcels to needy families in Karachi, rural Sindh, Punjab and some parts of Balochistan. For the purpose, they collect donations from their family members, friends and teachers, among others.

Starting out

Reham Aslam, Syed Rafi Kandhari and Malik Hamail, some of the founding members of the organisation, told The Express Tribune that they, along with some of their friends, had started organising Iftar dastarkhwans [Iftar spreads] for 100 people at Khayaban-e-Shahbaz, Defence Housing Authority (DHA), in 2016.

That was the first step they took into relief work.

Following that, they soon established Hamdard Haath and their relief activities soon spread beyond Karachi's DHA, covering low-income localities in Korangi, Babar Market, Landhi and even the DHA in Lahore.

At least 1,000 people were fed at each spread every day, they related, adding, however, that they had to discontinue the practice in the wake of the coronavirus outbreak this year.

Making the shift

The virus has not come in the way of their spirit, though. They have now decided to redirect their efforts towards the poor and needy left in hapless conditions as a result of the lockdown.

Over the past 45 days, they have managed to distribute at least 45,000 ration bags among the destitute, particularly those belonging to minorities, at their doorsteps, they stated.

According to them, rations bags worth Rs1,000 to Rs3,000, containing flour, lentils, rice, dates, sugar, gram flour, cooking oil, and other food items, aiming to last for a minimum of 10 to 15 days, have been distributed among the residents of Liaquatabad, Orangi Town, Lyari, Keamari, Manora, Salehabad, Younisabad, Manzoor Colony and Issa Nagri.

In addition, the organisation regularly provides Sehri and Iftar to around 500 families of fishermen.

Moreover, the organisation members are also engaged in relief activities in Umerkot, Khairpur, Mithi, Lahore and areas in suburbs of Balochistan.

The way forward

But this is not it. They have bigger plans and ambitions.

They intend to expand their services to establish healthcare facilities and mobile schools on trucks, as well as form societies for transgender persons, minorities and fishermen. They are willing to collaborate with others, too, on relief initiatives and in the short term, aim to provide assistance to at least 10,000.