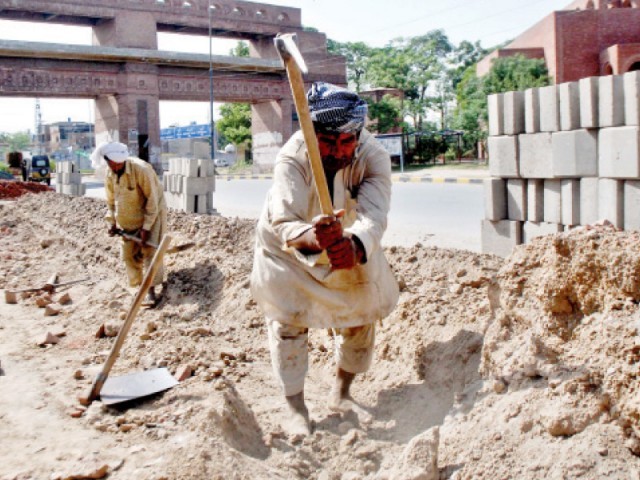 ---
Strategies needed to ensure help reaches the deserving
Experts suggest using NADRA database, utility bills to extend grants
---
Parliamentarians and civil society representatives while participating in a virtual conference urged the government to develop a mechanism engaging different stakeholders and active civil society organisations to reach out to variety of daily-wage workers and freelancers.

Daily wagers not necessarily include poor and marginalised communities and labourers; they also include teachers, tutors, technicians and other skilled professionals. They are suffering from the crisis but being neglected due to inefficient approach adopted by the federal and provincial governments, they said.

Covid-19 devastating lives of daily wagers in Pakistan

Development Communications Network (Devcom-Pakistan) organised the virtual conference on Saturday on 'Covid-19: Reaching out to daily wagers and freelancers – Challenges and Strategies'.

The panel included Senator Lt Gen (Retd) Abdul Qayyum, Senator Musadik Malik, Senator Sitara Ayaz and Zafarullah Khan, social scientist and former director general of the Pakistan Institute of Parliamentary Services (PIPS). Others who participated in the virtual conference included Dr Amena Hassan, TS Bhutta, Tahir Hanfi, Yousaf Ali, Shaaref Munir and Riffat Ara Baig. Host of the virtual conference and Devcom-Pakistan Director Munir Ahmed introduced the topic.

Senator Malik said first two weeks of lockdown were very effective but afterwards government could not maintain it. Easing the restrictions has spiked in the number infected population. Total confusion and chaos was observed in handling the crisis, and the government despite having all the resources could not manage it as required, he said.

Lights, camera, lockdown: The daily wagers of Pakistan's showbiz

While having its own funds, and grants from different international sources and philanthropists, federal government could have reached to all estimated 50-60 million people if the right mechanisms were adopted.

He suggested reaching out to vulnerable people at their doorsteps with the support of district management, charity workers, members of the municipal and tehsil councils and local schools and teachers.

Senator Abdul Qayyum said the daily wagers and freelancers would become more vulnerable in days to come. The government has all the data and it should take relevant stakeholders on board to develop a rationale policy and inclusive implementation plan.

Senator Sitra Ayaz said Awami National Party (ANP) suggested utilising the available religious, social and democratic systems in all the strategies to combat the Covid-19 menace. Union Councils and school systems should have the chance to reach out to the vulnerable citizens through the available mechanisms.

Daily wagers to get Rs3,000 per month

Zafarullah Khan said first of all the federal government should switch over from charity model to clarity model by getting out of the confusion to handle the crisis. A sum of 12,000 was distributed to poor families without knowing the size of the family. A three-member family got what a 10-member family received. BISP surveys and NADRA databases have clear identification of social and financial strata of the society, and the utility bills also reflect the segregated income groups. This data should have the main source of financial support and facilitation instead of inventing the wheel. 

Published in The Express Tribune, May 10th, 2020.