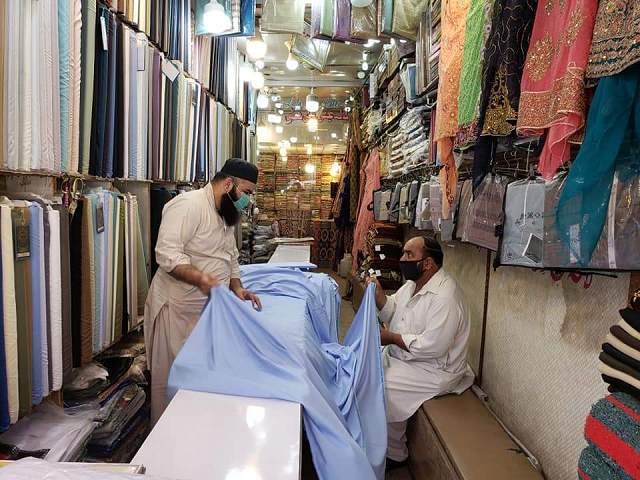 ---
LIVE: Sindh reports highest single day increase; nationwide tally soars to 28,812
The virus has claimed at least 637 lives while 7,809 patients have recovered across the country so far
---
KARACHI / ISLAMABAD / QUETTA / PESHAWAR / LAHORE / GILGIT / MUZAFFARABAD:  The novel coronavirus emerged in the central China city of Wuhan towards the end of last year and proliferated to almost the whole world within a couple of months. It's not the virulence or fatality, but the infectivity of the new virus – also known as SARS-CoV-2 – that has set off a global frenzy.

The Covid-19 respiratory illness caused by this mysterious contagion has so far infected almost 4 million people in 202 countries and territories of the world – more than 275,000 of them have died and counting.

Pakistan, despite its close proximity with China, remained coronavirus-free until February 26 when a young man from Karachi tested positive after returning from Iran – one of the worst-hit countries. After a brief hiatus following the first case, Covid-19 cases spiked as more pilgrims returning from Iran tested positive for the virus.

The nationwide tally of Covid-19 patients stands at 28,812 with 10,471 cases in Punjab, 10,771 in Sindh, 4,509 in Khyber-Pakhtunkhwa, 1,935 in Balochistan, 430 in Gilgit-Baltistan, 609 in Islamabad and 87 in Azad Jammu and Kashmir.

The virus has claimed at least 637 lives while at least 7,809 coronavirus patients have recovered.

The situation remains fluid and we're updating stats as soon as new figures are officially released.

Follow The Express Tribune's live coverage of the pandemic here.




1:00am: One more succumbs to Covid-19 in G-B; cases rise to 430

The Gilgit-Baltistan Health Department has confirmed one more casualty due to coronavirus to bring the region's death toll to four.

It also reported four new cases of Covid-19 in the last 24 hours, bringing the G-B tally to 430.

303 patients have so far recovered from the mysterious disease while 123 are still being treated at different health facilities.




12:55am: Staggering virus spike in Sindh

As Sindh reported a staggering 1,080 new coronavirus cases on Saturday – the highest yet reported by any province in a single day – a rural town in Khairpur's Kingri taluka, known for its association with Pir Pagara Syed Sibghatullah Shah Rashdi and his ancestors, was forced into the limelight.

As many as 246 coronavirus patients tested positive in Pir Jo Goth in 24 hours, bringing the town's tally up to 277 cases. Meanwhile, Sindh Chief Minister Syed Murad Ali Shah revealed that the new cases had been reported from 5,498 tests – which meant that nearly 20 per cent of those tested had been infected.

Read full story here




12:50am: 47 prisoners in Punjab infected with Covid-19: SC told

The Federal Ombudsman has told the Supreme Court that so far 47 inmates in different jails of Punjab have been tested positive for contagious coronavirus disease.

The ombudsman secretariat made this revelation in its sixth report about status of implementation of jails reforms in Pakistan. The report was submitted to the apex court through senior legal consultant Hafiz Ahsaan Ahmad Khokhar.

The report did not reveal whether Covid-19 affected in any inmates in other three provinces.

Read more here




11:37pm: 'Cops dying of Covid-19 should be considered martyrs'

Police officials and other law enforcement personnel who passed away as a result of coronavirus while working on the frontline should be given the status of martyrs, said Karachi AIG Ghulam Nabi Memon on Friday.

In a letter written to Sindh Inspector General of Police Mushtaq Ahmed Mahar, Memon pointed out that at least two officials of the Sindh police had lost their lives due to Covid-19 so far, adding that the morale of officials on duty needed boosting.

He further maintained that, if granted the status of martyrs, the families of the deceased officials would be eligible to receive allowances under the martyrs quota allocated by the Sindh police.

Read more here




11:30pm: Hospitals running out of beds, ventilators: Pechuho

Urging citizens to adopt precautionary measures against the coronavirus, Sindh Health Minister Dr Azra Fazal Pechuho highlighted on Saturday the decreasing capacity of high dependency units (HDUs) and the lack of available beds and ventilators in the province's hospitals as the virus tally continues to surge.

In a video statement, the minister said that while the government was making efforts to increase the capacity of health facilities and enhance hospitals' functionality, the number of patients requiring ventilators was rising steeply and hospitals in Karachi were fast running out of beds and ventilators.

Read more here




11:20pm: 58 fresh Covid-19 cases take tally to 1,935 in Balochistan

Balochistan on Saturday reported 58 new cases of Covid-19, taking the provincial tally to 1,935.

The provincial health department said in a statement that it has recorded 24 deaths so far while 242 Covid-19 patients have fully recovered.


10:10pm: Govt issues advisory for praying at mosques during lockdown
In this holy month of Ramadan make your homes your Mosque. But in case of praying at the Mosque, it is necessary to strictly follow the safety measures provided by the government. Keeping yourself & your loved ones safe during #Corona is a social & a sacred responsibility. pic.twitter.com/A2RBFPgkoz

— Prime Minister's Office (@PakPMO) May 9, 2020


9:35pm: Mistreatment of Covid-19 patients at hospitals irks PM

Prime Minister Imran Khan has expressed dismay over media reports about maltreatment meted out to Covid-19 patients by some medical staff at hospitals and said such behavior is intolerable, which creates fear among patients.

Chairing a meeting of the National Health Task Force in Islamabad on Saturday, he directed the authorities concerned to chalk out a comprehensive strategy for raising awareness among masses about the deadly contagion.

He also directed the paramedical staff and doctors to treat Covid-19 patients in hospitals with utmost care and responsibility, Radio Pakistan reported.

Read more here




8:22pm: Covid-19 patient delivers healthy baby in Karachi

A 35-year-old coronavirus-positive woman delivered a healthy boy through a scheduled caesarean section at Dow University of Health Sciences' (DUHS) Ojha campus on Saturday.

This was the first case of a coronavirus patient giving birth via caesarean section at DUHS, though another woman diagnosed with the virus had given birth to a healthy baby at Dr Ruth Pfau Civil Hospital in late April.

According to the hospital administration, the boy was immediately shifted to the nursery after the delivery and the condition of both the infant and the mother was stable.

Read more here




8:18pm: Doctors raise voice against lockdown relaxation

Expressing the fear that relaxing the lockdown would lead to a steep surge in the number of coronavirus cases, members of the Pakistan Medical Association (PMA), Pakistan Islamic Medical Association and Pakistan Chest Society urged the government to extend the lockdown, during a press conference on Saturday.

"The PMA and other health bodies have been calling for a strict lockdown from day one, as well as to educate people on the pandemic and raise awareness about precautionary measures to curb the spread of the virus," said PMA general secretary Dr Qaisar Sajjad.

He was backed by Dr Ikram Ahmed Tunio of the PMA, who warned, "Easing the lockdown will land us in a dangerous situation."

Read full story here




8:00pm: K-P reports 13 more deaths, 182 new Covid-19 cases in past 24 hours

The Khyber-Pakhtunkhwa (K-P) Health Department, in its daily situational report, has confirmed 13 fresh casualties due to coronavirus, taking the provincial death total to 234.

Seven deaths were reported from Peshawar, and one each in Charsadda, Khyber, Mardan, Swat, Malakand and Abbottabad.

The health department officials also confirmed 182 new Covid-19 cases – seven from Torkham quarantine center— to bring the total cases to 4,509.

53 more patients recuperated from the mysterious disease, taking recoveries tally to 1,086 in the province.


182 new cases (7 from Torkham quarantine center) were confirmed taking the total cases to 4,509. 13 new deaths were confirmed (7 in Peshawar, 1 each in Charsadda, Khyber, Mardan, Swat, Malakand, Abbottabad) taking the total to 234. 53 new patients recovered taking tally to 1,086. pic.twitter.com/Yw0Hm2bHAm

— Health Department KP (@HealthKPGovt) May 9, 2020


5:45pm: Sindh witnessed record increase in coronavirus cases: CM Murad

Sindh Chief Minister Murad Ali Shah said the province witnessed a record increase in the number of coronavirus cases over the last 24 hours.

The province reported 1,080 Covid-19 cases in a day's span.

"We conducted 5,498 tests, out of which almost 20 per cent [1,080] results have come out as positive," CM Murad said in a video message. He added that 583 cases are reported in Karachi whereas 277 cases in Pir Jo Goth village of Khairpur district.

Read more here


4:30pm: Govt working to increase PPE production
Relevant ministries of the govt are working to remove hurdles to scale up local production of PPE's, hand sanitizers and other medical equipment. We are working with Health division to identify bottlenecks that may exist in the form of over regulation or duplicity of procedures.

— Hammad Azhar (@Hammad_Azhar) May 9, 2020


4:00pm: '30pc tests conducted on Friday came back positive'

Balochistan government spokesperson Liaquate Shahwani has said that 30pc of tests conducted on Friday came back positive for coronavirus infection.

He added that the provincial government is also doing random testing, and in the next phase aggressive testing will be conducted.


Live: #Balochistan Govt's spokesperson Liaquat Shahwani talking to media in #Quetta. #Covid_19 #COVIDー19 #TogetherWeCan #PakistanFightsCorona @LiaquatShahwani https://t.co/x4dBmyIghF

— Radio Pakistan (@RadioPakistan) May 9, 2020


3:30pm: Markets to open from Monday to Thursday: Jhagra

K-P Minister of Health Taimur Khan Jhagra has said that the government is making its best efforts to ease the lockdown while containing the virus spread.

He said the markets in the province will be open till 4 pm and stay shut from Friday to Sunday every week. "These measures might be better than the seven-day lockdown."

He added that the lockdown gave the provincial government time to increase K-P's health system capacity.




3:10pm: Punjab reports 438 new cases

Punjab reported 438 new cases, taking the province's tally to 10,471.

Out of Punjab's total number of confirmed cases, Lahore with 4,084 cases has the highest tally.

The province's death toll is 191, while at least 4,131 patients have recovered.


2:40pm: Highest single-day cases in Sindh 

Sindh health authorities reported 1,080 new cases, raising the provincial tally to 10,771.

5,948 tests were conducted in the last 24 hours and four patients lost their lives, raising Sindh's death toll to 180.

Sindh Chief Minister Murad Ali Shah said 2,020 patients have recovered.


2:15pm: Railway operations may resume before Eid

Federal Minister for Railways Sheikh Rasheed is hopeful that railway operations will resume before Eidul Fitr.

He said a proposal to resume operations will be sent to the federal government, adding that Pakistan Railways suffered a loss of over Rs5 billion in the last month.


2:10pm: Police close shops in Rawalpindi 

Police began shuttering open shops at Raja Bazaar and Liaquat Road in Rawalpindi, hours after the Punjab government eased the lockdown in the province.


2:00pm: K-P health minister addresses the media in Peshawar
Live: KP Minister for Health @Jhagra talking to media in ##Peshawar. #Covid_19 #COVIDー19 #TogetherWeCan #PakistanFightsCorona https://t.co/i64rm04FfP

— Radio Pakistan (@RadioPakistan) May 9, 2020
1:55pm: Pakistan's first-ever infectious disease hospital to be built

Adviser to Sindh chief minister Murtaza Wahab said the provincial government will establish Pakistan's first-ever infectious disease hospital in Karachi.

The hospital will contain 400 beds and 100 ventilators.

"Steps will be taken to deal with the coronavirus at the infectious diseases hospital." the Sindh government's spokesperson said.

Read more here.


1:45pm: Pakistan Covid-19 tests per million
1:30pm: PTI leader Khurram Sher Zaman addresses the media in Karachi
Live: #PTI leader Khurram Sher Zaman talking to media in #Karachi. #Covid_19 #COVIDー19 #TogetherWeCan #PakistanFightsCorona https://t.co/z5Zal0R9bS

— Radio Pakistan (@RadioPakistan) May 9, 2020
1:20pm: PDMA hands over 35,000 testing kits to K-P health department

The Provincial Disaster Management Authority (PDMA) handed over 35,000 testing kits to Khyber-Pakthunkhwa's (K-P) health department.

The PDMA director-general said two modern automatic polymerase chain reaction machines (PCRs) were handed over.

PDMA is providing all possible facilities to the frontline workers, he added.



12:30pm: Balochistan eases lockdown

The Balochistan government has decided to ease the lockdown in the province as shopping malls, markets, shops and auto workshops remain open from 3am to 5pm throughout the week.

Restaurants will remain open round-the-clock for home delivery, according to a notification by the Home and Tribal Affairs department.

All precautionary measures must be taken by businesses and the general public to curb the spread of the virus.

12:10pm: Markets in Rawalpindi reopen as lockdown relaxes



12:00pm: Dr Sania Nishtar visits Ehsaas payment site to monitor payments


Special Assistant to the Prime Minister for Poverty Alleviation Dr Sania Nishtar, disguised in a burqa, visited an Ehsaas Cash Emergency payment site at Nurpur Shahan.

She said she monitored payments to assess arrangements in terms of quality of services, transparency in payments and adherence to Covid-19 measures.



Disguised in Burqa, I visited #EhsaasEmergencyCash payment site at Nurpur Shahan to monitor payments to category-3 beneficiaries that began today. It was intended to assess arrangements in terms of quality of services, transparency in payments & adherence to #COVID19 measures. pic.twitter.com/pArG02CQ0j

— Sania Nishtar (@SaniaNishtar) May 8, 2020
11:40am: Qatar Airways to repatriate stranded Australians in Pakistan 
Australian High Commissioner Dr Geoffrey Shaw said Qatar Airways is operating flights to repatriate Australians stranded in Pakistan.
The flight from Islamabad to Doha will operate on May 13, from Peshawar on May 15 and from Karachi and Multan on May 19.
🇦🇺 Australians in 🇵🇰 Pakistan, @qatarairways is operating flights to Doha from Islamabad on 13 May, Peshawar on 15 May and Karachi and Multan on 19 May. Connections are available from Doha to Sydney, Perth and Melbourne. Flights available online or via travel agents. pic.twitter.com/pEXxcnbd83

— Dr Geoffrey Shaw (@AusHCPak) May 9, 2020
10:25 am: Pakistani students in China to be repatriated


At least 1,000 stranded Pakistani students in Wuhan – once the epicentre of the novel coronavirus – will be repatriated via four special Pakistan International Airlines (PIA) flights.

The first special flight will depart for Wuhan on May 18.





10:00am: Pakistan ambassador to China appreciates Chinese donations


Pakistan Ambassador to China Naghmana Hashmi said that medical supplies donated by China have reinforced Pakistan's efforts to mitigate the spread of the virus.

She said Chinese donors have donated critical medical equipment to support Pakistan against Covid-19.


9:45am: Health ministry signs MoU with International Organisation for Migration 

The Ministry of National Health Services has signed a memorandum of understanding (MoU) with the International Organisation for Migration for enhancing mutual cooperation.

Special Assistant to Prime Minister on Health Dr Zafar Mirza said the cooperation will help improve the Yaran e Watan initiative and help overseas Pakistani healthcare professionals connect with volunteer healthcare opportunities in Pakistan.


9:30am: Nationwide tally stands at 27,482

After Pakistan reported 1,637 new cases in the country, the total number of confirmed cases jumped to 27,482.

In the last 24 hours, the virus has claimed 24 lives, raising the country's death toll to 618 while at least 7,756 patients have recovered from the virus.


9:00am: PM says out of box solutions needed for current economic conditions

Prime Minister Imran Khan said out of the box solutions are essential to meet the challenges faced by the current economic situation of the country amid the pandemic.

He emphasised the need to pay greater attention to supporting small and medium sector enterprises, as well as the agricultural sector, enabling them to create more job opportunities.

Referring to the current situation in the country, the premier said maximum relief should be provided to those affected by the virus.

The meeting was also apprised of the economic impact of the virus on Pakistan's economy.




8:45am: K-P YDA president tests positive for Covid-19 

The Young Doctors Association (YDA) of Khyber-Pakhtunkhwa (K-P) President Dr Rizwan has tested positive for the coronavirus.

Dr Rizwan was working at the telemedicine centre at the Institute of Kidney Diseases in Peshawar.




7:30am: First phase of easing lockdown begins today

As per the directives of Prime Minister Imran Khan, the first phase of easing the lockdown across the country begins today.

The premier said the federal government is trying to provide maximum relief to the masses but due to the current economic conditions of the country, the lockdown must be eased.

Sindh Chief Minister Murad Ali Shah and Adviser to Khyber-Pakhtunkhwa (K-P) chief minister Ajmal Wazir said the provincial government is on board with the premier's plan.