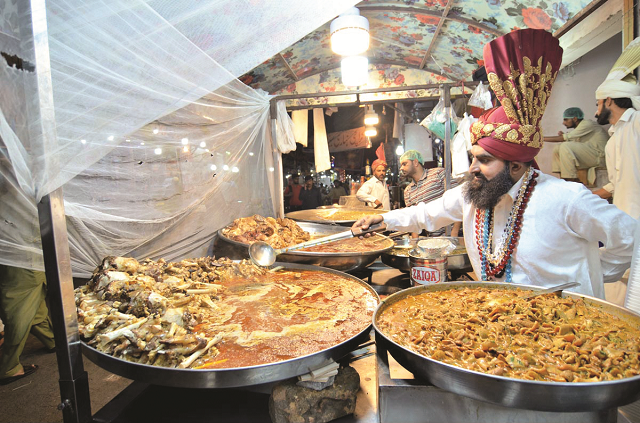 ---
RAWALPINDI: The famous haunts of foodies in Kashmir Bazaar and Kartarpura Bazaar have come to life again with the easing of lockdown conditions.

Outlets at both the major food streets affected by the lockdown have started selling food parcels at temporary pushcarts and steel stalls in front of the shops.

Steaming paya chola, chana batora, nulli nihari, and cold rubri kheer and lassi, lure people of the twin cities for the heavy sehri to keep the long fast.

Keeping the shutters down in compliance of lockdown orders, they sell the famous culinary delights for sehr and iftar like street vendors who were exempted from the restriction, a food outlet owner Abid Mehmood said.

Nasir Kala who runs paya chola shop said shopkeepers bring different kind of already packed foods item's in packets of Rs100, Rs200 and Rs300 from their homes and commercial kitchens at midnight and the sale of food items to customers continues till sehr. However the shops remain closed, he said.

Food outlets have pasted cell phone numbers on shutters so that people could order home delivery. However, home deliveries were available only for nearby destinations, Kala said.

With the new middle way, shopkeepers' business activities have also been started to run and fasting people have also started getting their favourite cuisine including nehari, makhni daal, channay and lassi.

Muhammad Jamshed, whose family has been serving balti gosht in the area for the past 50 years said, Kartarpura Bazaar and Kashmiri Bazaar are both 130 years old. Kartarpura was a Sikh neighbourhood before the formation of Pakistan.

The area had a large Sikh population. While Hindus, Sikhs and Muslims used to do small and big business in Kashmiri Bazaar. However after migration of Sikhs and Hindus, families belonging to Lahore, Gujranwala and Kashmir have been doing business here for the last many decades, he said.

Mehmood, Kala and Jamshed said that earlier they were circumventing lockdown restrictions with the permission of the police acquired after some monetary negotiation, but now they will be free to provide their famous delicious foods for sehr and iftar to citizens by opening the shutters of the shops

Published in The Express Tribune, May 9th, 2020.
COMMENTS
Comments are moderated and generally will be posted if they are on-topic and not abusive.
For more information, please see our Comments FAQ