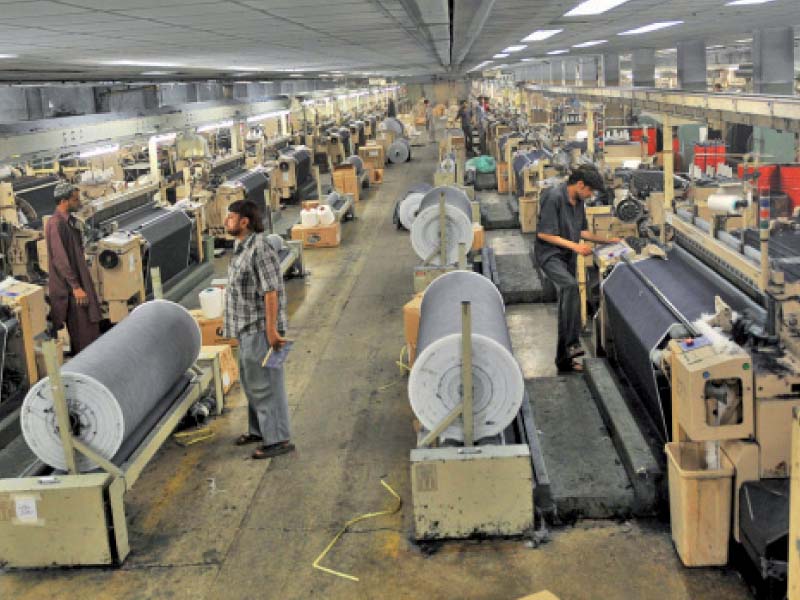 ---
Textile sector: Outlets operate behind closed doors
Some people opt for garments supply from retail stores to customers' doorsteps
---
KARACHI: The lockdown has been feared to render millions of people jobless in Pakistan. However, many have gone against the tide as they have found new job opportunities through the supply of readymade garments, unstitched clothes and electronic goods from behind shuttered retail outlets to buyers at their doorsteps.

The upcoming Eidul Fitr and the ongoing summer season - when a large number of people buy cotton and lawn suits - have provided them with the opportunity to win bread and butter for their families in these difficult times.

"I purchase unstitched ladies' cotton and lawn suits from a couple of retail shops, which have been staying closed for public dealing under the lockdown. Shopkeepers have provided access to their shops to only those they know very well," said a woman, who is a full-time teacher at a secondary school in the private sector.

"My husband and I know the shopkeepers since long…and sell goods to people in our family, our friends and in the extended circle," she said.

After lives, Covid-19 starts claiming jobs

Ladies' suit sales have not earned her a huge amount, but something is better than nothing. "My school-owner has paid me and other staff salaries in April and will continue to pay till the schools are closed (July 15), but my monthly earning has shrunk after I lost all the home-based tuitions under the lockdown," she said.

"The nominal income has partially covered her lost monthly earnings," she said.

Two other women, who are housewives, have also got engaged in selling readymade and unstitched garments in Karachi.

One of them has also been marketing gents' jeans and stitched shirts much before the lockdown was imposed to contain the coronavirus late in March in the country.

Prime Minister Imran Khan has announced the ease in the lockdown in a phased manner from Saturday.

It is mainly construction and allied industries that have been allowed to reopen in addition to the essential ones (food and pharmaceuticals) and export-based industries.

"You know, people do have budgets to spend on Eid, which is just a couple of weeks away. In addition, this is the summer season when especially women buy cotton and lawn suits," a salesperson said.

Pakistan's textile industry was estimated to have invested between Rs70 and Rs100 billion in summer cotton and lawn suits last year - 2019.

A couple of big names in textile retail said they were trying their best to make some sales through online marketing to keep the business wheel moving, but "it (online) is hardly attracting 4-5% of daily sales compared to what they were earning through face-to-face sales at retail outlets before the lockdown was imposed," said an official of a well-known ladies cotton and lawn brand.

"People are not used to the online shopping culture. They have yet to adopt the lifestyle in our country," he said.

He, however, did not confirm whether they were making the thin sales by marketing the leftover stock from past years or had resumed some production, which was not allowed under the lockdown to ensure peoples' safety.

Covid-19 patients urged to go to isolation facilities

Similarly, people in the business of electronic goods like mobile phones, refrigerators and washing machines have also managed to make some sales from behind closed shops.

Salesmen were seen roaming around outside closed shops, dealing with clients and providing them with access to durable goods inside the shops. Similarly, transporters were seen making some deliveries of goods.

A man said his cousin, who repairs mobile phones at a shop in Saddar, Karachi, returned to work a couple of days ago, though the market was officially not allowed to open the shutters.

Published in The Express Tribune, May 9th, 2020.

Like Business on Facebook, follow @TribuneBiz on Twitter to stay informed and join in the conversation.