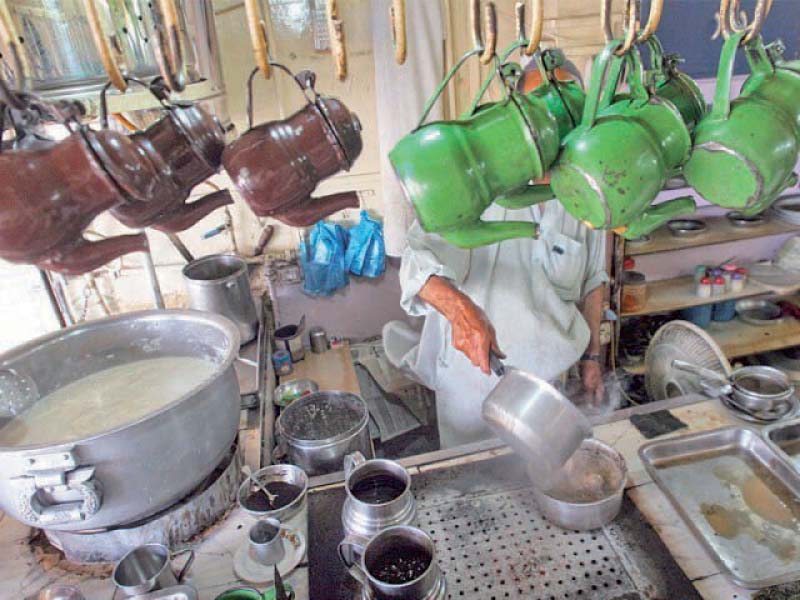 ---
The dying chai dhabas of Karachi
Tea-houses once known for their lively atmosphere turn glum as lockdown cuts several businesses
---
KARACHI: The buzzing tea-houses and chai dhabas of Karachi, which would once attract droves of people from diverse backgrounds and offered a place to commune and converse over a cup of tea, are now hauntingly empty, appearing as wistful reminders of life before the pandemic.

Anyone who has lived for any amount of time in the city has likely seen Karachi's sidewalks, commercial centres, market and street corners transform into busy roadside cafes come evening.

These open-air cafes, better known as dhabas have become characteristic to the metropolis' appeal over the last decade and have played a significant role in moulding the city's literary and political culture. These spaces, serving as usual haunts for youngsters to commune after school or work hours to unwind and deliberate about all things under the sun, have been the cradle of many remarkable ideas.

Accessible to a variety of people, the chai dhaabas of today, mostly run by Quettawal Pashtuns, occupy the social space left behind by the fading Irani and Marwari tea hotels of yesteryear.

Workers in perils

However, with the contagion's threat looming over the country, the province in lockdown and the citizens hunkered down at home, almost 95 per cent of Karachi's chai dhabas have been forced into closure, leaving the workers to look elsewhere for employment.

According to Wazir Khan, who used to run a small tea-house in Karachi, most of his employees have either gone back to their hometowns or are looking for alternative sources of income to save enough to return to their hometowns.

"There are some 15,000 tea hotels in Karachi, while a single hotel can employ a staff of 10 to 15 people which include tea makers, paratha makers, dishwashers, cashiers, servers and some sales and delivery boys called bahir-wala," explained Khan. "Most of these hotels are owned and run by people from Quetta, Pishin and other parts of Baluchistan, while majority of the workers are Pakhtuns, Kashmiri, Seraikis and others."

According to him, in most cases, the hotel staff collectively lives in a rented house or shared accommodation, while the hotel owner is responsible for providing them food and other necessities. "However, now that the hotels are shut, most of these people have been left completely helpless and have nowhere to go," he added.

The month of Ramazan used to offer the most business to these roadside hotels, which remained busy from Iftar to Sehri and welcomed hundreds, if not thousands, of customers each day. Where many came for their customary cup of tea after Iftar, others came to pick up parathas for sehri and the hotels remained abuzz all night.

"Almost every neighborhood had these cafes, but the best were at Alamgir. My friends and I would go there almost every day and spend many hours playing board games and talking about the silliest of things. It's quite sad to see these lively spaces turn so glum and deserted. It's like Karachi has lost a significant part of its culture," said 25-year old Faizan, a regular at these cafes.

There are over 150,000 people employed in tea-houses across Karachi, by Khan's count. According to his estimates, their per capita income is between Rs15,000 to Rs30,000 a month.

"The daily wage of a tea and paratha maker is somewhere around Rs1,000 while that of a server or a cleaner can be approximately Rs500 to Rs600," he said, adding that most of these employees are paid at the end of each month, except for bahir-walas, who get a commission of Rs20 for every Rs100 he makes for the hotel.

"However, now that most of these hotels have been shut for more than a month and a half, approximately 80 per cent of these workers have returned to their hometowns with whatever means they could afford, to spend the Eid with their loved ones," Khan told The Express Tribune. "Those who are left have turned to selling vegetables and menial labour to support their families and are praying for the revival of business and for their livelihoods to soon be restored."

Published in The Express Tribune, May 9th, 2020.