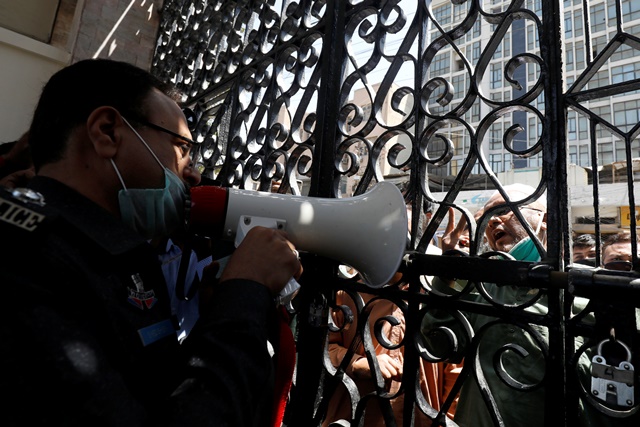 ---
Back to business - for some sectors in Sindh
As the province enters 'Phase Two' of lockdown, social gatherings still banned
---
KARACHI: As Sindh enters 'Phase Two' of the lockdown on Monday, implementing the standard operating procedures (SOPs) issued by the federal government for easing restrictions, certain business sectors would be able to resume operations, Sindh Chief Minister Syed Murad Ali Shah announced on Friday.

He clarified that there would be some extra restrictions in virus hotspots, while minor exemptions would be given to specific sectors and neighbourhood shops.

The decision came as Sindh reported another 598 coronavirus cases on the day, bringing the province's disease tally to 9,691, while another five patients also passed away.

Stating the Sindh government had already given permission to resume operations to 676 of the province's industrial units, he clarified that industrial units were no longer required to seek the government's approval to resume work, as was decided in the Supreme Court.

However, he added, as per the SOPs issued by the government, "industrialists are to give some undertakings as well as details of their workers, including their names, CNIC numbers, mobile numbers and addresses, so that they can be helped in case they contract the virus."

Outlining entities that were to remain closed as of May 9 instructions, the CM said that shopping malls and plazas, educational institutes, offices, restaurants, hotels, wedding marquees and halls, cinemas, places meant for large gatherings, as well as public processions, congregations of all nature, concerts and sports events were yet to be given clearance.

"This decision was taken by the federal government, in consultation with provinces," he clarified.

Disclosing the recommendations made during a meeting with federal minister Asad Umar, he said that it was proposed to allow the construction industry, community markets and retail outlets to resume business, as well as shops in rural areas and residential localities.

He further said that the meeting was advised to instruct the owners of all shops, except pharmacies, to carry out business activities from the time of Fajr prayers till 5pm and keep shops closed on Saturdays and Sundays. It was also suggested to open selected out-patient departments in hospitals, he added.

Traders

Acknowledging that traders were facing hardships in the face of the lockdown, the CM appealed to the federal government to grant them loans on easy instalments so that they may revive their businesses.

Though the federal government had already announced a scheme in this regard, traders were not happy with it, the CM claimed.

Addressing traders in particular, he said that the government was consulting with trader associations, adding that the "closure [of businesses] was not a decision taken by the Sindh government alone, but the consensus was reached on the national level by all."

He said that he had also constituted a committee to meet traders and seek and compile their suggestions for devising SOPs to revive their businesses.

Daily wage workers

Shedding light on the problems of daily wage workers, the CM said he had told Prime Minister Imran Khan that they should have been registered via a helpline and not online for aid provision.

"Registered persons could then have been verified by the National Database and Regulatory Authority," he said, adding that both, the Centre and Sindh had faltered in this regard.

National unity

He also pointed out that at this time of crisis, there was a dire need of unity in the country and a uniform narrative to overcome the pandemic.

"Otherwise, we will not be able to fight it," he warned. "This is a war and only those nations win wars that demonstrate unity, cohesion and collective wisdom, besides making timely decisions," the CM remarked.