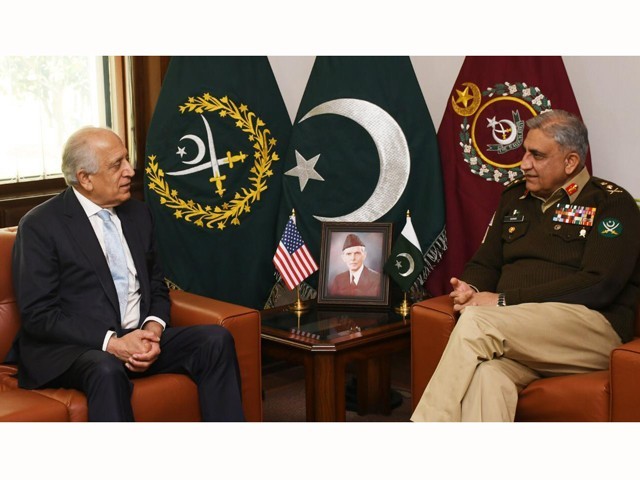 ---
ISLAMABAD: The US chief diplomat for Afghan endgame on Friday held talks with Chief of Army Staff (COAS) General Qamar Javed Bajwa and other officials as part of efforts to break the current stalemate in the Afghan peace process.

Zalmay Khalilzad, the US special representative for Afghan reconciliation, reached Islamabad after meeting Afghan Taliban political chief Mullah Abdul Ghani Baradar in Doha.

This was his second visit in less than a month and came amid continued deadlock in the fragile peace process.

At the heart of the controversy is the delay in the exchange of prisoners agreed both by the US and Taliban in their landmark deal on February 29.

The Afghan government, which was not directly part of the deal, is reluctant to free 5,000 Taliban prisoners. There has been some forward movement on prisoners swap as both Taliban and Kabul administration did release some inmates. But the Taliban insists that they will only enter into intra-Afghan dialogue once their 5,000 prisoners are released.

Khalilzad to press Taliban on curbing violence in new talks

The intra-Afghan dialogue was supposed to take place within days of the Taliban-US deal but the delay in prisoners exchange couldn't take the process forward.

Earlier this week, US Defence Secretary Mark Esper accused both the Taliban and Afghan government of not honouring the peace accord.

In this backdrop, Khalilzad is undertaking a tour of the regional countries.

At the General Headquarters in Rawalpindi, Khalilzad met Gen Qamar to discuss the progress in the Afghan peace process.

"During the meeting, issues of mutual interest and overall regional security situation including Afghan reconciliation process were discussed. The COAS reiterated that our support towards peace process is a manifestation of our goodwill towards the cause," a statement issued by the Inter-Services Public Relations (ISPR) said.

"The visiting dignitary appreciated Pakistan's continuous efforts for peace and stability in the region," the statement added.

Afghan prisoner exchanges, US peace plan threatened by coronavirus

Earlier, the State Department, in a statement just ahead of his trip, said: "At each stop, he [Zalmay Khalilzad] will urge support for an immediate reduction in violence, accelerated timeline for the start of intra-Afghan negotiations, and cooperation among all sides in addressing the Covid-19 pandemic in Afghanistan."

On Thursday, Khalilzad met Baradar in Doha and according to Taliban spokesperson: "The meeting discussed the prompt release of prisoners, the beginning of inter-Afghan peace talks and the complete implementation of the agreement [between the Taliban and the US]."
COMMENTS
Comments are moderated and generally will be posted if they are on-topic and not abusive.
For more information, please see our Comments FAQ