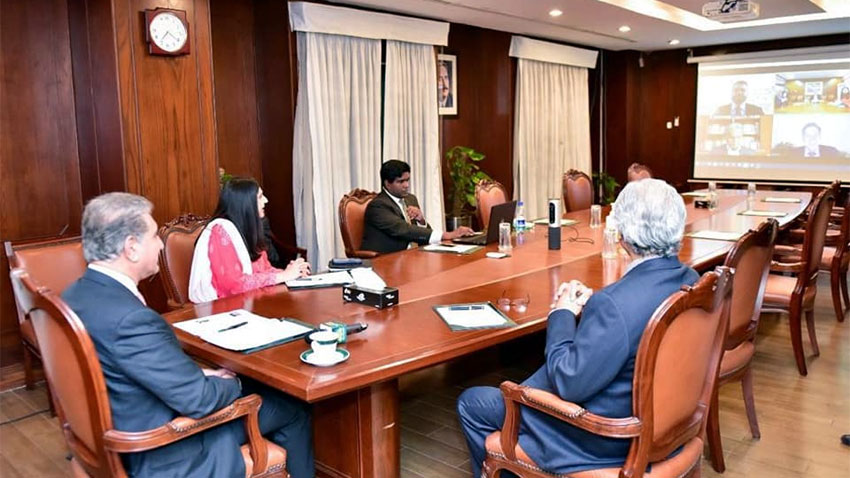 ---
FM launches digital platform for global discussions on Covid-19
The platform would host series of discussions with researchers, academics from around the world
---
Foreign Minister Shah Mehmood Qureshi on Friday introduced the digital 'FM Connect Thought Leader Platform'. The platform would host digital discussions on the coronavirus pandemic with intellectuals, academics and researchers around the world.

The platform is a part of the foreign minister's 'Public Diplomacy' initiative. He said the digital platform has been initiated to get opinion and guidance over matters from experts.

For the inaugural session, Qureshi had invited four global leaders to discuss post-Covid-19 realities of the global geopolitical and socio-economic landscape.

Govt to end lockdown from 9th in phases

They included Dr William Ury, co-founder of Harvard University's Program on Negotiation. He is counted among world's leading experts on negotiation.

Professor Kishore Mahbubani, a Singaporean diplomat and academic. He is also a former president of the United Nations Security Council and is a Distinguished Fellow at the Asia Research Institute, National University of Singapore.

Dr Kevin P Gallagher, professor of Global Development Policy at the Boston University's Frederick S Pardee School of Global Studies, where he directs the Global Development Policy Center.

Dr Adil Najam, the inaugural Dean of the Frederick S Pardee School of Global Studies at the Boston University.

Indian envoy summoned over ceasefire violations along LOC

Addressing the session, the foreign minister stated that the lockdown induced owing to the pandemic had destroyed jobs of daily wage-earners and small businesses.

"Pakistan's exports have declined by 41 per cent and are facing 10 per cent of GDP loss. We have earmarked eight billion dollars to counter the economic impact of the coronavirus pandemic," he said.

Commenting on the regional situation, FM Qureshi reiterated that Pakistan was all prepared to host the South Asian Association for Regional Cooperation's (SAARC) conference. However, India's veto changed the entire situation.

The minister further stated that despite New Delhi's current behaviour towards Islamabad and the Indian Occupied Jammu & Kashmir, "Pakistan participated in the SAARC video conference convened by India".

Pakistan participated in the video conference keeping the global challenge of the deadly pathogen in view and kept regional interest a priority, observed the foreign minister.

He further said that the country also organised a video conference of SAARC health ministers to deliberate upon the alarming situation but, "it is unfortunate that there is no change in India's attitude, despite positive approach of Pakistan".