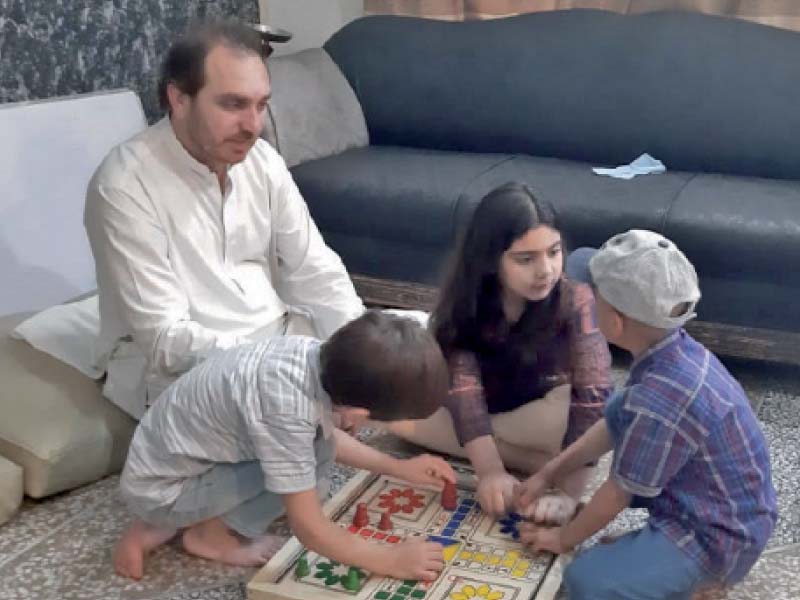 ---
Families bond amid lockdown
People take to rooftops, courtyards to spend time with loved ones
---
RAWALPINDI: Although the partial lockdown has kept twin-city residents mostly indoors, many could not resist the call of clear blue skies as the two cities transition from blooming spring to balmy summers.

With little to do and nowhere left to go, the residents of Islamabad and Rawalpindi have found comfort in taking to their roofs for a breath of fresh air and a moment of respite from the looming stress of uncertainty.

According to Psychologist Prof Dr Muhammad Amjad, the lockdown had completely confined people to the four walls of their homes, which over time starts to affect the mental state of people of all ages. "We are living in some very uncertain times where the stress of surviving a pandemic along with several other anxieties has left a strange memory impression on our cerebrums.

In the pre-pandemic days, staying at home at all times was not an obligation, so people would enjoy the time they would get to spend with their families. But now that the lockdown has rendered people confined to their homes with no other choice, it has started taking a toll on their mental health. So important that people do whatever they can to divert their minds and make their stay-at-home experience as positive and refreshing as possible," expressed Dr Amjad.

Yasir Butt, a resident of Bhabra Bazaar, a densely populated area of Rawalpindi, believes the lockdown has taken him back in time to his own childhood. "Growing up, we would spend our evenings in our courtyard where the whole family would get together and indulge in conversations and laughter.

But the modern life had taken that away from me; all of us became too consumed by our own engagements that slowly and gradually the custom died.

However, the lockdown has given me and my family an opportunity to revisit our lost customs and spend more time with each other.

Our roof offers the perfect spot for the whole household to commune, especially in the summers when it gets hot and stuffy inside.

Published in The Express Tribune, May 8th, 2020.