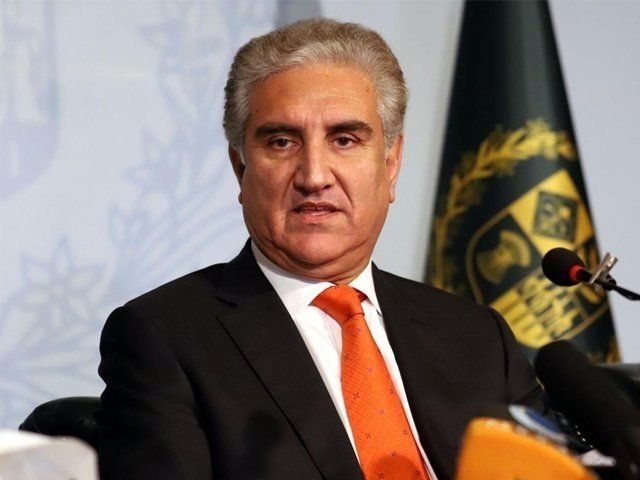 ---
Govt expects pandemic peak by end of May, early June
FM Qureshi says govt plans to save both lives and livelihood
---
ISLAMABAD: Pakistan expected coronavirus peak in the country by the end of May or in early June and by keeping this in mind, the government was making its policies to cope with the pandemic, Foreign Minister Shah Mehmood Qureshi said on Thursday.

Chairing a town hall meeting with the Pakistani community in Saudi Arabia via a video link, Qureshi said that nobody knew for sure how long this outbreak would last, therefore, the government could not opt for a continuous lockdown.

"We have two goals: one is to stop the spread of the epidemic and the other is to ensure that the wheel of the economy continues to turn," he said. "No one knows how long this epidemic will last. In these circumstances, a country like Pakistan cannot keep a continuous lockdown."

Qureshi said that more than 209 countries and states had been affected by this epidemic with nearly 3.8 million people worldwide infected. In Pakistan, he added over 22,000 people had been affected by this epidemic, with more than 500 fatalities.

"The death rate is not high in our country," he said. "It is estimated that the epidemic will reach its peak in late May and early June and we are working out a plan by keeping this in mind. We have convened a National Assembly session on Monday to discuss the Covid-19 situation," he added.

PM Imran, Nigerian president discuss socio-economic challenges amid pandemic

The minister informed the Pakistani expatriates that the government was monitoring the situation on a daily basis, while a comprehensive plan had been chalked out to support the downtrodden segments of society in these difficult times.

"Meetings are held daily from 9 am to 11 pm to review the situation throughout Pakistan," the minister said. "Our goal is to take all decisions with national consensus," he added. "The provinces have the right to give feedback. We value their feedback."

Opposing a continuous lockdown for a longer period, the minister warned that thousands of people could be rendered unemployed besides other repercussions on the national economy. "Our exports have [already] fallen sharply. A large number of daily-wage earners may lose their livelihood," he said.

However, the minister added that a plan had been introduced to provide financial assistance to those who lost their jobs due to the pandemic. "We have gone beyond politics and are distributing Rs144 billion through the Ehsas Programme to provide financial assistance to the poor and needy."

The minister praised Saudi Arabia for not repatriating citizens of other countries by force. "I thank them for providing medical care [to the expatriates] And I would also like to thank the foreign minister of Saudi Arabia in a letter."

PM Imran, President Trump discuss Covid-19 pandemic over phone

Qureshi also appreciated the generosity shown by the overseas Pakistanis by making donations to the prime minister's coronavirus relief fund. On the instructions of Prime Minister Imran Khan, he added, the government was also working to get debt relief.

The minister noted that some 30,000 people were waiting for return to the homeland from Saudi Arabia. "We lack resources, but we will bring them to Pakistan soon. We have to ensure coronavirus test of every Pakistani who comes to Pakistan and also ensure quarantine facilities."

Earlier, Pakistan's Ambassador to Saudi Arabia Raja Ali Ijaz gave a briefing to the foreign minister on the situation of the Pakistani community in Saudi Arabia. He said that 150 Pakistanis had been affected by the epidemic in Saudi Arabia, while 30 Pakistanis had died.