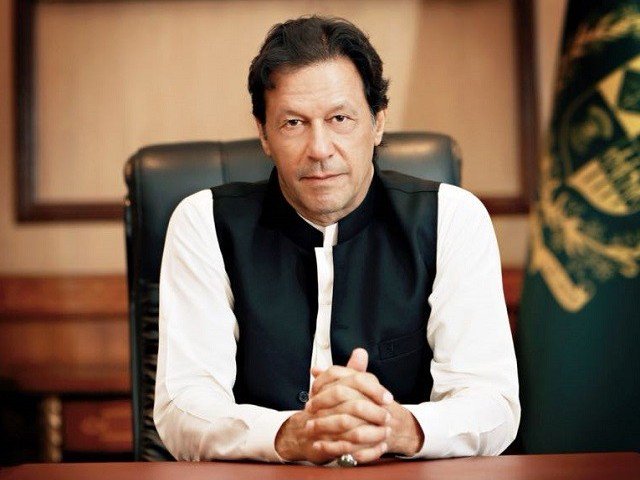 ---
Govt to end lockdown from 9th in phases
Small markets in residential areas and shops to reopen, businesses can operate till 5pm
---
ISLAMABAD: Prime Minister Imran Khan on Thursday announced that the National Coordination Committee (NCC) on Covid-19 had decided to end the coronavirus-induced lockdown -- imposed across the country for nearly one and a half months -- from May 9 (Saturday) in different phases as the tally of patients suffering from the infections surged past 24,500 and the death toll moved close to 600.

The announcement came after the premier chaired a meeting of the NCC in Islamabad where the recommendations of the National Command and Operation Centre (NCOC) on Covid-19 for easing restrictions enforced to stem the spread of the coronavirus pandemic were discussed.

"We have decided to lift the lockdown. [But] I must make it clear that the lockdown will be lifted from Saturday, not from tomorrow," PM Imran said in a televised briefing after the NCC meeting accompanied by members of his economic and healthcare teams.

"We are doing it because people are facing extreme difficulties. Small business owners, daily-wage earners and labourers are suffering severe hardships. We fear that small- and medium-sized industries might completely vanish if we don't lift the lockdown," he added.

"The biggest responsibility of the state is to protect its poor people. Even in New York where thousands have died because of Covid-19, the construction industry has been reopened."

Throughout his speech, the premier repeatedly advised citizens and industries to follow the standard operating procedures (SOPs) announced by the government earlier to avert a surge in Covid-19 cases.

"If there's a sudden spike [in cases], we will have to impose a lockdown again and ultimately the poor will suffer," the prime minister warned.

"We can overcome it [the pandemic] only as a nation. We will not ask police to enforce the SOPs by force and arrest the violators. I ask the Corona Tiger Force to make the people understand that this is for their own benefit," he added.

"We have to lift the lockdown very wisely. The success of this phase is linked to public cooperation and discipline."

In the first phase, small markets in residential localities and shops will reopen, businesses can operate from Sehri till 5pm and selected outdoor patient departments (OPDs) at hospitals to treat specific diseases and illnesses will become functional again. More sectors related to construction will resume their activities. However, markets will remain closed for two days a week to give respite to police, who are tasked with enforcing the restrictions. Shopping malls and other places where large crowds gather have not been permitted to reopen yet.

The NCC agreed to keep educational institutions closed till July 15. It also decided against allowing public transport services to operate for now. The decision to reopen inter-city transport and railways operations will be taken later.

The premier said he was personally in favour of resuming public transport services, but the provinces had not agreed on going ahead with the move at this time. "We don't have complete consensus [on the matter]," he added.

"We have asked the provinces to prepare SOPs so that public transport services could be restarted. Public transport has been resumed even in countries where 30,000 people have passed away because of coronavirus."

It was also decided to keep domestic flights suspended till May 10.

On the issue of bringing back citizens stranded abroad, the prime minister said around roughly 125,000 Pakistanis wanted to come back but they would have to self-quarantine themselves on their return.
"When we bring back people from abroad, we have to conduct tests and keep them in quarantine but we don't have that many resources," he maintained.

The prime minister noted that although the coronavirus curve in the country was still rising, it could not be ascertained with surety about when it would reach its peak.

"Even countries that have flattened the curve can't say anything about it with certainty," he noted.

"Pakistan has not witnessed the numbers of coronavirus cases and deaths as has been seen in other countries. We haven't faced the kind of pressure that European countries or the rest of the world has had to face."

PM Imran noted that the government had already reopened the construction industry in April and as per its commitment, it had now decided to resume the activities of its allied industries as well.

He said the government had already announced unprecedented relief packages for the construction industry and poor and unemployed people but it could not keep it up for long as the country was already facing economic problems.

"The government has spent its revenue on relief packages and facing 35% reduction in tax receipts besides a decline in exports."

He said although the government's relief package was far better than that of India, it could not financially support every individual for a long period of time.

"We have reduced oil prices and now they are lowest in the region. This will also help reduce the burden on people."

The premier said the government was receiving requests from restaurants and other sectors for reopening their businesses as they were unable to sustain any more losses.

The NCC meeting was attended by federal ministers, the chief ministers of Punjab, Khyber-Pakhtunkhwa, Sindh, Balochistan and Gilgit-Baltistan, the prime minister of Azad Kashmir and other senior officials via video link.

During the televised briefing, Planning and Development Minister Asad Umar, Industries Minister Hammad Azhar, Education Minister Shafqat Mahmood, Special Assistant to the PM on National Security Moeed Yusuf and Special Assistant to the PM on Poverty Alleviation and Social Protection Sania Nishtar briefed the nation about the steps being taken in their respective sectors.

Umar said the government had discussed opening markets after Iftar but later decided that they should not open at night.

"We have decided to reopen more sectors related to the construction industry," he added, elaborating that the earlier decision to give permission to bigger markets to reopen would now be expanded to smaller markets.

The education minister announced that all schools, universities and other educational institutions would remain closed till July 15.

He added board examinations had been cancelled and students would pass on the basis of their results from the previous year

"We can't compromise on students' health and education," he added.

Dr Yusuf dispelled the notion that all Pakistanis being flown back to the country were testing positive for Covid-19.

He requested that those returning to the country should not be stigmatised.

The SAPM further said the government was in touch with countries from where 40-50% of the returning passengers had tested positive for coronavirus.