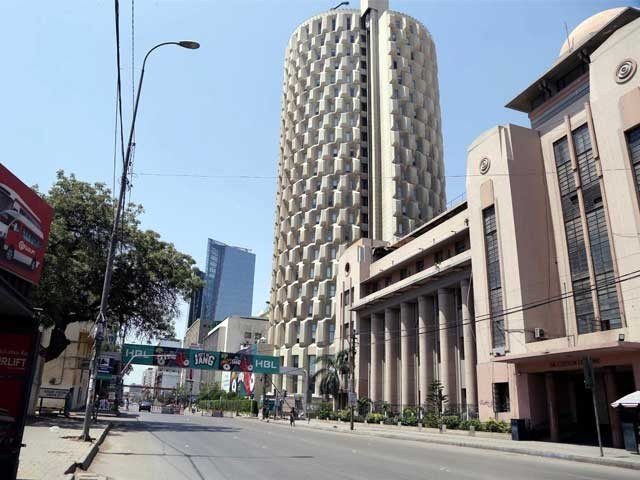 ---
May 7: PM says lockdown to be lifted in phases from May 9; nationwide tally nears 25,000
In the last 24 hours, 46 patients succumbed to the virus, raising the country's death toll to 587
---
KARACHI / ISLAMABAD / QUETTA / PESHAWAR / LAHORE / GILGIT / MUZAFFARABAD: The novel coronavirus emerged in the central China city of Wuhan towards the end of last year and proliferated to almost the whole world within a couple of months. ItÔÇÖs not the virulence or fatality, but the infectivity of the new virus ÔÇô also known as SARS-CoV-2 ÔÇô that has set off a global frenzy.

The Covid-19 respiratory illness caused by this mysterious contagion has so far infected more than 3.6 million people in 202 countries and territories of the world ÔÇô more than 258,000 of them have died and counting.

Pakistan, despite its close proximity with China, remained coronavirus-free until February 26 when a young man from Karachi tested positive after returning from Iran ÔÇô one of the worst-hit countries. After a brief hiatus following the first case, Covid-19 cases spiked as more pilgrims returning from Iran tested positive for the virus.

The nationwide tally of Covid-19 patients stands at 24,954 with 9,195 cases in Punjab, 9,093 in Sindh, 3,956 in Khyber-Pakhtunkhwa, 1,725 in Balochistan, 388 in Gilgit-Baltistan, 521 in Islamabad and 76 in Azad Jammu and Kashmir.

The virus has claimed at least 585 lives while at least 6,464 coronavirus patients have recovered.

The situation remains fluid and┬áweÔÇÖre updating stats as soon as new figures are officially released.

Follow┬áThe Express TribuneÔÇÖs live coverage of the pandemic┬áhere.




12:47am: Kuwait supports PM Imran's call for global debt relief initiative

While appreciating Pakistan's efforts in combating challenges posed by the novel coronavirus (Covid-19), Kuwait extended its support for Prime Minister Imran KhanÔÇÖs call for global initiative for debt relief for developing countries.

Foreign Minister Shah Mahmood Qureshi on Thursday held a telephone conversation with his Kuwaiti counterpart Sheikh Dr Ahmad Nasir Al-Muhammad Al Sabah.

The Covid-19 pandemic and other issues of mutual interest came under discussion.

Dr Ahmad underscored the importance of enhanced bilateral collaboration in the key sectors of health, food security and energy. He further emphasised the importance of long-term strategic vision for Kuwait-Pakistan relations.

Read more here




11:52pm: Two more deaths, 66 new cases of Covid-19 reported in Balochistan

With two more fatalities, Balochistan's coronavirus death toll has reached 24, according to a spokesman of provincial health department.

Dr Wasim Baig said that 1,725 people were infected with coronavirus in the province with 66 new cases reported in the last 24 hours.

He further said that 209 patients had recovered from the deadly virus.

[sc name=ÔÇ£DailySituationReport7MayÔÇØ]




11:27pm: Govt expects pandemic peak by end of May, early June

Pakistan expected coronavirus peak in the country by the end of May or in early June and by keeping this in mind, the government was making its policies to cope with the pandemic, Foreign Minister Shah Mehmood Qureshi said on Thursday.

Chairing a town hall meeting with the Pakistani community in Saudi Arabia via a video link, Qureshi said that nobody knew for sure how long this outbreak would last, therefore, the government could not opt for a continuous lockdown.

ÔÇ£We have two goals: one is to stop the spread of the epidemic and the other is to ensure that the wheel of the economy continues to turn,ÔÇØ he said. ÔÇ£No one knows how long this epidemic will last. In these circumstances, a country like Pakistan cannot keep a continuous lockdown.ÔÇØ

Full story here




10:40pm: Unregistered citizens denied relief amid coronavirus crisis

Over the years, Karachi has seen the consistent influx of immigrants from not just other parts of the country but also outside it. Today, this population of foreign immigrants is a heterogeneous concoction of Burmese, Bengali and Afghan people, among others, numbering around 1.6 million. Most of them, lacking any identification documents, are labelled 'illegal aliens,' living in abject conditions.

These unregistered aliens witnessed their already difficult lives, ridden with poverty, take a further hit as the government imposed a lockdown after the coronavirus reared its head in the country. Lockdown meant no work, depriving them of whatever little they earned through hard labour.

What added to their predicament was the exclusion from relief initiatives introduced by the government and non-profit organisations, most of them requiring beneficiaries to produce identity documents to avail the aid.

Full story here




10:18pm: Pakistan added to UN coronavirus fund list

The United Nations on Thursday issued a new appeal for $4.7 billion in funding to ÔÇ£protect millions of lives and stem the spread of coronavirus in fragile countriesÔÇØ.

The money is on top of the $2 billion the UN already called for when it launched its global humanitarian response plan on March 25. It has received about half of that money so far.

ÔÇ£The most devastating and destabilising effectsÔÇØ of the novel coronavirus pandemic ÔÇ£will be felt in the worldÔÇÖs poorest countries,ÔÇØ UN Under-Secretary-General for Humanitarian Affairs Mark Lowcock said in the statement.

Full story here




10:01pm: PM Imran, Nigerian president discuss socio-economic challenges amid pandemic

Prime Minister Imran Khan on Thursday held a telephonic conversation with Nigerian President Muhammadu Buhari and discussed matters of mutual interest including the unprecedented socio-economic challenges arising out of the Covid-19 pandemic.

Both the leaders agreed that Pakistan and Nigeria faced similar circumstances, according to a statement issued by the Foreign Office.

"The prime minister conveyed PakistanÔÇÖs solidarity with the government and people of Nigeria, and commended their effective measures to contain the spread of Covid-19," the communique added.

Full story here




9:38: EU envoys vow support to Pakistan during and beyond Covid-19 crisis

Ambassador of the European Union delegation to Pakistan Androulla Kaminara called on Prime Minister Imran Khan on Thursday and reiterated the EUÔÇÖs commitment to support Pakistan during and beyond the Covid-19 crisis.

According to the spokesperson for the delegation, Prime Minister Imran and Ambassador Kaminara discussed how Pakistan and the EU could further benefit from a stronger political partnership in the light of the political, economic and security developments.

https://twitter.com/PakPMO/status/1258393454461190144

Full story here




9:21pm: New Covid-19 cases take Punjab tally to 9,195

New cases of coronavirus have taken the Punjab tally to 9,195, according to the governmentÔÇÖs official portal.




9:02pm: Army chief reviews Covid-19 relief operations

Chief of Army Staff (COAS) General Qamar Javed Bajwa visited Kohat, a district in Khyber-Pakhtunkhwa, on Thursday where he was given detailed briefing on operational preparedness, prevailing security situation including border security measures along Pak- Afghan border.

According to the Inter-Services Public Relations (ISPR), the army chief was also apprised on relief operation being carried out by army in aid of civil administration to deal with Covid-19 outbreak.

"The COAS interacted with troops busy in relief efforts against Covid-19 and appreciated officers and men for operational readiness, continued vigilance and high morale," the military's media wing said in a statement

Full story here




8:47pm: Six more succumb to coronavirus in K-P

Six more coronavirus patients have died in Khyber-Pakhtunkhawa, taking the death toll to 209 in the province.

According to the official statistics, 244 new cases were also reported in the last 24 hours as the total number of cases in the province now reached 3,956.

At least 45 patients also recovered from the deadly virus, taking the total number to 984.






5:00 pm: Educational institutions to remain closed till July 15

Education Minister Shafqat Mahmood has said that all schools and other educational institutions will remain closed till July 15.


Two important decisions taken by PM Imran Khan in the NCC today. One, All educational institutions will remain closed till July 15. Two, ALL Board exams throughout the country have been cancelled. Students would be assessed on their previous performance in Board exams.

— Shafqat Mahmood (@Shafqat_Mahmood) May 7, 2020


4:25 pm: Sindh governor rejects provincial govt's Covid-19 relief ordinance

Sindh Governor Imran Ismail on Thursday rejected the ÔÇ£Sindh Covid-19 Emergency Relief OrdinanceÔÇØ approved by the provincial cabinet last week.

ÔÇ£The provincial government has no authority to provide concession in electricity and gas. It is purely a federal subject,ÔÇØ Governor Ismail said.

As the Sindh Assembly is not in session, the provincial government had drafted the ordinance through the law department and proposed to mitigate the challenges emanating from the province-wide lockdown and embed all necessary measures to help those affected the Covid-19.

Read story here




3:45 pm: Lockdown to be lifted, says PM

Prime Minister Imran Khan announced on Thursday that the National Coordination Committee (NCC) has decided to lift lockdown across the country from May 9 (Saturday) in phases.

The premier made the announcement after chairing the NCC meeting in Islamabad where recommendations made by the National Command and Operation Centre (NCOC) regarding reopening of small businesses and educational institutions by easing lockdown curbs in the wake coronavirus pandemic were discussed.

We have decided to lift the lockdown  I must make it clear that lockdown will be lifted from Saturday  not from tomorrow but from Saturday, the prime minister said in a televised briefing after the NCC meeting.

Read story here


3:10 pm: PM briefs media regarding NCC meeting
#Live:Prime Minister @ImranKhanPTI briefs media regarding NCC meeting decisions https://t.co/f0HYPv9rlB

ÔÇö Radio Pakistan (@RadioPakistan) May 7, 2020
3:00 pm: Around 2,459 Pakistanis repatriated, says FO

The Foreign Office has said that around 2,459 Pakistani citizens have been repatriated between May 1 and May 5.

The FO added that six special PIA flights brought back citizens from Europe and the Middle East and 193 were repatriated from India.




2:10 pm: K-P eases restrictions on restaurants, eateries 

Khyber-Pakhtunkhwa (K-P) has eased timing restrictions on restaurants and eateries in the province.

Take-away and home delivery of food items will continue past 4pm, said a notification by the Relief Rehabilitation and Settlement department.


1:45 pm: Pakistan to operate special charter flights to the US

Pakistan will be operating special charter flights for repatriation of stranded Pakistani nationals from the United States (US).

Two special Pakistan International Airlines (PIA) flights will operate from Washington DC to Islamabad on May 10 and to Karachi on May 13.

Another flight will operate from New Jersey to Lahore.

The Pakistan government will also operate three more flights from the US for the repatriation of the stranded citizens.


1:30 pm: Sindh reports 453 new cases

Sindh health authorities confirmed 453 new cases, out of which 335 cases were reported in Karachi.

Sindh Chief Minister Murad Ali Shah said the virus claimed 14 more lives, taking Sindh's death toll to 171.

This is the highest number of deaths in a day in Sindh, he added.

A total of 76,078 tests have been carried out in the province since the virus first entered the country.


12:40 pm: K-P minister for housing tests positive

K-P Minister for Housing Dr Amjad Ali has tested positive for the coronavirus.

The minister has self-quarantined at home.


11:50 am: DIG operations says 2,186 FIRs have been registered for violation of Section 144

Deputy Inspector General (DIG) Operations Lahore Rai Babar Saeed said 2,186 first information reports (FIR) have been registered for violating Section 144.

220,817 citizens were stopped at checkpoints, 209,520 citizens were given a warning and sent home, 198,000 cars and motorbikes were checked and 7,770 cars and motorbikes were stopped for violating the law.


11:30 am: PDMA delivers essential items to K-P health authorities

The Provincial Disaster Management Authority (PDMA) director-general said the delivery of essential items to K-P health authorities is underway.

He said PDMA has sent three new bio-safety cabinets to keep testing material safe and at a specified temperature.

The director-general said PDMA is providing all possible facilities to those on the frontline.


10:25 am: Minister says 1,000,000 persons have registered to distribute ration

Special Assistant to Prime Minister on Youth Affairs Usman Dar said the Corona Relief Tiger force will write history with their efforts to serve the country.

He said 1,000,000 persons have registered to distribute ration to those affected by the pandemic.


10:00 am: K-P senator tests positive again

K-P Senator Mirza Afridi has tested positive for the coronavirus for a second time.

His test result came back positive on April 27. The senator took another test 10 days later and the result was the same.

He has placed himself in quarantine for the last 11 days.


9:40 am: Special PIA flight from the Netherlands reaches Islamabad

A special Pakistan International Airlines (PIA) flight repatriated 46 stranded Pakistani nationals from the Netherlands and arrived in Islamabad.

At Islamabad International Airport (IIA), a team of doctors conducted medical examinations and screenings of the passengers, after which they were shifted to quarantine centres.


9:15 am: Six PIA special flights to repatriate Pakistani nationals

Six Pakistan International Airlines (PIA) flights will repatriate 1,390 stranded Pakistani nationals, according to sources in the Civil Aviation Authority.

A special plane, carrying 250 passengers from Dubai will return to Lahore, while other private airlines will also repatriate stranded Pakistanis.

Another special flight, carrying 140 passengers will reach Faisalabad.

Qatar Airways special flight will return to Multan from Doha with 250 passengers on board, while a second special flight will reach Peshawar.

An Emirates special flight will arrive in Karachi today, with 250 passengers on board. Another flight will reach Islamabad.


8:50 am: Qureshi says to devise NAP to defeat Covid-19

Foreign Minister Shah Mahmood Qureshi has reiterated the importance of devising a National Action Plan (NAP) in order to defeat the pandemic.


8:30 am: Nationwide tally reaches 24,073

The National Command and Operation Centre said the nationwide tally has reached 24,073.

Punjab reported 384 new cases, 213 were reported in Khyber-Pakhtunkhwa (K-P) and 36 in Islamabad.

In the last 24 hours, 38 patients succumbed to the virus, raising the country's death toll to 564, while at least 6,464 patients have recovered.


8:00 am: NCC to meet today to discuss opening of schools 

Prime Minister Imran Khan has called a meeting of the National Coordination Committee to discuss the opening of educational institutions from June 1.

Punjab, Sindh and Balochistan proposed continued closure of schools, while Khyber-Pakhtunkhwa (K-P) suggested opening them.




7:45 am: Govt to gradually ease the lockdown to revive economy

Minister of State for Parliamentary Affairs Ali Muhammad Khan said the federal government wants to gradually ease the lockdown to revive the economy.

He said public cooperation is essential to tackle the pandemic, adding that Prime Minister Imran Khan has ordered the provision of maximum relief to those affected by the lockdown.




7:30 am: China appreciates Pakistan's drive to fight the virus

Chinese Ambassador to Pakistan Yao Jing called on Federal Information Minister Shibli Faraz and appreciated the country's singular drive to fight the coronavirus.

He expressed Beijing's determination to support Pakistan through this difficult period.

The information minister said China's continuous assistance is a manifestation of their deep-rooted friendship.