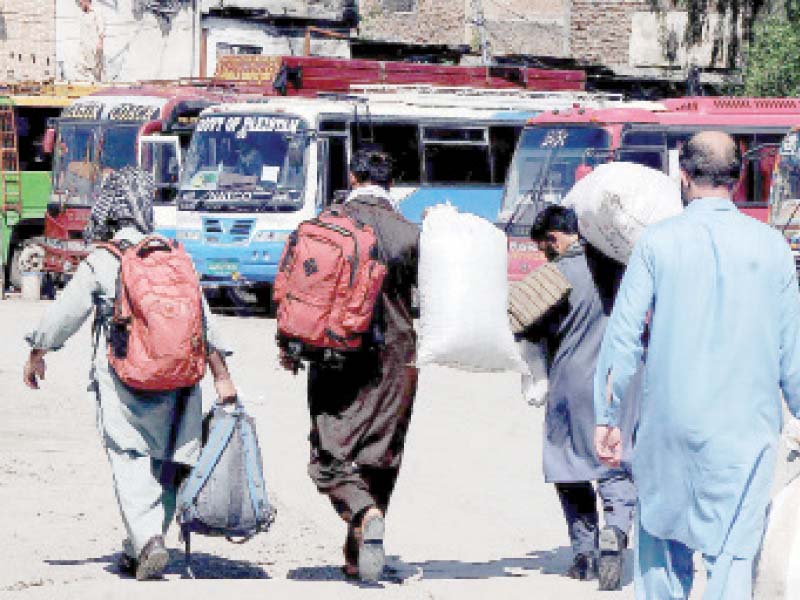 ---
RAWALPINDI: "They are my helpers," Riaz Gul told traffic police personnel at Zero Point when asked about four people sitting on sacks of potatoes and onions at the back of his pickup.

As if like trafficking people across international borders, these people were evading the lockdown law.

Police, on the other hand, take a lenient view and accept what the driver says, Gul told The Express Tribune.

During a survey of bus terminals and road transport hubs the Express team learned that most people stranded in different cities due to the closure of inter-city transport have resorted to using unconventional modes of transport to reach their destinations, for business and other purposes.

Be it vegetable and fruit pickups, cargo trucks or even  ambulances, anything allowed to move from one city to another is good enough for these desperate travellers willing to pay whatever the drivers demand, a driver Akhtar Khan said

The goods transporters are using the lockdown exemption to earn extra profit by carrying passengers along with cargo, Akhtar said. The vegetable, fruits, and other essential transporters are allowed to navigate around the province despite the lockdown. Therefore, they have started an unofficial ride-sharing service by transportation people along with goods.

The people willingly and happily pay exorbitant fares charged by the goods carriers and their utmost aim seems to reach their destination on time. The passengers do not even mind paying high fares to get on a cramped vehicle with no proper seating facility as they believe that their purpose is far greater than the cost.

While the Express team chatted with pickup drivers, two passengers, who arrived in Rawalpindi using this unauthorised ride-sharing service, told that they had to come here for important work, adding that they have reached their desired location in a vegetable truck by paying Rs600.

Transporter Dilawar Abbas told The Express Tribune during the survey that different goods transport vehicles charge Rs600 for Rawalpindi to Lahore, Rs500 for Rawalpindi to Faisalabad, and Rs1,200 for Rawalpindi to Multan. The illegal ferrying of people covers the fuel cost, he said.

Ambulance drivers too are ferrying up to four passengers at a time within the twin cities. The ambulances also escape the sight of the security personnel as it is presumed that the passengers must be traveling in an emergency.

People desperate to travel come to stops where ambulances, goods transport, and other private vehicles are parked and insist drivers to take them along.

Published in The Express Tribune, May 7th, 2020.