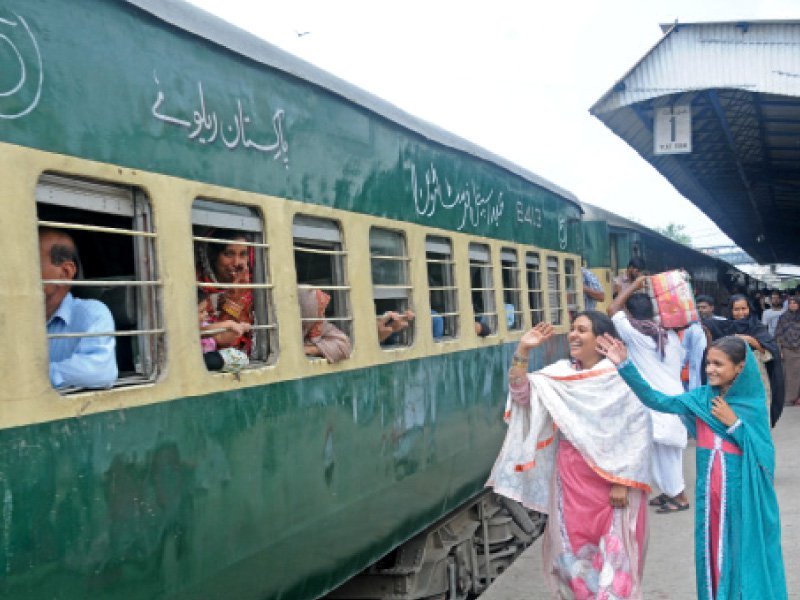 ---
Railways gears up for resumption of train service
Seven trains to leave Rawalpindi for Karachi, Lahore on May 10
---
RAWALPINDI: The Pakistan Railways on Wednesday cancelled the holidays of all of its employees given in the wake of the coronavirus-induced lockdown in the country and called them in to make the necessary arrangements for resumption of train services from May 10.

According to a notification, "Seven trains will resume operations. The first train – Pakistan Express – will leave the Rawalpindi station for Karachi at 6am. Later during the day, Tezgam, Sir Syed Express and Mehr Express will also leave the station for Karachi. One of them is expected to be seen off by Minister for Railways Sheikh Rashid Ahmed.

"Of the three railcars, the first one will leave at 7am, the second in the evening at 6:30pm and the third at 12:30am for Lahore."

It added, "Each train has a capacity of 88 passengers, but following the standard operating procedures (SOPs) prepared to stop coronavirus from spreading, only 44 will be ferried."

All of the seven trains are in the washing line to maintain cleanliness and address any technical issues.

The Rawalpindi Railway Station is strictly following the Coronavirus Protection Policy. "The floor of the station and the trains will be washed three times a day with chlorine mixed in water."

Following the SOPs, the railways has declared the technical staff of the wagons and carriages as "running staff", which means that besides looking after maintenance, they will have an additional task of addressing the passengers concerns as well as providing them masks and sanitisers. "Each train will have four members of the technical staff. For their services, the staff will be given an honorary award on Eidul Fitr."

Passenger train services shut across country till March 31

Divisional Superintendent Railways Munawwar Shah told The Express Tribune that on the resumption of train services, the holidays of the railway police have been cancelled and they have been called in.

The railway police will enforce the SOPs at the station. "There is 100% zero tolerance regarding SOPs."

Separately, Pakistan Railways Police Lahore Inspector General Capt (retd) Arif Nawaz Khan has ordered the officials to ensure foolproof security measures for the expected restoration of train operations across the country.

Chairing a meeting at the PRP central office on Wednesday, he reviewed the security arrangements in all railway divisions and asked the concerned SPs to remain in contact with the district police officers for complete security arrangements of trains and railway stations.

He directed the officers to specially focus on the welfare of police staff and asked to form a comprehensive welfare policy in this regard.
He said that facilities in the Railway Police Training School Walton should be increased and special refresher courses for improvement in investigation standards should be introduced in the school.