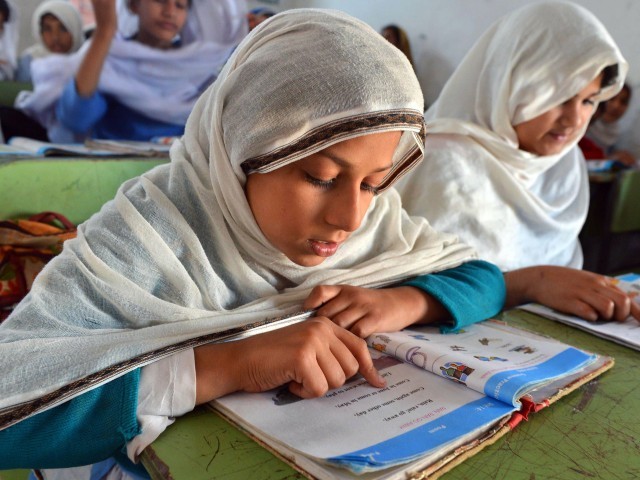 ---
Provinces disagree over date for opening schools amid coronavirus fears
Sindh, Punjab, Balochistan fear infection would spread if educational institutions opened on June 1
---
ISLAMABAD: Majority of provinces have opposed reopening of educational institutions in the country from June 1 fearing a drastic increase in coronavirus infections.

During Inter-Provincial Education Ministers Conference (IPEMC) on Wednesday, Punjab, Balochistan and Sindh provinces said the virus could infect children if schools were reopened from the next month.

Khyber Pakhtunkhwa (K-P), however, supported the idea to restore educational activities from June 1 in order to mitigate the students' educational loss. Federal Minister for Education Shafqat Mahmood chaired the IPEMC in which all provincial education ministers participated through video link.

Due to disagreement among the provinces, the participants decided that matter should be tabled at the meeting of the National Coordinating Committee (NCC) on coronavirus to be held today (Thursday).

Sindh CM orders random testing at grocery, vegetable shops

A day earlier, on Tuesday, the federal cabinet had concurred to further ease the lockdown after May 9 but left the final decision in this regard to the NCC which was formed on March 14 to effectively curb the spread of coronavirus in the country.

The NCC comprises chief ministers, surgeon general of the Pakistan Army, and representatives of the Inter-Services Intelligence, Inter-Services Public Relations and director general military operations.

The federal cabinet meeting also delayed a summary for printing currency notes without varnishing for two months and rejected a proposal for import of 429 medicines and their raw material from India.

WATCH: Indian hospital turns away Muslim patient

The cabinet allowed inclusion of 61 food and non-food items in the quality control list of Pakistan Standards and Quality Control Authority (PSQCA) and approved a memorandum of understanding (MoU) with the United States to raise funds for the prime minister's relief fund.