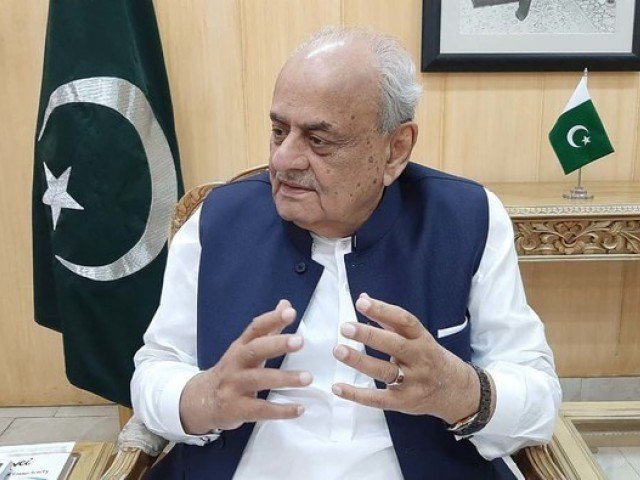 ---
No new Covid-19 strategy for Ramazan: Ijaz Shah
Interior minister says rich people desire for extension in lockdown
---
ISLAMABAD: Interior Minister Brigadier (retd) Ijaz Shah has ruled out any new Covid-19-related code of conduct for the last 10 days of Ramazan.

He observed the ulema agreed that the Eidul Fitr prayers would be offered in open spaces instead of inside mosques.

"Even if one person from a neighbourhood attends the Eidul Fitr prayers, it would be equivalent to the entire locality attending it," he said.

"It is requested that a minimum number of people sit for Aitekaf in one mosque," he added.

The interior minister remarked that the rich desired for an extension in the lockdown, while those experiencing hunger and seeking to make ends meet wanted relaxation in it.

Last month, President Arif Alvi had announced a 20-point agenda for Taraweeh prayers after consultation with the ulema, noting that the mosques across the country would remain open but people should exercise caution.

"As per the foundations of Islamic society, we as a nation should exhibit discipline, coherence and national uniformity as we continue our battle against the coronavirus," Alvi asserted.

He urged the citizens to follow the preventive measures, advising them that only those countries were successful where citizens did not follow rules by force but on their own free will.

The president noted that after an ijma (unanimous consensus) between government and religious scholars on an action plan, not following the measures would be equivalent to sinning.

"When the government and scholars agree with consensus on something, such as preventive measures for congregational prayers during Ramazan, it becomes imperative for people to follow them," he said.

He also appealed to the people to not reduce the amount of their monetary contributions in the form of zakat and sadaqah during Ramazan and to pray for their brethren in occupied Kashmir during the holy month.