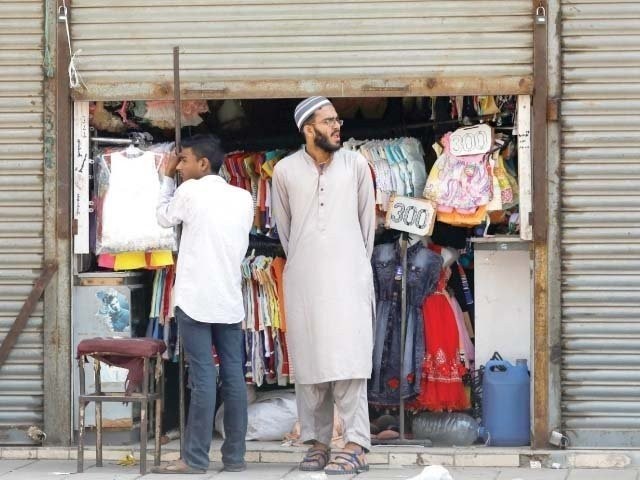 ---
Sindh CM orders random testing at grocery, vegetable shops
Move is aimed at gauging extent of local transmission to curb it more effectively
---
KARACHI: As Sindh saw the emergence of 451 more coronavirus cases and nine-infection related deaths, Sindh Chief Minister Syed Murad Ali Shah ordered on Wednesday the initiation of random testing at grocery and vegetable shops, in a bid to estimate the frequency of local transmission of the virus.

"Local transmission is equally increasing in rural and urban areas," he observed in a video statement issued on the day. The CM related that a villager, who recently visited Hyderabad, was infected in the city and upon return to his village, infected many others.

"We tested 30 people he had come into contact with [in his village] and nine of them were infected," he said, explaining that to gauge the extent and curb the local transmission of the virus, it was decided to carry out random testing at grocery and vegetable stores, as they were frequented by people.

Without symptoms, patients doubt diagnosis

This would help the government devise a new strategy to contain the virus, he added.

He expressed hope that citizens would cooperate with field staff to get themselves tested at the said spots.

Inquiry findings

Speaking on the matter of radiologist Dr Furqanul Haq's death, the CM said that an inquiry report submitted to him concluded that Dr Haq died due to the unavailability of ventilators.

"Now I have ordered the health department to take strict action against officers whose negligence led to the death," he added.

Offering condolences to the grieving family, he further empathised with the bereaved families of doctors, policemen and paramedics who had died in the line of duty while protecting others.

Covid-19 prevalence

On a different note, the CM said that Sindh's tally had risen to 8,640 after the emergence of 451 more cases.

"Of 3,671 samples tested between Tuesday and Wednesday, 451 were found infected. This means 12.3 per cent of the samples were infected," he said.

He elaborated that of 451 new cases, 327 were reported from Karachi, 24 from Shikarpur, 19 from Sukkur, seven from Larkana, five from Hyderabad, four from Sujawal, three from Ghotki, two from Sanghar and one each from Matiari, Mirpurkhas and Dadu.

The CM also said that 2,369 stranded citizens were brought back to the country in multiple flights and of them, 515 had tested positive.

Besides, with nine more deaths, the death toll, as of Wednesday morning, had reached 157, he added.

Speaking of recovered patients, the CM said that 60 more patients had been sent home after recovery, raising the total count of cured patients to 1,731 – 20 per cent of the total reported cases.

That left 6,752 patients under treatment, he stated, adding that among them, 5,528 were isolated at their homes, 721 at isolation centres and 503 at different hospitals.

According to details shared by the CM, 89 patients, including 14 on ventilators, are critically ill.