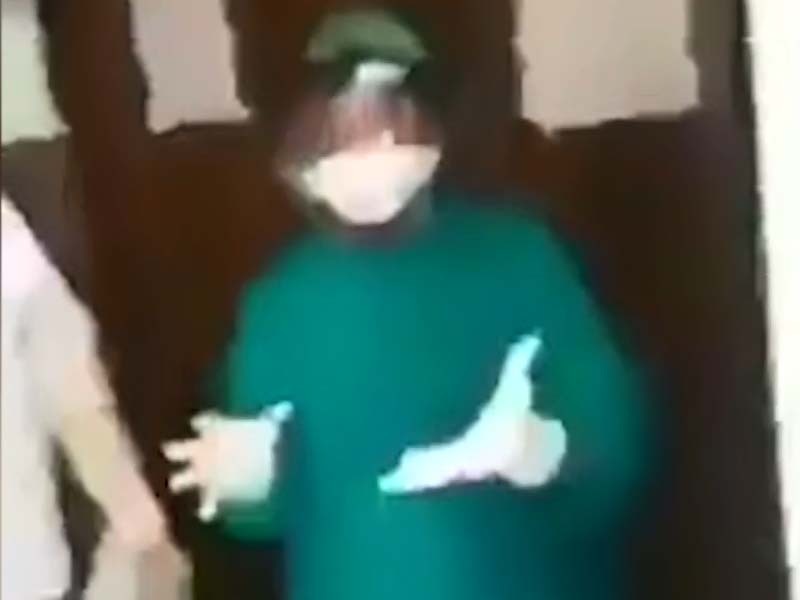 ---
WATCH: Indian hospital turns away Muslim patient
India has seen string of attacks on Muslims coupled with rising Islamophobia
---
After a string of attacks on Muslims in different parts of India coupled with rising Islamophobia from the notion that the minority is behind the uptick in Covid-19 cases in the country, a video has emerged of an Indian hospital turning away a Muslim patient which has spread like wildifire on social media.

India, which is home to 200 million members of the faith, making it the largest religious minority have been at the receiving end of an alarming degree of abuse under Prime Minister Narendra Modi's Bharata Janata Party (BJP).


In the footage, the outraged Muslim patient confronts a medical staffer saying:"Repeat on camera what you just said...You have received orders from upstairs to only treat Hindu patients and not Muslims".


Now a hospital in Indian state of Bihar denied treatment to a Muslim patient.
This is result of an intense vilification compaign launched by a section of media and ruling BJP to scapegoat Muslims.#Islamophobia_in_india@SharjeelUsmani pic.twitter.com/RkNBPHxAlB

— Indian American Muslim Council (@IAMCouncil) May 2, 2020


According to reports, the incident took place in the Mathura area of Uttar Pradesh.

The Indian state has gained noteriety for cases of lynching of Muslims by 'cow vigilantes'.

The Muslim man then tells a doctor who comes out of his office upon hearing the commotion that wife was feeling pain in her entire body and a chest infection making her bring her to the hospital.


Arab world is taking a strong note of anti-Muslim hate and bigotry peddled by RSS. Recently, an Arab TV show discussed the RSS agenda, the continuous attacks on Indian Muslims and the rising Islamophobia.#Islamophobia_In_India pic.twitter.com/Z3O9ETaSLV

— Indian American Muslim Council (@IAMCouncil) May 3, 2020


"Is this how this hospital is managed...Where is it written on my forehead that I am Muslim please tell me," he yells out.

SCAPEGOATING

The anti-Muslim sentiment was spurred by Indian authorities and media blaming an Islamic missionary group, Tablighi Jamaat, for the spike in coronavirus cases in the country.

The situation has deteriorated to a point where hospitals in India have segregated patients based on religion.




Some India observers say linking the virus to the Muslim organization could result in more religious hatred in the country, warning that the effects of Islamophobic conspiracy theories could sow violence even after the pandemic.

"Blaming Muslims for spreading coronavirus all over India is dangerous and discriminatory," said Muqtedar Khan, a professor of Islamic political philosophy at the University of Delaware and an India expert at the Center for Global Policy.


"The lax attitude of the Indian government allowed the Tablighi Jamaat to continue their activities. There are laws in India; the point is that they are using them only against the Tablighis and they are not trying to go after any Hindu group at all," Khan said, adding that the nationalist media have also played a role in spreading accusations that Muslims were responsible for the spread of the virus throughout the country.


India haa recorded more than 13,800 cases of Covid-19, with at least 442 deaths, according to Johns Hopkins University statistics. The country has been on an official lockdown to combat the virus since March 24. However, some officials blame the Tablighi Jamaat for the coronavirus' early spread