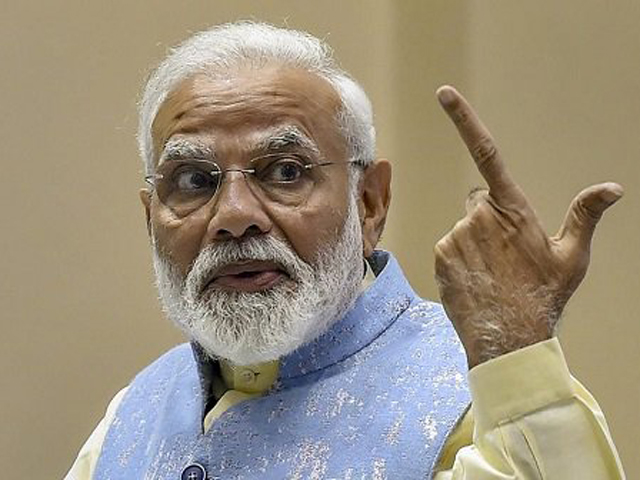 ---
KARACHI: Islamabad has long tried to shine the global spotlight on India's sustained overt and covert attempts to destabilise Pakistan by fomenting and bankrolling terrorism. The 2016 arrest of Indian spy Kulbhushan Jadhav, a serving commander of Indian navy, proved these concerns were not perceived.

Pakistan is not alone. India, driven by its hegemonistic designs, has been interfering in the internal affairs of all its neighbours since long. However last month, it transpired in an alarming development that Indian interference in internal affairs of other sovereign nations wasn't limited to its neighbours only.

A report by Canada's Global News revealed that India's intelligence agencies had been using money and disinformation to covertly influence Canadian politicians into supporting Indian interests, particularly against Pakistan.

According to the damning report, which was based on a highly-sensitive Canadian government document, the operation in question was launched as early as 2009 by the Research and Analysis Wing (RAW) and Intelligence Bureau (IB). It added that one of the operation's key objectives was to convince Canadian politicians that funding from Canada was being sent to Pakistan to support terrorism.

Speaking to The Express Tribune, Pakistani officials and foreign policy experts said that while such an attempt by India may have come to light only recently, it was far from an isolated incident. However, they suggested that with the increasingly negative press Narendra Modi's policies were attracting from the world over, Indian agencies might have ramped up their efforts to manage Delhi's international image.

According to officials, a few months ago, German authorities arrested an Indian couple that was allegedly spying on Kashmiri activists at the behest of RAW. In Canada in particular, they pointed at the role of former diplomat turned politician. Alexander not only appeared in media accusing Pakistan of supporting militants in Afghanistan but also introduced new visa schemes for Indian nationals while serving as Canada's minister of immigration.

The officials also revealed that a Canadian aerospace firm was also removed from national security projects after it emerged that its president and his wife had extensive contacts with Indian agencies.

Talking to The Express Tribune, defence expert Maj Gen (retd) Inamul Haque said that India had three specific interests when it came to the activities of its agencies in Canada and other Western nations.

"Firstly and obviously, they want to undermine the interests of Pakistan and China. This much is evident from how they wanted to convince Canadian politicians that the aid they were giving us was being used to support terrorist activities," he said.

According to Inam, as far as RAW is concerned, this objective has a historical pretext. "Initially in India, all intelligence work was carried out by the IB. But the intelligence failure of 1962 that led to war with China prompted the creation of RAW," he said.

"RAW, from the outset, was outwardly focused. It was created with the specific task of working against Pakistan and China," he added. "In the events that led to the separation of East Pakistan, they supported and funded the Mukti Bahini. In more recent times, they have supported other insurgent movements, like the Tamil Tigers in Sri Lanka and Kachin rebels in Myanmar."

"Closer to us, RAW has been hand in glove with Afghanistan's intelligence apparatus.  It has also made numerous attempts to create hurdles in supply of military equipment to Pakistan from other parts of the world," Inam further explained.

Coming back to meddling in Canadian affairs, Inam said the other goal of the Indian agencies was to keep an eye on diaspora communities that supported separatist movements inside India. "Canada and the UK have large populations of Sikhs, many of whom are sympathetic to the Khalistan movement," he said. "So, the Indian agencies want to keep their activities in check."

Lastly, Inam said the Indian agencies' goal in Canada and other Western nations was to manage the media to promote a certain narrative about India. "Particularly when it comes to criticism about its treatment of minorities, India wants to muzzle that," he said. "There's a growing realisation that bigotry has taken root in India, and this creates further need for perception management operations."

Pakistan's former foreign secretary Shamshad Ahmed Khan stressed this fact as well. "Right now, India under Modi is following overtly racist and sectarian policies," he said. "Because of this, India's agencies and diplomats are very active in spreading misinformation around the world."

According to Shamshad, it was necessary for Pakistan to activate its own diplomacy. "Now is the time. The world is aware of what Modi is doing and what India is doing, and we need to use this against them," he said.

"We need to highlight that Modi's actions are not only eroding India's own secular structure but creating a threat to regional peace and security. We need to make the world realised that there is a real threat of genocide and conflict."

On the topic of Pakistan ramping up diplomacy, Shamshad said this needed to go beyond embassy-to-embassy contacts and activities. "We need to have a media policy. We also need to be adept at employing social media to wake the world up to India's behaviour," he said.
COMMENTS
Comments are moderated and generally will be posted if they are on-topic and not abusive.
For more information, please see our Comments FAQ