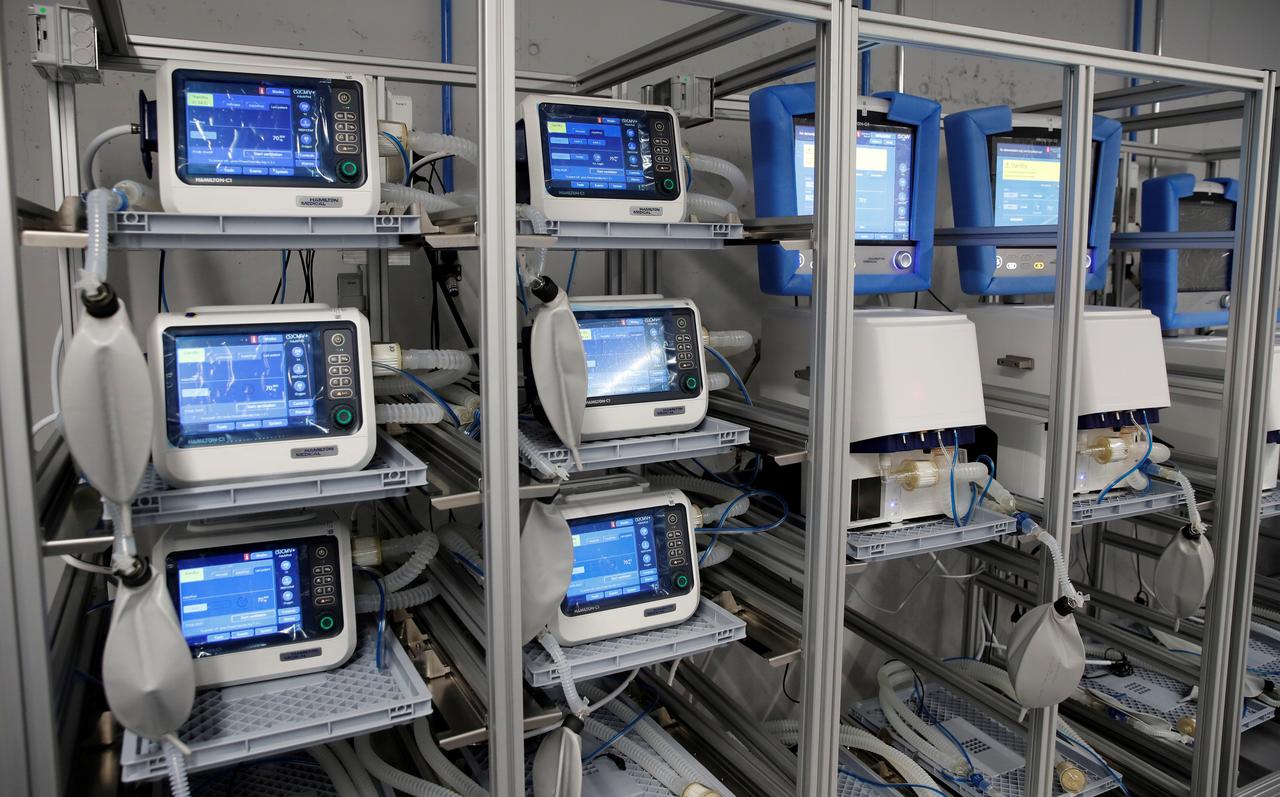 ---
Sindh to buy 200 more ventilators
The province has total 918 ventilators with over 8,000 positive Covid-19 cases
---
KARACHI: A day after reports emerged of the death of a retired practitioner at the Karachi Institute of Heart Diseases, Dr Furqanul Haq, who suffered from the coronavirus, due to the unavailability of ventilators, the Sindh government decided to purchase 200 more ventilators to meet the province's Covid-19 treatment requirements.

The decision was made during a meeting chaired by Sindh chief secretary Syed Mumtaz Ali Shah. Speaking on the matter, the chief secretary directed all divisional commissioners to oversee the management and maintenance of ventilators.

According to the data shared by the provincial government, the province has total 918 ventilators, including 589 in public hospitals, 282 in private hospitals and 47 in hospitals running under armed forces. Out of them, 194 ventilators are being used for the treatment of patients suffering from ailments other than Covid-19, while 20 seriously ill Covid-19 patients are on ventilators. Besides, 13 ventilators are non-functional across the province, including three in Hyderabad, as many in Larkana, two in Khairpur Mirs, as many in Jamshoro and Dadu each and one in Badin.

Bilawal blasts PTI govt for not supporting provinces amid coronavirus crisis

Earlier, on Monday, after the death of Dr Haq and the ensuing controversy, the health department decided to maintain a record of the number of ventilators available at hospitals, and all hospitals were directed by health authorities to share details in this regard at least four times a day.

"This will lead to better coordination between officials and will help in transporting patients to a particular hospital [where ventilators are available]," an official told The Express Tribune.

Isolation centers

The meeting was also informed that total 6,924 isolation facilities had been set up across the province, including a 1,200-bed centre at the Expo Center in Karachi, a 300-bed centre at PAF Museum in Karachi, a 1,100-bed facility in Hyderabad, a 100-bed facility in Thatta, a 150-bed isolation centre in Badin, a 100-bed centre in Dadu, a 220-bed centre in Jamshoro, a 150-bed facility each in Mirpurkhas and Umerkot, a 130-bed facility in Mithi, a 100-bed isolation centre in Chhachhro, a 330-bed centre in Shikarpur, a 1,344-bed centre in Sukkur, a 400-bed centre in Khairpur Mirs, a 470-bed facility in Ghokti, a 330-bed in Larkana, a 200-bed facility in Jacobabad and a 150-bed facility in Qambar-Shahdadkot.

Apart from these, the provincial government plans to establish a 1,500-bed isolation centre at Tableeghi Jamaat's main centre in Karachi's West district, the meeting was told.

World Bank hails Pakistan's cash scheme for poor

"In case all hospitals and isolation centres are filled to capacity, Tableeghi Jamaat's markaz [centre] will likely be converted into the isolation centre," an official told The Express Tribune, confirming the news.  "The proposal is under consideration, though" he added.

SIUT dismisses reports

Meanwhile, Sindh Institute of Urology and Transplantation (SIUT) representatives, addressing a press conference on Tuesday, said that they had conducted a thorough internal enquiry of Dr Haq's death but found no evidence of him being brought to the emergency services ward of the hospital.

They said that the staff, including senior faculty, on duty on Sunday were inquired about the incident. Moreover, review of a video recording by security cameras did not show any evidence of Dr Haq's entry in the emergency areas, they added.

According to health department officials, the Sindh Rescue and Medical Services (SRMS) received an emergency call from Dr Haq's family at 9:54am on Sunday morning. The ambulance driver, told to shift the patient to Sindh Institute of Urology and Transplantation (SIUT), arrived at the doctor's residence at 10:02am, according to official records.

Vajda to replace Wells as US envoy for South Asia

Health department spokesperson Meeran Yousuf told The Express Tribune that the ambulance transported him to two different hospitals, before taking him back to his residence at 1:17pm on his request.

"Nobody from any hospital was at fault," claimed Yousuf, denying reports that the deceased had been refused treatment due to a shortage of ventilators in the city.

The Sindh health department has formed an investigation committee to probe the death of Dr Furqanul Haq, who succumbed to the coronavirus in Karachi on Sunday.

Red Cross looks to global influencers to fight coronavirus 'infodemic'

According to a notification issued by the health department, the three member committee will be led by health special secretary Dr Fayyaz Ahmad and include Dow Medical College principal Dr Amjab Siraj and Dr Sikander Memon as members.

The committee has been assigned the task to determine whether Dr Haq was treated as per standard operating procedures and what led to his worsened condition, and eventual death.