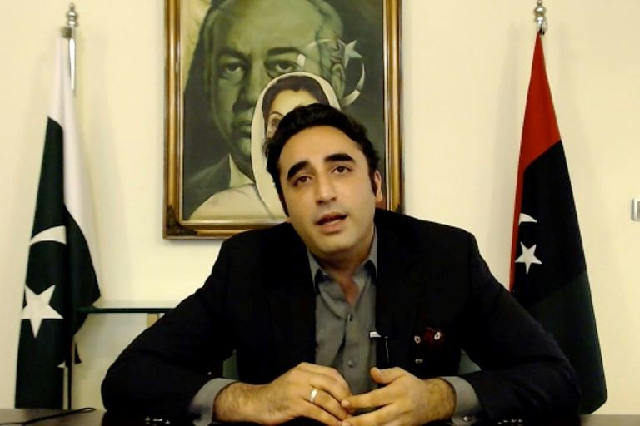 ---
Bilawal blasts PTI govt for not supporting provinces amid coronavirus crisis
PPP chairman announces to give special package to doctors fighting coronavirus pandemic
---
KARACHI: Pakistan Peoples Party (PPP) Chairman Bilawal Bhutto Zardari has taken a jibe at the federal government "for not providing" medical and financial support to provinces to deal with the crisis triggered by the Covid-19 pandemic.

Addressing the People's Doctors Forum at his residence in Karachi on Tuesday, Bilawal said he has been demanding the relief package for all the provinces not only for Sindh "but instead of helping, the federal government is creating obstacles in our way".

The PTI government's response to the Covid-19, he said, has not only made Covid-19 induced lockdown less effective "but further spread the coronavirus in the country".

In a bid to create difficulties for the Sindh government, the PPP leader said Sindh Governor Imran Ismail, who is a federal government's representative, is not signing relief package ordinance proposed by the provincial government.

Another doctor succumbs to coronavirus in Karachi

"The relief package includes job and salary protection for the people of the province, rebates on utility bills, relief in school fees and rebates on house rent," he added.

Bilawal also announced to give a special package to the frontline doctors "bravely fighting" the Covid-19 pandemic similar to the one given to the soldiers fighting against terrorism.

He announced the package after third doctor, Furqanul Haq, succumbed to the deadly virus reportedly due to the unavailability of ventilators in Karachi.

However, Sindh health department officials, denied the reports of shortage of ventilators after initiating an inquiry into the matter.

Earlier in the day, Sindh Chief Minister Murad Ali Shah said the province's health authorities carried out 2,250 tests and 307 were positive during the last 24 hours, bringing the total number of Covid-19 cases to over 8,000.

He also said 237 of the 307 cases were from Karachi. The chief minister confirmed 11 new deaths in Sindh, which took the provincial death toll to 148.

Currently, the nationwide tally of Covid-19 patients have surpassed 22,000 mark. with 8,133 cases in Punjab 3,499 in Khyber-Pakhtunkhwa, 1,495 in Balochistan, 386 in Gilgit-Baltistan, 464 in Islamabad and 71 in Azad Jammu and Kashmir.