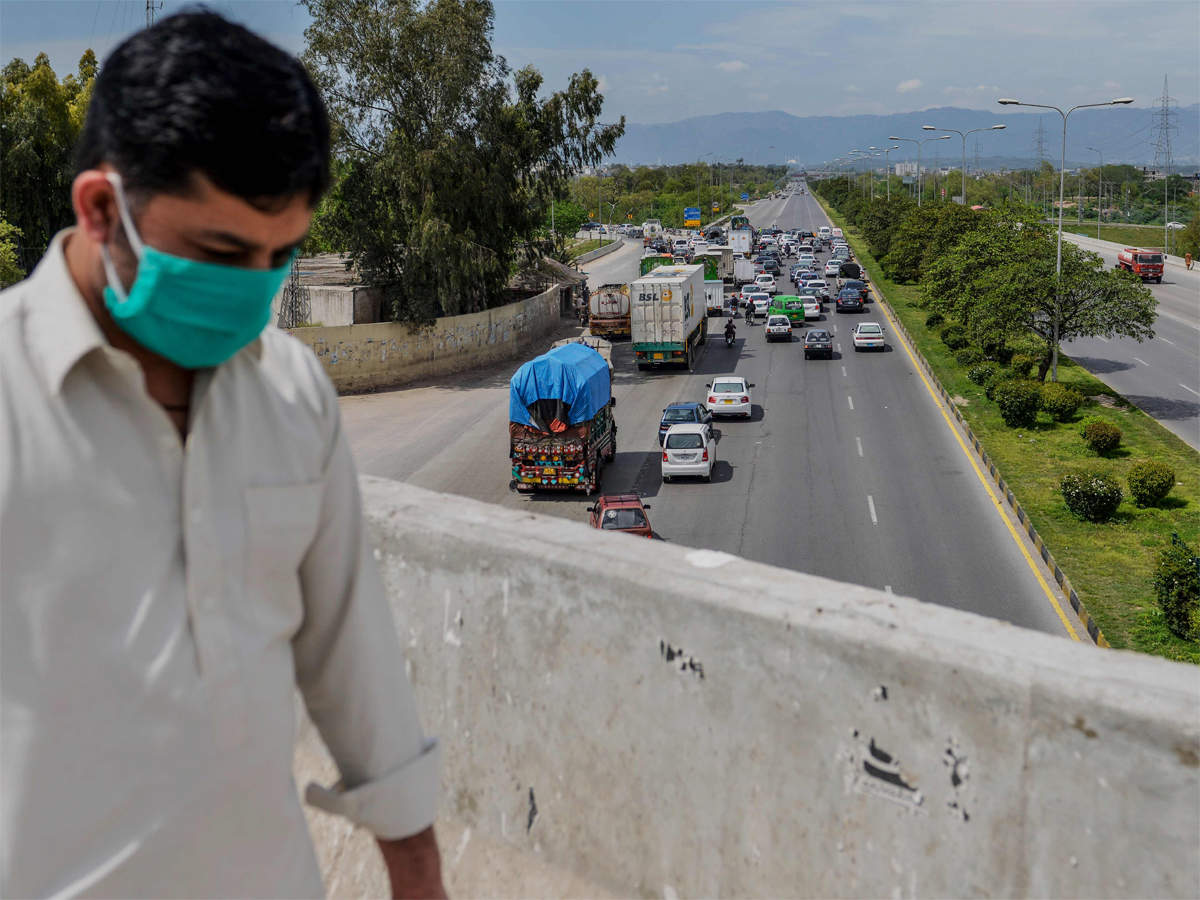 ---
May 5: Govt gives green-light to easing lockdown after May 9; coronavirus tally hits 22,237
The virus has claimed at least 514 lives while over 5,801 coronavirus patients have recovered
---
KARACHI / ISLAMABAD / QUETTA / PESHAWAR / LAHORE / GILGIT / MUZAFFARABAD: The novel coronavirus emerged in the central China city of Wuhan towards the end of last year and proliferated to almost the whole world within a couple of months. It's not the virulence or fatality, but the infectivity of the new virus – also known as SARS-CoV-2 – that has set off a global frenzy.

The Covid-19 respiratory illness caused by this mysterious contagion has so far infected more than 3.5 million people in 202 countries and territories of the world – more than 250,000 of them have died and counting.

Pakistan, despite its close proximity with China, remained coronavirus-free until February 26 when a young man from Karachi tested positive after returning from Iran – one of the worst-hit countries. After a brief hiatus following the first case, Covid-19 cases spiked as more pilgrims returning from Iran tested positive for the virus.

The nationwide tally of Covid-19 patients stands at 22,237 with 8,133 cases in Punjab, 8,189 in Sindh, 3,499 in Khyber-Pakhtunkhwa, 1,495 in Balochistan, 386 in Gilgit-Baltistan, 464 in Islamabad and 71 in Azad Jammu and Kashmir.

The virus has claimed at least 514 lives while at least 5,801 coronavirus patients have recovered.

The number of cases has continued to soar despite the country being under lockdown for the sixth consecutive week.

The situation remains fluid and we're updating stats as soon as new figures are officially released.

Follow The Express Tribune's live coverage of the pandemic here.




1:30am: Probe body submits findings in Dr Furqan case

A three-member inquiry committee has completed its inquiry into the death of radiologist Dr Furqanul Haq, who died of coronavirus in Karachi, and submitted its report to Sindh Chief Minister Murad Ali Shah.

The doctor needed to be placed on a ventilator but his family said they visited several hospitals in the city but was not admitted to any of them.

In the report, the committee has found Dr Jagdish, FCPS of Dr Ruth Fau (Civil Hospital Karachi), guilty of negligence and recommended action against him.

The committee said Dr Jagdish was not involved in intentional wrongdoing but his "irresponsibility" had caused the Dr Furqan's death.

Read more here




1:08am: Sindh to buy 200 more ventilators

A day after reports emerged of the death of a retired practitioner at the Karachi Institute of Heart Diseases, Dr Furqanul Haq, who suffered from the coronavirus, due to the unavailability of ventilators, the Sindh government decided to purchase 200 more ventilators to meet the province's Covid-19 treatment requirements.

The decision was made during a meeting chaired by Sindh chief secretary Syed Mumtaz Ali Shah. Speaking on the matter, the chief secretary directed all divisional commissioners to oversee the management and maintenance of ventilators.

Read more here




12:09am: Over 100 Sindh police personnel test positive for Covid-19

The Sindh police have confirmed at least 100 personnel – including inspectors, sub-inspectors, constables, ASP and DSP– have tested positive for the coronavirus.

According to an official statement, the Sindh police as a precautionary measure have also tested 263 family members of the Covid-19 positive officials.

Two cops have lost their lives to the deadly coronavirus in Karachi.

As much as 14 Covid-19 positive police personnel have been recovered.




11:22pm: Cabinet gives nod to easing lockdown restrictions after May 9

The federal cabinet on Tuesday concurred to further ease the lockdown after May 9 but left the final decision in this regard to the National Coordination Committee (NCC), which would meet on Wednesday with all the chief ministers in attendance.

A cabinet meeting, chaired by Prime Minister Imran Khan, delayed a summary for printing currency notes without varnishing for two months, and rejected a proposal for import of 429 medicines and their raw material from India.

The ministers allowed inclusion of 61 food and non-food items in the quality control list of Pakistan Standards and Quality Control Authority (PSQCA) and approved a memorandum of understanding (MoU) with the United States to raise funds for the prime minister's relief fund.

The cabinet meeting held threadbare discussion on the coronavirus situation in the country. Planning Minister Asad Umar briefed the ministers about the pandemic and the measures to contain it, Information Minister Shibli Faraz told a press conference after the meeting.

Read more here




9:10pm: Balochistan's coronavirus tally swells to 1,495 with 174 new cases

The Balochistan Health Department, in its daily situational report, confirmed another 174 cases of Covid-19 to raise the provincial tally to 1,495.

The virus claimed 21 lives while 206 patients have recovered from the mysterious disease in the province so far.




9:00pm: 14 fresh cases raise G-B's Covid-19 tally to 386

The Gilgit-Baltistan Health Department has confirmed another 14 cases of coronavirus to raise the region's tally to 386.

With three new recoveries, total number of active cases stands at 101 in the region.




8:40pm: FM Qureshi discusses impact of Covid-19 pandemic with Omani counterpart

Foreign Minister Shah Mahmood Qureshi and his Omani counterpart Yusuf bin Alawi bin Abdullah held a telephonic conversation on Tuesday and discussed Covid-19 pandemic.

"Foreign Minister Qureshi appreciated effective measures being taken by Oman to control the spread of the disease," the Foreign Office said in a statement.

He briefed the Omani foreign minister about the latest situation in Pakistan as well as the steps being taken by the government to cope with the challenges amid outbreak of the novel coronavirus, the communique added.

Read full story here




8:30pm: Sindh to announce special package for doctors, says Bilawal

Pakistan Peoples Party (PPP) Chairman Bilawal Bhutto Zardari has said that the Sindh government will soon announce a special package for doctors similar to the one given to the brave soldiers fighting against terrorism.

He said this while addressing the People's Doctors Forum office-bearers at Bilawal House in Karachi through video link.

Bilawal said that the non-arrival of the federal government's economic bailout package reduced the effectiveness of the lockdown and further spread the Covid-19 in the province. He said that the federal governments all over the world have given such relief packages but "ours has given nothing except continuing the Benazir Income Support Program funding started by PPP".

The PPP chairman said the federal representative – Sindh Governor – is not even signing the relief package ordinance given to the people by the Sindh government. The package includes job and salary protection for the people of the province, rebates on utility bills, relief in school fees and rebates on house rent.

Read full story here




7:30pm: K-P reports nine deaths, 211 new Covid-19 cases in last 24 hours

The Khyber-Pakhtunkhwa (K-P) Health Department has said that 211 new cases – 58 from international flights quarantine – were reported in the past 24 hours, taking the provincial tally to 3,499.

It also confirmed nine new deaths – 5 in Peshawar, 1 each in Charsadda, Mardan, Mansehra and Haripur – taking the death toll to 194.

Another 19 coronavirus patients recuperated, bringing the total number of recoveries to 875 in the province.


211 new cases (58 from international flights quarantine) were reported in past 24 hours taking tally to 3,499. 9 new deaths were confirmed (5 Peshawar, 1 each Charsadda, Mardan, Mansehra, Haripur) taking tally to 194. 19 new recoveries reported taking tally to 875 in KP. pic.twitter.com/kcFlIO139x

— Health Department KP (@HealthKPGovt) May 5, 2020


5:40pm: NCOC meeting to mull ways to bring gradual lockdown easing after May 9: Shibli

The National Command and Control Center (NCOC) will hold an important meeting tomorrow to mull ways to ease lockdown restrictions after May 9, said the Information Minister Shibli Faraz on Tuesday.

Addressing a news conference, he said all provincial chief ministers will attend the NCOC meeting in Islamabad.

Faraz told the media that the federal cabinet members have donated their one-month salaries to the government's Covid-19 relief fund.

The government, he said, has allowed exporting the locally made hand sanitizers which will earn the country foreign exchange reserves.


Federal Minister for Information and Broadcasting @shiblifaraz holding a Press Conference at #PID. https://t.co/tFLY0JlFPD

— Government of Pakistan (@GovtofPakistan) May 5, 2020


5:30pm: Karachi commissioner issues SOPs for bicycle riders

With the increasing number of cyclists on the streets of the city, Karachi commissioner Iftikhar Shallwani has issued on Tuesday a set of standard operating procedures (SOPs) pertaining to cycling in the metropolis.

A notification issued in this regard calls for cyclists to ensure that they meet the necessary safety standards and have the relevant safety equipment. Cyclists have been asked to ensure that they have proper fitting helmets and some form of reflective material on their clothing as well as reflective strips at the back and front of bicycles when cycling at night.




Read more here


5:00pm: Sindh health minister asks citizens to get tested if they show symptoms 
4:30pm: Inquiry into Dr Furqan's death ordered by CM Murad
Notification has been issued to inquire into the causes which led to the unfortunate death of Dr Furqan. Committee has been directed to complete inquiry & submit report within 24 hours pic.twitter.com/IsAt2xLPHL

— Murtaza Wahab Siddiqui (@murtazawahab1) May 4, 2020


4:00pm: Murtaza Wahab laments back and forth with federal govt

Sindh government spokesperson Murtaza Wahab lamented the back and forth between the provincial and federal government regarding the coronavirus outbreak and said it has drawn attention away from the real issued being faced.

"Perhaps, that was the reason behind their [federal govt] statements and they wanted to divert attention away from the provincial government's efforts to curb the outbreak of the disease," he said while addressing the media.

He also said that Sindh had initiated preparation for the outbreak before the first cases emerged in the country




3:15pm: SIUT holds internal inquiry into death of Dr Furqan

Condoling the death of Dr Furqan, representatives of the Sindh Institute of Urology and Transplantation ordered an internal inquiry into the incident.

SIUT has been mentioned in press, electronic and social media as one of the hospitals where the deceased was taken to in need of a ventilator.

Representatives of SIUT said there is no evidence of Dr Furqan entering the emergency unit of the hospital and staff claimed that no such patient was present.


2:25pm: Balochistan government spokesperson addresses the media
#Live Balochistan government spokesman Liaquat Shehwani briefs media in Quetta https://t.co/pj30U4SkqT

— Radio Pakistan (@RadioPakistan) May 5, 2020
2:20pm: Punjab reports 491 new cases

Punjab reported 491 new cases, taking the provincial tally to 8,133. The province's highest number of cases have been reported in Lahore.

According to health authorities, 768 pilgrims, 1,926 associated with Raiwind Tableeghi Ijtima, 86 prisoners and 4,886 others tested positive for the virus.

Punjab reported 144 deaths in the province, while at least 2,680 patients have recovered.


2:10pm: NDMA to establish three quarantine centres

The National Disaster Management Authority (NDMA) is establishing quarantine centres at Taftan, Chaman and Torkham borders.

According to the NDMA spokesperson, the Taftan quarantine centre will consist of 600 rooms, whereas Chaman and Tokrham centres will have 300 rooms each.

He said the quarantine facility at Torkham is complete and has been handed over to the local administration.


2:05pm: Sindh governor 'feeling a lot better' 

Sindh Governor Imran Ismail said it is day nine of his quarantine and is feeling a lot better, adding that a retest will be conducted tomorrow.



Today is day 9 of my Quarantine, I am felling a lot better. Had a few symptoms like coughing, fever & a little shortness of breath earlier which is now fading out. Will get my retest done tomorrow. Thankful to all those who prayed for me. Allah Kareem has been kind. @ImranKhanPTI

— Imran Ismail (@ImranIsmailPTI) May 5, 2020
1:35pm: 307 new cases in Sindh, 11 deaths

Sindh Chief Minister Murad Ali Shah said the province's health authorities carried out 2,250 tests and 307 were positive.

He said 237 of the 307 cases were from Karachi.

The chief minister reported 11 new deaths in Sindh, adding that the province's death toll has reached 148.


1:15pm: Alvi urges world leaders to lift humankind amid pandemic

President Dr Arif Alvi said the impact of the coronavirus has increased human misery and urged world leaders to "rise to the occasion and lift humankind towards a more emancipated new world order to reduce suffering".



Because of the health and economic impact of Covid-19, human misery has increased tremendously. Leaders of the World must rise to the occasion & lift humankind towards a more emancipated New World Order to decrease suffering, with an equitable sharing of the wealth of this Earth. https://t.co/pP9ToIFUbg

— Dr. Arif Alvi (@ArifAlvi) May 5, 2020
1:00pm: Sindh govt establishes field isolation centre in Hyderabad

Adviser to Sindh chief minister Murtaza Wahab said the Sindh government has established a field isolation centre in Hyderabad.

The centre will cater to 300 asymptomatic patients, he added.

Wahab said Hyderabad has had 346 cases, of which 194 have recovered and four lost their lives.



#SindhGovt has established a Field Isolation Centre in Hyderabad for #COVIDー19 patients. The centre will cater to 300 asymptomatic patients. About Hyderabad, so far we have had 346 patients, out of whom 194 have so far recovered & 4 have unfortunately passed away pic.twitter.com/G6b7yOL8Nk

— SenatorMurtaza Wahab (@murtazawahab1) May 5, 2020
12:30pm: Dr Sania Nishtar satisfied with NADRA arrangements 

Special Assistant to the Prime Minister on Poverty Alleviation Dr Sania Nishtar visited NADRA offices in Islamabad and expressed satisfaction over arrangements made to facilitate visitors and services for the Ehsaas Emergency Cash programme beneficiaries.

She said death registration of Rs50 has been waived off.



Yesterday, I reviewed arrangements at newly opened @NadraMedia offices in #ICT. Easy solutions will be provided to #EhsaasEmergencyCash recipients within 24 hrs to complete biometric identifications & death registrations. Death registration fee of Rs. 50 has also been waived off. pic.twitter.com/cZfD3DowzF

— Sania Nishtar (@SaniaNishtar) May 5, 2020
12:15pm: 193 stranded Pakistanis return home

At least 193 Pakistanis stranded in India have been repatriated via Wagah border.

They were screened and transferred to quarantine centres in Lahore.

The purpose of their visit pertained to visiting family, seeking medical treatment and attending religious ceremonies.

Several Pakistanis had reached the Wagah border on Monday evening, but were sent back by the Border Security Force (BSF) and spent the night in Amritsar.


12:10pm: Balochistan govt extends lockdown

The Balochistan government has decided to extend the lockdown for another 15 days.

The extension is effective from today until May 19.


11:50am: Special plane departs for South Korea

A special Pakistan International Airlines (PIA) flight, carrying 152 passengers, departed for South Korea from Islamabad.




11:45am: Federal cabinet to meet today 

Prime Minister Imran Khan has called a meeting of the federal cabinet in Islamabad today to discuss the pandemic.


11:40am: Punjab CM approves relief package for artists

Punjab Chief Minister Usman Buzdar has approved a financial relief package for artists in the province.

The chief minister said 3,000 artists will be paid Rs15,000-Rs20,000 through this package.


11:30am: Punjab Governor Chaudhry Sarwar addresses the media 
#LiveNow Governor Punjab @ChMSarwar talking to media in Lahore https://t.co/naCMehgc5q

— Radio Pakistan (@RadioPakistan) May 5, 2020
11:05am: Alvi says problems in Kashmir 'pushed to the back'

President Dr Arif Alvi said the brutalities faced by the people of occupied Kashmir are being "pushed to the back" amid the coronavirus outbreak, similar to the setback suffered by Palestine and Kashmir after 9/11.

Under the Covid-19 crisis efforts are being made to push the Occupied Jammu & Kashmir issue on to the back burner, in a way similar to the set-back suffered by genuine freedom movements like Palestine & Kashmir after 9/11. https://t.co/mqycgWavYr

— Dr. Arif Alvi (@ArifAlvi) May 5, 2020
10:10am: K-P allows private hospitals to provide services

Khyber-Pakthunkhwa (K-P) health authorities said all private hospitals in the province are allowed to provide healthcare services but must ensure implementation of standard operating procedures (SOPs).


9:45am: DIG operations says 2,169 FIRs have been registered

Deputy Inspector General (DIG) Operations Lahore Rai Babar Saeed reported 2,169 first information reports (FIR) have been registered against persons in violation of Section 144.


9:30am: Punjab IGP orders testing of police officials 

Punjab Inspector-General of Police (IGP) Shoaib Dastagir has ordered the testing of police officials in the province.

He said testing should take place on a priority basis, starting with police officials posted at hospitals and quarantine centres, followed by those performing duties at Ehsaas Emergency Cash programme centres.

He said police officials performing duties of man-to-man searching should also be tested, followed by those officers performing other duties where public interaction takes place.


9:20am: Shibli Faraz says govt doing its best to overcome Covid-19

Federal Minister for Information and Broadcasting Shibli Faraz said the government is doing its best to overcome the pandemic in the country.

He said the death rate in Pakistan is much lower compared to deaths worldwide because of the timely steps taken by the government.

The minister said the decision to impose a lockdown in the country was acknowledged by world leaders.


9:10am: Mirza speaks to 4,000 Pakistani doctors, vows to facilitate them

Special Assistant to Prime Minister on Health Dr Zafar Mirza spoke to over 4,000 Pakistani doctors through Yaran-e-Watan - an online platform connecting overseas health professionals to combat Covid-19.

Mirza said the government will fully facilitate the doctors to support healthcare systems of their own countries through this initiative and otherwise.



It was great to speak with 4000+ Pakistani Drs thru @YaranWatan. You are us! GOP will fully facilitate you to support the health system of your country through this initiative and otherwise. Your expressions of support r overwhelming. Thanks @APPSUK for organizing. <299> pic.twitter.com/BabkKFQmnw

— Zafar Mirza (@zfrmrza) May 5, 2020
9:00am: Punjab reports 457 new cases

The National Command and Operation Centre reported 457 new cases nationwide, raising Pakistan's total number of confirmed cases to 21,501.

The new cases were reported in Punjab, raising the provincial tally to 8,103.

In the past 24 hours, 24 new deaths have been reported. The country's death toll has reached 486, while at least 5,782 patients have recovered.


8:40am: Third meeting of Committee on Virtual Session of the NA to meet today

The third meeting of the Committee on Virtual Session of the National Assembly (NA) during the pandemic will be held today.

The meet will be chaired by Minister for National Food Security and Research Syed Fakhar Imam.

It will discuss the modalities for holding physical sessions and the duration of each sitting of the assembly.

The committee will discuss health safety measures, standard operating procedures (SOPs) and special logistic arrangements to allow members to attend the sessions.


8:00am: Punjab minister says govt will continue relief package 

Punjab Minister for Labour and Human Resources Ansar Majeed Khan Niazi said the provincial government will continue the relief package until those affected by the lockdown have been rehabilitated.

He said the government is trying to provide relief to the masses by facilitating the two-month relief orders for tenants, ease of utility bill submissions and significantly reducing the price of petroleum products.