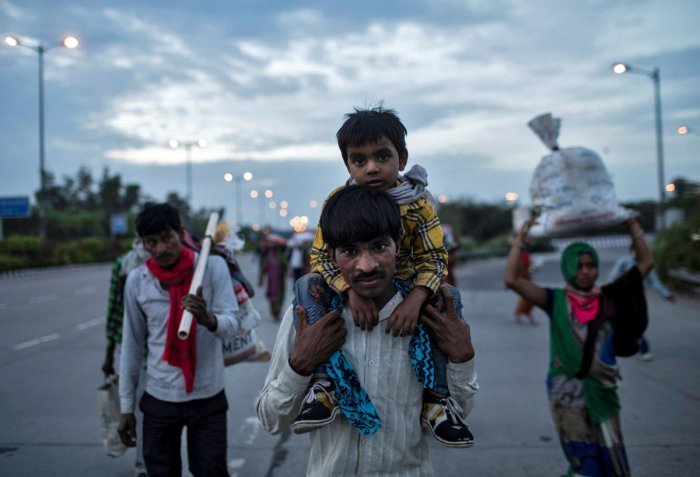 ---
'Save people from coronavirus to save them from poverty'
Activists say govt is sympathising with poor instead of following doctors' advice
---
KARACHI: Civil society activists have urged the provincial and the federal governments to enforce a lockdown across the country to save people from the global coronavirus pandemic.

Addressing a press conference at the Karachi Press Club on Monday, academicians, politicians, lawyers and activists stated that it was strange to see the federal government showing sympathy towards the underprivileged people of society instead of following the advice given by doctors to curb the coronavirus outbreak.

The speakers maintained that the government had failed to understand that saving the citizens from Covid-19 would save them from poverty.

According to the speakers, people were terming the pandemic and the subsequent closure of mosques a conspiracy against Muslims, while others were calling it a plot by the government to facilitate corruption.

The masses were not viewing this challenge scientifically, said the speakers, adding that misinformation was being spread through social media and even senior officials of the federal government were not paying heed to the scientific measures against the contagious disease.

They were of the view that the policies adopted by the federal government had strengthened the conservative mindset in society and this had made the implementation of a lockdown impossible, causing the virus to spread rapidly.

They pointed out that despite the provincial and federal governments' claims that labourers would not be fired from the industrial sector, employees in every sector were being terminated from work. They added that the government had failed to protect the rights of labourers and workers even in the private sector.

Pointing out that experts have warned about a food crisis in Africa and Asia, which will also affect Pakistan, the speakers urged the government to set its priorities straight.

"We demand that the priorities should be changed in the next budget," said one of the speakers. "It is the right time to reserve 70 per cent of the budget for education, health, employment, and infrastructure."

They pointed out that Prime Minister Imran Khan had argued that the lockdown in the European countries was effective because they were not nations stricken by hunger; however, they added, he seemed to be unaware that those countries were welfare states.

Those speaking at the press conference included Malir University of Science and Technology chancellor Dr Tipu Sultan, Institute of Social and Historical Research's Dr Jaffar Ahmed, Jiye Sindh Qaumi Mahaz chairperson Abdul Khalique Junejo, senior labour union leader Usman Baloch, Sindh Bar Council member Salahuddin Gandapur, Federal Urdu University's Prof Tauseef Ahmed Khan and National Trade Union Federation leader Nasir Mansoor.

Published in The Express Tribune, May 5th, 2020.