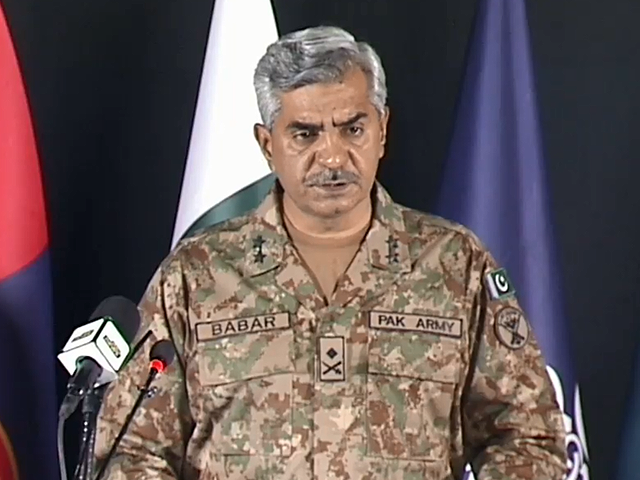 ---
Army troops helping govt contain virus: ISPR DG
 Maj-Gen Iftikhar says India's saffronisation endangers regional peace
---
KARACHI: Major General Babar Iftikhar, the director general of the Inter-Services Public Relations (ISPR), has said that Pakistan Army troops have been deployed across the country to aid the civil administration to contain the spread of the novel coronavirus (Covid-19).

"The main objective of the deployment is to enforce the provincial governments' lockdown directives," Maj-Gen Iftikhar said in his first-ever interview to a private news channel, since assuming the charge of the head of the military's media wing in February.

The military is also providing medical and all possible support to the civil administration. "We are also engaged in the mass production of personal protection equipment (PPE)."

According to the ISPR DG, the National Command and Operation Centre (NCOC) was formed to tackle the unprecedented Covid-19 pandemic and to synergise the national efforts via this central authority.

He appreciated China's support to Pakistan in tackling the global pandemic, saying their role is very positive and "we are grateful to them".

On the Covid-19 pandemic, the ISPR DG said that until the development of a vaccine, "people might have to adjust to the new norms as life must go on".

Rubbishing the Modi government's allegation about "infiltration attempts", Maj-Gen Iftikhar said, "The baseless allegations of the Indian leadership like infiltration of infected Covid-19 patients across LoC are condemnable."

He said that the saffronisation of Indian Army is a reality and it could "jeopardise the regional peace and stability".

On the Modi government's victimisation of minority communities, particularly Muslims, amid the Covid-19 crisis in India and comparing them to the rights of minorities in Pakistan, he said: "The relation of minorities in Pakistan starts with our flag as the white colour represents them… they are part and parcel of everything in our country and their services for the country are appreciable."

Maj-Gen Iftikhar also reiterated the country's earlier demand that the United Nations Military Observer Group in India and Pakistan (UNMOGIP) should hold inquiry into the Indian allegations of targeting "launching pads". "The UNMOGIP is welcome to visit any area in Pakistan."

The deployment and activities of Pakistan Army troops on eastern and western borders have not been disturbed due to the ongoing Covid-19 relief operations.