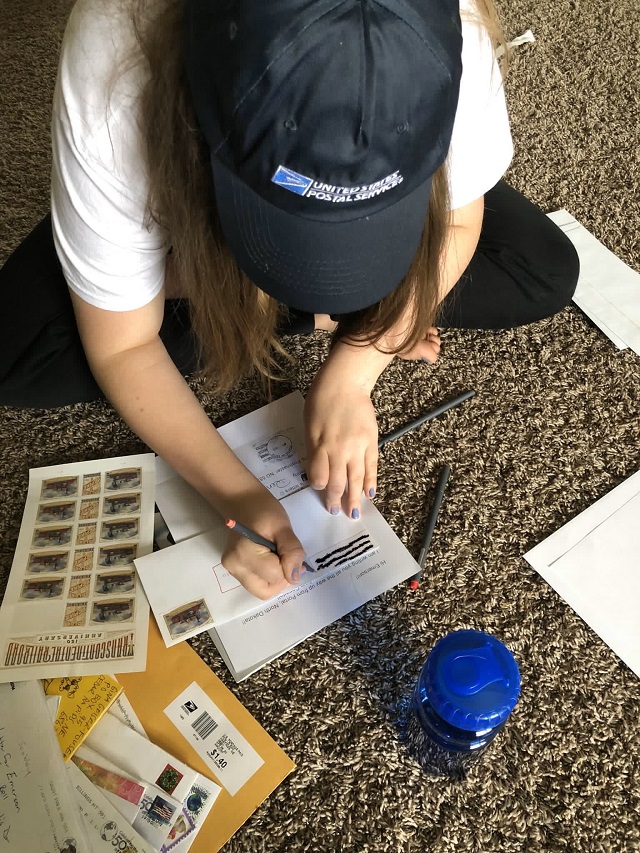 ---
In a stark reminder of the uplifting impact of small gestures, the story of an eleven-year-old writing a letter to her postman to thank him for his services has resulted in an outpouring of emotion on social media.

In a series of 26 heart-warming tweets, Emerson's father narrated the 'backstory' as well as the sequence of events that followed the letter that has since gone viral.


Emerson, my 11 year old, is on a bit of a wild ride with the @USPS and our local mail carrier, Doug.

And, I think there's a deeper message to it all.

First, the backstory...

— Hugh Weber (@hughweber) May 2, 2020


Em, as she is lovingly called, has a serious letter-writing habit, with a penchant for hand-decorating letters and envelopes, Weber revealed.




"A letter from Emerson is likely to include some art, a joke or two, a mention of her younger brother, confessions of her love for Taylor Swift and enough questions to guarantee a response."

In her letter to Doug the mailman, Emerson introduces herself before sharing her reasons for writing the letter.


Em wrote, "I'm Emerson. You may know me as the person that lives here that writes a lot of letters & decorated the envelopes. Well, I wanted to thank you for taking my letters and delivering them. You are very important to me. I make people happy with my letters, but you do too."

— Hugh Weber (@hughweber) May 2, 2020


"You are very important to me. I make people happy with my letters, but you do too," she wrote.

She added that she was grateful to the postman for helping her stay in touch with her friends as she doesn't have a phone. "You make it possible!"

Touched by the gesture, the postman shared Em's letter with his supervisor, and they both wrote back to express their appreciation.

But that wasn't the end of it. The supervisor had shared Em's hand-written letter in an internal newsletter of the postal service, and a lot of postal workers wanted to write back to her.




The supervisor's note to Emerson's parents. (Photo: @hughweber)

Doug has already delivered to Emerson two boxes of letters from postal workers around the country, and she is already busy penning replies.




Letters Emerson received. (Photo: @hugweber)

The letters, says Weber, are 'deeply human' in which people talk about their own joys and worries.


Because Em was fully vulnerable, they were too.

Em shared jokes, so they shared jokes.

Em share her brother, so every gift that was sent came in duplicate.

Em shared @TaylorSwift13 and it turns out that the US Postal service is filled with lots of undercover Swifties.

— Hugh Weber (@hughweber) May 4, 2020
One wrote,
"I can't tell you how much it means to read your letter..."

Another,
"I have a son in Kuwait and if you have a second to send him a letter he would love it."

And another,
"I know you can't write back to all of us, but maybe I can drop you a line from time to time?"

— Hugh Weber (@hughweber) May 4, 2020


As Emerson writes back to her pen-pals, her father hopes that these letters serve as an encouragement for staying in touch with people who are locked down because of the pandemic.

A digital storyteller, Weber also took the opportunity to convey an important message regarding mental well-being, which resonated with social media users.

"It's #MentalHealthAwareness month and I want to be bold and brave like Em. We're all in a moment of physical isolation that is amplifying a real epidemic of loneliness, anxiety and depression. I've been feeling it personally since long before we locked our front door," he tweeted.

According to Weber, the moral of the story is: it's the small things that matter most.


Send a letter.
Make a call.
Practice self care.
Take a step of boldness.
For yourself or for others.

And, thank your mail carrier (from an appropriate distance.) They are working extremely hard to keep us all connected.

— Hugh Weber (@hughweber) May 4, 2020


The story had many in tears while applaud continues to pour in commending the Webers for raising a wonderful child, while people from far corners of the globe asked whether they could become pen-pals with Em.


Ok, I did NOT expect to be choked up at the end of this thread.
Thank you for sharing this. Your daughter is a gold star rockstar astronaut.

— Ron McKenzie (@ronniemick) May 3, 2020
@threadreaderapp unroll this like tears rolling down our cheeks as we read this. And bless Emerson's tender heart.

— VelvetBarracuda (@VelvetBarracuda) May 3, 2020
If Em would like a letter from a veterinarian in Australia, let me know!

— Niki C 🏳️‍🌈🇺🇦 (@ozgirlnc) May 3, 2020


The original tweet has already received 50,000 likes and 17,500 retweets, while the cumulative number is much higher.

According to Weber, "over 7 MILLION people read Em's USPS story. Nearly 600k liked, retweeted, commented or "engaged." Insane".
COMMENTS
Comments are moderated and generally will be posted if they are on-topic and not abusive.
For more information, please see our Comments FAQ