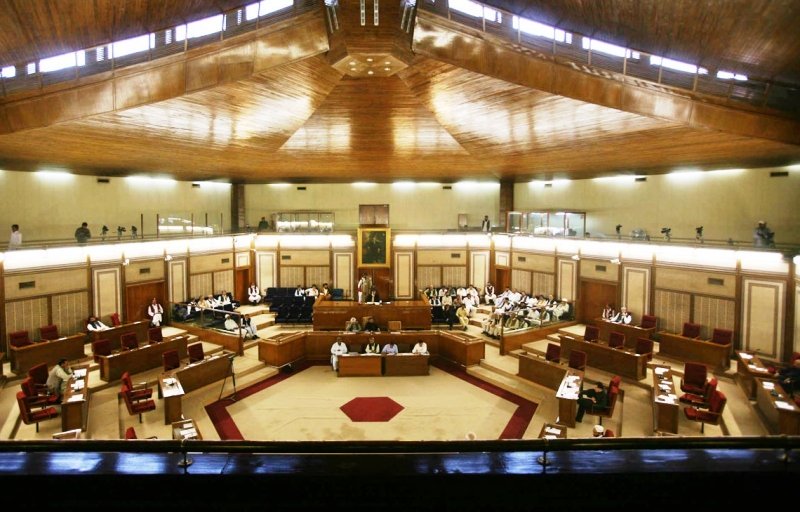 ---
MPAs agree on virus control strategy
Govt, opposition members attend meeting of task force on SDGs
---
QUETTA: The Balochistan Assembly lawmakers have agreed to work together and develop a joint parliamentary strategy in response to the prevailing Covid-19 crisis.

This was decided in a meeting of the provincial assembly task force on Sustainable Development Goals (SDGs) in which both government and opposition members took part.

Balochistan Assembly Deputy Speaker Babar Musakhail convened the meeting in which the members discussed probable ways to support ongoing government efforts in response to Covid-19.

The meeting was attended by Nasrullah Khan Zeray, Zeenat Shahwani, Qadir Ali, Malik Naseer Shahwani, Rubaba Khan and Bano Khalil. UNDP Chief Technical Adviser Darren Nance and UNDP Balochistan Sub-Office Head Zulfiqar Durrani also participated in the moot.

Briefing the members about purpose of the meeting, Musakhail said they wanted to identify areas, in which the task force could more effectively support the provincial government in its efforts to respond to the pandemic.

"The crisis demands that all stakeholders make collective efforts to help the poor. It is crucial that the executive and legislature, including all parties represented in the provincial assembly, work together to respond to the national crisis."

The members laid emphasis on improving coordination between various stakeholders including all tiers of the government, civil society, donors and the United Nations to ensure a combined response to the crisis along with an equal and judicious delivery of relief efforts.

Besides, the lawmakers resolved to work hand-in-hand with the recently established provincial committee headed by Chief Minister Jam Kamal in order to deal with the pandemic. The members of the task force also called for the need to convene provincial committee meeting without any further delay.

Moreover, the lawmaker agreed to explore amendments in rules in order to call the provincial assembly session through video conferencing.

The SDG Task Force is a multiparty forum which supports government's progress in achieving the 17 SDGs which are part of Pakistan's commitment toward the global 2030 agenda.

The SDGs are a collection of 17 global goals designed to achieve a better and more sustainable future for all.  They encompass and address all aspects of life, including health, education, livelihoods and poverty.

Published in The Express Tribune, May 4th, 2020.