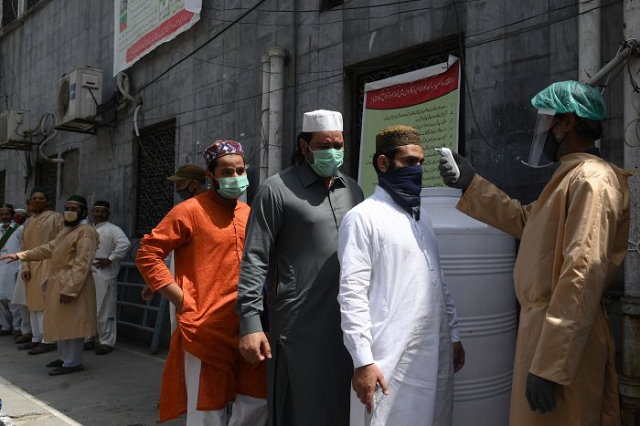 ---
Financial inclusion - the need of the hour
It reduces face-to-face dealing with banks, leads to less reliance on cash
---
NORTHAMPTON: As countries race to battle the Covid-19 pandemic, there has been reflection and urgent action on the need to reorient industries to adjust to the new normal.

The need for social distancing as a key and trusted step towards limiting human-to-human transmission of the disease centres on eliminating or keeping face-to-face interaction at a bare minimum.

This has been carried out quite successfully by the academia around the world and many businesses have taken on this opportunity to ask employees to work remotely. However, there is a need to further extend the reach of the digital economy to a vast proportion of the population.

This article focuses on the application of increasing digitalisation to the financial services sector in Pakistan. Under the current scenario where Covid-19 is spreading, this has become the need of the hour. Achieving financial inclusion in the new world setting does not only necessitate reducing face-to-face interaction with banks but also moving towards smaller reliance on cash.

In the current environment, this would play a part in limiting the spread of the disease as there have been various reports of paper money and coins being potential vectors of transmissible diseases including Covid-19.

Pakistan and South Asia

Achieving financial inclusion with special focus on developing and promoting digital financial services involves implementing a two-pronged strategy.

First, making concerted efforts for providing access to a large proportion of the population to internet services and second, working towards bringing people under the banking net and focusing on the promotion and use of digital banking services.

Before deliberating on financial inclusion and its overall economic importance, it would be enlightening to know the intensity of internet use in Pakistan. This would give an idea of the proportion of population that could benefit from digital banking facilities. Data from 2017 shows that internet users in Pakistan stood at 29.9 million, which consisted of 15.5% of the total population. In comparison with its South Asian neighbours, this proportion is low with almost 30% of the population in India digitally connected and 18.3% of the population in Bangladesh using internet in 2017.

Increasing digitisation of the economy has huge advantages. More specifically, the move towards digitisation of financial services offers huge benefits in terms of increased access to services at all times of day and night, lower transaction costs and improved overall economic efficiency.

What entails financial inclusion? Financial inclusion is defined as individuals and businesses having access to useful and affordable financial products. Pakistan has achieved little progress over time on this front. Data on financial inclusion by the World Bank shows that a mere 10% of adults had a transaction account in 2011. This increased to only 21% of the adults being included in the banking system by 2017. Dissecting this proportion into male and female population shows an even depressing picture. A mere 7% of females owned a bank account in 2017 relative to 35% of males.

Obstacles

What are some of the factors that have impeded the growth of financial inclusion in Pakistan?

Data from the World Bank shows that cultural factors are at play. The percentage of adults who have reported mistrust in the financial system resulting in not having a bank account has progressively grown over time. From 7% of adults mentioning lack of trust as a major barrier to owning a transaction account in 2011, it grew to 13% in 2017.

The other obstacle to financial inclusion has been religion. The percentage of adults reporting religion as a reason towards not owning a transaction account has doubled from 6% to 12% in the same period.

Imagine a Pakistan where people irrespective of providing skilled or unskilled labour are banked and are making or receiving payments at the touch of a button. This might seem like a daunting task now, but is not impossible. Decisions and steps taken to achieve a higher level of financial inclusion now would have long-term beneficial impact in the future.

The writer is a doctoral candidate at the Bartlett, UCL

Published in The Express Tribune, May 4th, 2020.

Like Business on Facebook, follow @TribuneBiz on Twitter to stay informed and join in the conversation.