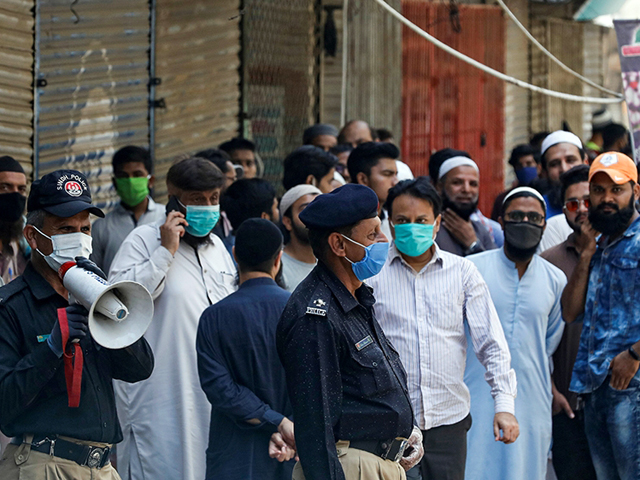 ---
May 3: Pakistan sees biggest spike in Covid-19 cases as tally crosses 20,000; death toll tops 450
PM Imran reiterates that the federal government is using all resources to control the pandemic
---
KARACHI / ISLAMABAD / QUETTA / PESHAWAR / LAHORE / GILGIT / MUZAFFARABAD: The novel coronavirus emerged in the central China city of Wuhan towards the end of last year and proliferated to almost the whole world within a couple of months. It's not the virulence or fatality, but the infectivity of the new virus – also known as SARS-CoV-2 – that has set off a global frenzy.

The Covid-19 respiratory illness caused by this mysterious contagion has so far infected more than 3.4 million people in 202 countries and territories of the world – more than 245,000 of them have died and counting.

Pakistan, despite its close proximity with China, remained coronavirus-free until February 26 when a young man from Karachi tested positive after returning from Iran – one of the worst-hit countries. After a brief hiatus following the first case, Covid-19 cases spiked as more pilgrims returning from Iran tested positive for the virus.

The nationwide tally of Covid-19 patients stands at 20,134 with 7,494 cases in Punjab, 7,465 in Sindh, 3,129 in Khyber-Pakhtunkhwa, 1,218 in Balochistan, 364 in Gilgit-Baltistan, 393 in Islamabad and 71 in Azad Jammu and Kashmir.

The virus has claimed at least 457 lives while at least 5,114 coronavirus patients have recovered.

The number of cases has continued to soar despite the country being under lockdown for the sixth consecutive week.

The situation remains fluid and we're updating stats as soon as new figures are officially released.

Follow The Express Tribune's live coverage of the pandemic here.


12:20am: Four new Covid-19 cases raise AJK's tally to 71

With four new patients testing positive for coronavirus during the last 24 hours, the number of total patients in Azad Jammu and Kashmir has soared to 71, an AJK health department official confirmed on Sunday.

The new cases reported from two southern districts of Kotli and Bhimber.




11:15pm: Pakistan, Canada agree to fight coronavirus pandemic together

Prime Minister Imran Khan and his Canadian counterpart Prime Minister Justin Trudeau discussed the situation arising out of the Covid-19 pandemic and other matters of mutual interest over telephone on Sunday night.

Offering deep condolences over the loss of precious lives, Prime Minister Imran underscored that the pandemic was an unprecedented calamity, necessitating closer international cooperation, said a statement issued by his office.

Pakistan along with other developing countries was confronted with the twin challenge of saving lives and containing the infection, while simultaneously shoring up the economy, the premier was quoted as saying during the conversation.

Read full story here




10:37pm: 'Digital revolution' likely in Pakistan post-coronavirus pandemic: AJK president

Azad Jammu and Kashmir President Sardar Masood Khan has said that a digital revolution in the healthcare system, economic planning, education, business and governance is expected in Pakistan and AJK after the containment of coronavirus as the pandemic has highlighted the importance of data-based government steps.

He remarked while addressing a videoconference organised by "Digital Pakistan" in Muzaffarabad on Sunday.

President Masood said that the sustainable development goals have assumed primacy in the aftermath of Covid-19, especially those related to health, poverty, hunger, livelihoods, water and sanitation and energy. "Another cluster that is directly relevant comprises reducing inequalities and climate action."

Read full story here




10:05pm: Covid-19 puts health sector under strain

As the pandemic continues to grip the country, the healthcare system appears to be creaking under the strain. With the tally of infected health workers rising by the day, hospitals are struggling to safely provide care to patients while keeping their staff protected from the contagion too.

At least three doctors and five staff members at the National Institute of Cardiovascular Diseases (NICVD) in Karachi have tested positive for the virus so far – putting not only them at risk but also threatening patients at the hospital.

As a result, the out-patient department (OPD) of Sindh's largest facility for heart disease has been closed for a month and a half, forcing patients to either go to the emergency department or the 14 NICVD chest pain units (CPUs) set up across the city.

Read full story here




9:30pm: Balochistan reports two more deaths, 46 new Covid-19 cases in last 24 hours

The Balochistan Health Department has confirmed two more casualties due to coronavirus in the last 24 hours to take the provincial death toll to 21.

It also reported 46 new cases of Covid-19 in its daily situational report to take the province's tally to 1,218.

197 patients have recovered from the mysterious disease in the province so far.




8:40pm: Eight more cases raise G-B's Covid-19 tally to 364

The Gilgit-Baltistan Health Department has reported eight fresh cases of coronavirus to bring the region's tally to 364.

Out of today's eight cases, four were reported from Gilgit, three from Astore and one from Skardu.




8:15pm: Over 18m people could lose jobs amid Covid-19 crisis in Pakistan: Asad Umar

Minister for Planning, Development and Reforms Asad Umar on Sunday feared that around 18 million people could lose their jobs in the country due to ongoing lockdown imposed to prevent the spread of coronavirus disease (Covid-19).

"According to calculations of Pakistan Institute of Development Economics (PIDE), around 20 million to 70 million population of the country could fall below the poverty line in the current perspective," the minister said in a televised press briefing.

Umar, who also chairs National Command and Operation Center (NCOC) on coronavirus, said keeping in view the growing number of deaths in the country, the people should adopt strict protective measures against Covid-19.

For the last six days, he said, 24 people on average were dying of the disease daily but still the number is far less when compared to the European countries and the United States.

Read more here




8:00pm: Karachi University team identifies potential drugs for Covid-19 treatment

A team of researchers from University of Karachi's (KU) Dr Panjwani Centre for Molecular Medicine and Drug Research (PCMD) has identified multiple drugs that could be effective for treating Covid-19.

According to a statement issued by KU's International Centre for Chemical and Biological Sciences (ICCBS), under which PCMD functions, on Sunday, the team, under the supervision of Dr Zaheerul Haq Qasmi and Dr Reazud Din, employed computational technology and initiated a study for the purpose in February this year.

Published in the 'Journal of Biomolecular Structure and Dynamic', the study identifies Remdesivir, Saquinavir, Darunavir and two naturally occurring compounds as possible drugs to combat coronavirus-triggered Covid-19.

Read full story here




6:50pm: Sindh sees 363 more coronavirus cases, eight deaths

Sindh has reported another 363 coronavirus cases as of Sunday as well as eight infection-related deaths, said Sindh Chief Minister Syed Murad Ali Shah in a statement issued on the day.

Following this development, the province-wide Covid-190 tally climbed to 7,456 and the death toll reached 130, 1.7 per cent of the total reported cases, he said, adding that 214 patients were sent back home after recovery, raising the number of cured persons to 1,555.

"It is for the first time that the recovery ratio seems to be encouraging… and is comparatively better [than the death ratio]," the CM observed, adding, however, that local transmission of the virus was on the rise.

Read more here




6:30pm: K-P reports eight deaths, 222 new cases of Covid-19 in last 24 hours

Khyber-Pakhtunkhwa (K-P) Health Minister Taimur Khan Jhagra has shared fresh statistics of coronavirus from the last 24, according to which another eight people have succumbed to the deadly disease to bring the provincial death toll to 180.

222 more people contracted the virus in the past day to bring the cases tally to 3,129, whereas, another 83 patients recuperated from the mysterious disease to bring the recoveries tally to 811.

https://twitter.com/Jhagra/status/1256932534828642304




5:45pm: 81 Pakistanis returning from Qatar test positive for Covid-19 in Peshawar

The Khyber-Pakhtukhwa (K-P) Health Department has confirmed that 81 out of 243 Pakistanis, who returned from Qatar on April 29, have been tested positive for novel coronavirus in Peshawar.

All Covid-19 positive patients have been quarantined. Others, whose test results came negative, have been allowed to go home, the health department said in statement.




4:30pm: NDMA releases details of protective gear sent to provinces

The National Disaster Management Authority released the details of the personal protective equipment provided by it to hospitals and healthcare workers of the four provinces and Islamabad, Gilgit-Baltistan and Azad Jammu and Kashmir regions in four phases.

The organisation sent a total of 153,565 N-95 masks and 3.8 million face masks.
Moreover, the number of protective suits the NDMA sent stood at 955,417, whereas the number of gowns stood at 144,467.




4:00pm: 'US-Pakistan relationship built on solid foundation'

US Secretary of State Mike Pompeo in a tweet said the US-Pakistan relations were based on a 'solid foundation and shared values'. and

His tweet came in appreciation of the American Pakistani Advocacy Group (APAG) that helped deliver grocery packages to over 1,000 elderly and disabled people residing in New York.


The U.S.-#Pakistan relationship is built on a solid foundation of friendship and shared values. This has been evident in our support for one another during the #COVID19 pandemic. Glad to see the grassroots support for communities happening in both nations. #partners4prosperity https://t.co/Ip4ZpH4IER

— Secretary Pompeo (@SecPompeo) May 3, 2020
3:40pm: Minister for Planning and Development Asad Umar addresses the media
Live: Minister for Planning and Development, @Asad_Umar addressing a press conference in #Islamabad. #PakistanFightsCorona #TogetherWeCan #CoronaInPakistan #COVIDー19 https://t.co/bhNqxWBH2Y

— Radio Pakistan (@RadioPakistan) May 3, 2020
3:15pm: Balochistan to provide financial relief to those in need

Balochistan Chief Minister Jam Kamal said the provincial government will provide financial relief to those affected by the lockdown.

He said the government will provide up to Rs20,000 interest-free loan to those in need, for a period of three years.


3:10pm: Nationwide tally nears 20,000

After Sindh reported 363 new cases and Punjab 638 cases today, the nationwide tally neared 20,000.


3:00pm: Punjab reports 638 new cases

Punjab health authorities reported 638 new cases. The provincial tally stands at 7,494, with the highest number of cases in Lahore.

In the last 24 hours, 121 patients lost their lives, while at least 2,591 recovered.


2:55pm: Sindh reports 363 new cases

Sindh Chief Minister Murad Ali Shah reported 363 new cases, raising the provincial tally to 7,465

He said out of the 363 persons that tested positive for the virus, 231 were from Karachi.

In the last 24 hours, 8 patients lost their lives while at least 214 recovered.

The total number of recoveries in the province stands at 1,555 and the death toll at 140.


2:40pm: PM's debt relief will help save lives, says Qureshi

Foreign Minister Shah Mahmood Qureshi said Prime Minister Imran Khan's initiative of debt relief will help not only Pakistan but countries across the globe.

He said the funds will help save lives by purchasing ventilators and other medical equipment to help the masses.


2:35pm: FM Qureshi thanks China for their support 

Foreign Minister Shah Mahmood Qureshi thanked the Chinese government and the people of China for their support against the virus.

He said China donated tonnes of medical equipment to help the people of Pakistan.


2:15pm: Dr Babar Awan calls on Prime Minister Imran Khan

Adviser to the PM on Parliamentary Affairs Dr Babar Awan called on Prime Minister Imran Khan to discuss government decisions to provide public relief to those affected by the novel coronavirus.

The premier reiterated that the federal government is using all resources to control the pandemic. He said the biggest challenge was providing immediate relief to the masses, adding that the economic team has prepared a timely emergency action plan.

He said the government is going to take steps to accelerate the economic process in the country.

Awan lauded the government for providing relief packages to the poor.


1:50pm: Over 2,216 FIRs have been registered in Lahore, says DIG operations

Deputy Inspector General (DIG) Operations Rai Babar Saeed said over 2,216 first information reports (FIR) have been registered for violating Section 144 in Lahore.

He said over 200,000 citizens have been stopped at checkpoints and given warnings.

7,487 vehicles and motorcycles have been stopped for violating the law.

At least 100,000 motorcycles; 27,571 rickshaws; 39,324 cars; 5,530 taxis and 9,905 heavy vehicles have also been checked.


1:30pm: K-P tests 16% higher than previous record 

K-P Health Minister Taimur Khan Jhagra said 1,338 tests were carried out in the province yesterday, adding that they were 16 per cent higher than the previous record.

He said over a 1,000 tests were conducted by the Khyber Medical University (KMU) lab - one of the highest by any single lab country-wide.

Testing is taking place at Swat, Abbottabad, DI Khan, HMC Peshawar, he added.



1 1338 Corona tests in KP yesterday, 16% higher than the previous high of 1152. Over 1000 by our flagship lab at KMU, one of the highest by any single lab country-wide. The 5 day rolling average of 1072 tests per day also now above 1000. Tests will continue to increase rapidly. pic.twitter.com/BcxJvslyCs

— Taimur Khan Jhagra (@Jhagra) May 3, 2020
2. 90% of 1500 capacity used, which is great. Testing is happening at Swat, Abbottabad, DI Khan, HMC Peshawar; and less than 10% is conducted by private sector labs on private payment. We continue to try to be as transparent as possible on data by giving a detailed breakdown. pic.twitter.com/FiAoQeL1LD

— Taimur Khan Jhagra (@Jhagra) May 3, 2020
1:15pm: Sindh govt to establish isolation facility at PAF Museum 

Barrister Murtaza Wahab said the Sindh government has decided to establish another isolation facility at Pakistan Air Force (PAF) Museum in Karachi.

He said the Sindh government has spent Rs134 million on the isolation facility at Expo Centre, and another Rs30 million on the new isolation centre.

He thanked the Pakistan Airforce for providing the space.



#SindhGovt had spent abt Rs 134 Mn on establishing Field Isolation Facility at Expo Centre. Now decision has been made to establish another such Isolation Facility at PAF Museum, Khi. An initial amount of Rs 30 Mn has been disbursed. Thank u Pakistan Airforce for providing space

— SenatorMurtaza Wahab (@murtazawahab1) May 3, 2020

Read more here


1:05pm: Barrister Murtaza Wahab clarifies Iftar party picture

Adviser to Sindh chief minister Murtaza Wahab clarified that a picture circulating on social media of an Iftari attended by Sindh CM Murad Ali Shah and other Pakistan Peoples Party (PPP) leaders was of May 2018, and not this year, as there is a ban on social gatherings.



There is a defamatory campaign going on in social media showing photos of an Iftaar Party attended by CM Sindh & other PPP leaders. Please note that no such event has taken place this year since there is a ban on social gatherings & the photos being circulated are of May 2018

— SenatorMurtaza Wahab (@murtazawahab1) May 3, 2020


12:20pm: Customers, traders asked to follow SOPs to ensure safety

The Ministry of National Health Services has asked customers, retailers and traders to strictly follow standard operating procedures (SOPs) to ensure safe working conditions to curb the spread of the virus.

The government has allowed small and large businesses to meet public needs, provided the necessary SOPs are followed.


12:00pm: K-P health minister says provinces may report deaths differently

K-P Health Minister Taimur Khan Jhagra said there are differences in how countries and states report deaths, adding that there may be differences in the way provinces in Pakistan report deaths, as a common definition was never discussed.



4. There are differences in how countries & states report deaths. In Pakistan, it is also possible provinces report differently since a common definition was never discussed, and with varying testing rates, provincial comparisons are relevant but cannot be the only comparison. pic.twitter.com/PbRIBisC9B

— Taimur Khan Jhagra (@Jhagra) May 3, 2020
11:30am: K-P health minister says we cannot test enough to get accurate statistics 

K-P Health Minister Taimur Khan Jhagra said anti-body testing shows 20 per cent of the New York City population may be infected, which means the number of cases would increase and fatality rate would reduce significantly.

He said this means no matter how much we test, we cannot test enough to get an accurate picture of the spread.



1. Some very interesting insight on COVID fatalities. Anti-body testing shows 20% of the NYC population may be infected, which would increase cases from 177k to 1.7 mln, and reduce the fatality rate from 10% to 1%.
This is incredibly insightful & provides for a few conclusions. pic.twitter.com/oWWGkQGCXg

— Taimur Khan Jhagra (@Jhagra) May 3, 2020
10:15am: K-P health minister says fatality rate flawed metric

Khyber-Pakhtunkhwa (K-P) Health Minister Taimur Khan Jhagra said the fatality rate is a flawed metric and no country tests enough to determine the actual number of cases in the country, adding that the province's fatality rate can be compared favourably with seven per cent global average.

He said in the top 15 countries with most cases, K-P's fatality is lower than the United States and China and only higher than Germany and Turkey.



1. Let's understand data on coronavirus deaths.
Fatality rate is a flawed metric; no country tests enough to know actual cases (the denominator to determine the rate).
But if we must; worth comparing KP with global data. KP's fatality rate compares favourably with 7% global ave. pic.twitter.com/GD6MS2EdtG

— Taimur Khan Jhagra (@Jhagra) May 3, 2020
2. In the top 15 countries with most cases, KP's apparent fatality rate is significantly below 11/15, comparable to the US and China, and higher only than Germany and Turkey.
In fact, 8/15 countries have fatality rates of around 10% or higher.
But even this data is misleading. pic.twitter.com/dDa57gZifi

— Taimur Khan Jhagra (@Jhagra) May 3, 2020
9:30am: Punjab to conduct 6,000 tests daily 

Punjab Chief Minister Usman Buzdar said 6,000 tests will be carried out daily from today.

He said the Punjab government will begin the first phase of smart testing in six regions including Lahore, Rawalpindi, Multan, Gujrat, Faisalabad and Gujranwala.


8:30am: NCOC reports 281 new cases

The National Command and Operation Centre reported 281 new cases, raising the national tally to 19,103.

Punjab reported 252 new cases, 28 In Islamabad and one in Azad Jammu and Kashmir.

After 23 more people lost their lives to the virus, the death toll jumped to 440 while 4,817 patients have recovered and 147 are in critical condition.


8:30am: K-P health minister lauds police force

After the death of the first Khyber-Pakhtunkhwa (K-P) police official, Health Minister Taimur Khan Jhagra lauded the K-P police force for fighting on the frontline against the coronavirus.

He said they have spent a decade fighting terrorism and are now fighting the pandemic.