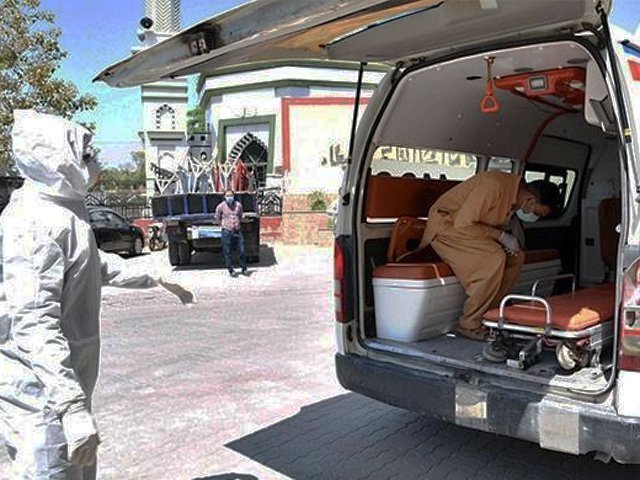 ---
Cop among 11 die of Covid-19 in K-P in a day
Umer is province's first policeman to have died of virus
---
NOWSHERA: At least 11 people including a police official have died after being infected with the novel coronavirus in the province during the past 24 hours.

Khyber-Pakhtunkhwa (K-P) Health Department in its daily situation report said that A total of 108 Covid-19 cases were reported during the last 24 hours after which the toll of cases climbed to 2, 907 in the province while deaths caused by Covid-19 have reached to 172.

Sources at the office of the Nowshera district police officer informed that the 36-year-old cop identified as Faheem Umer belonged to Charsadda district. He was on duty with the Bomb Disposal Squad of Nowshera district police.

Umer was undergoing treatment for Covid-19 at a hospital and breathed his last on Saturday.

The deceased had tested positive for the Covid-19 and was under treatment, and they were hopeful that he would recover, the sources added.

Umer was shifted to a local hospital after fever and shortness of breath, the sources said, adding that no contact history or source of infection has been traced till now.

He remained on ventilator until Saturday and later the body was handed over to the health department and was laid to rest in his native town of Charsadda.

Last month, Mardan district Operations SP Waqar Azeem had also contracted the virus while being on duty at the Manga Union Council (UC) where the first official coronavirus fatality of the country had occurred. Azeem has fully recovered and has joined duties.

In March this year, at least 22 police officials in Haripur district had been quarantined. The policemen were quarantined for remaining in direct contact with the pilgrims going to Abbottabad and Mansehra districts while returning from Iran.

Meanwhile, K-P Health Minister in a statement on Saturday said that 1, 082 coronavirus tests have been conducted in the province May 1 while 1, 035 of these were conducted in the public sector laboratories. The minister said 13.6 per cent cases have tested positive.

Meanwhile, the K-P Performance Management and Reforms Unit in a statement on the microblogging network Twitter said that 27 Covid-19 positive patients who were repatriated from Afghanistan via Torkham from Afghanistan have recovered. All of them have tested negative in Landi Kotal quarantine centre.  

Published in The Express Tribune, May 3rd, 2020.