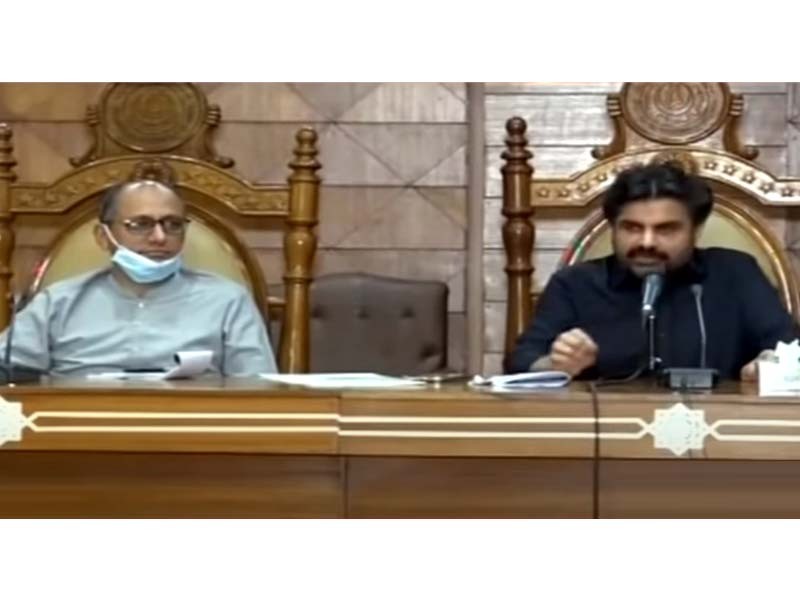 ---
Sindh ministers take a jibe at PM Imran over 'conflicting statements' on lockdown
Sindh information minister says due to federal govt's incompetence coronavirus will stay for a long time
---
KARACHI: Sindh Information Minister Nasir Hussain Shah has come down hard on Prime Minister Imran Khan for making "contradictory statements" regarding coronavirus lockdown, saying "people will start doubting his [Imran Khan] mental health".

"He [PM Imran] asks people to take pre-cautionary measures and stay at homes and at the same time he also tells them that everything is okay," said the information minister on Saturday, adding that such statements reflects his mental state.

He said this while addressing a press conference flanked by Education Minister Saeed Ghani in Karachi.

The strong criticism comes in a defence of PPP Chairman Bilawal Bhutto Zardari's Friday's hard-hitting press conference in which he lambasted the PTI-led federal government for allegedly sabotaging Sindh's efforts to tackle the coronavirus outbreak and non-provision of protective gear to medical workers in the province.

"We haven't received a single ventilator from the Center... the federal government sent just a few N-95 and other surgical masks," said Shah in today's presser, adding over 90% Covid-19 testing kits have been imported by the provincial government using its own resources.

The Sindh information minister said some of the testing kits sent by the PTI government was of low-quality and medical professionals rejected them saying "their accuracy is doubtful".

Country sees sharp spike in Covid-19 cases

The provincial minister aslo alleged that due to incompetence of the federal government, the coronavirus-induced lockdown was not properly enforced across the country and people will have to face the coroavirus outbreak for a longer period of time.

"The prime minister blamed the "elites" for enforcing the coronavirus lockdown and after some time he praised his government's decision to impose a timely lockdown . These are [his] double standards."

He said the Sindh government is cognisant of the hardships being faced by the business community and the common people "but right now the health of the masses is the top priority".

Shah reassured that the economic activities in the provinces will be reopened after preparing standard operating procedures to protect people from being infected with the deadly virus.

Speaking on the occasion, Ghani also took a swipe at his opponents, saying, "the federal government is sabotaging national efforts required to fight the Covid-19 pandemic".

"The federal government does not realise that this crisis is a matter of life and death. They should be ashamed for discussing 18th Amendment at this time," Ghani said, adding that the prime minister himself did not even know how many Articles are there in the country's Constitution.