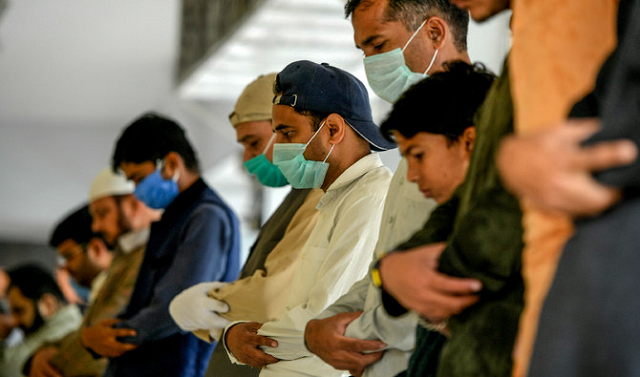 ---
LIVE: PM Imran launches relief package as jobless numbers grow amid Covid-19 lockdown
Nationwide tally of coronavirus cases stands at 18,822 with 435 deaths
---
KARACHI / ISLAMABAD / QUETTA / PESHAWAR / LAHORE / GILGIT / MUZAFFARABAD: The novel coronavirus emerged in the central China city of Wuhan towards the end of last year and proliferated to almost the whole world within a couple of months. It's not the virulence or fatality, but the infectivity of the new virus – also known as SARS-CoV-2 – that has set off a global frenzy.

The Covid-19 respiratory illness caused by this mysterious contagion has so far infected more than 3.3 million people in 202 countries and territories of the world – more than 240,000 of them have died and counting.

Pakistan, despite its close proximity with China, remained coronavirus-free until February 26 when a young man from Karachi tested positive after returning from Iran – one of the worst-hit countries. After a brief hiatus following the first case, Covid-19 cases spiked as more pilgrims returning from Iran tested positive for the virus.

The nationwide tally of Covid-19 patients stands at 18,822 with 6,854 cases in Punjab, 7,102 in Sindh, 2,907 in Khyber-Pakhtunkhwa, 1,172 in Balochistan, 356 in Gilgit-Baltistan, 365 in Islamabad and 66 in Azad Jammu and Kashmir.

The virus has claimed at least 435 lives while at least 4,715 coronavirus patients have recovered.

The number of cases has continued to soar despite the country being under lockdown for the sixth consecutive week.

The situation remains fluid and we're updating stats as soon as new figures are officially released.

Follow The Express Tribune's live coverage of the pandemic here.


1:20am: Sindh CM orders 1,000-bed quarantine centre at PAF Museum in Karachi

Amid a rise in the number of Covid-19 cases, Sindh Chief Minister Murad Ali Shah has ordered to set-up a 1,000-beded isolation center at PAF Museum on Sharea Faisal in Karachi.

The isolation center will be operated by the Sindh health officials where coronavirus patients will be given the medical treatment, sources privy to the development told The Express Tribune late Saturday.

They said the chief minister has ordered to purchase all necessary equipment for the quarantine facility.

The moves is part of sweeping measures to try to prevent the outbreak of coronavirus as the pandemic tally in the province soared past 7,000 on Saturday, surpassing that of Punjab.

Read more here




12:30am: Sindh govt has failed to implement lockdown, says Firdoous Naqvi

Despite the passage of over 40 days of closure, the Sindh government has failed to strictly enforce its lockdown with citizens violating the provincial government's orders to practice social distancing due to starvation, claimed Sindh Assembly opposition leader Firdous Shamim Naqvi on Saturday.

"We [the opposition] have been saying that social distancing cannot be practiced in the country and especially in Karachi, where 10 people live in an area of 400 square yards in slums," said the Pakistan Tehreek-e-Insaf leader, adding that people cannot be confined to their homes in such localities.

According to him, the residents of Karachi's slums have been forced to violate the lockdown directives due to starvation.

Read more here




11:45pm: Turkish speaker wishes Asad Qaiser speedy recovery from Covid-19

The Turkish parliament speaker on Saturday wished speedy recovery for his Pakistani counterpart who tested positive for the novel coronavirus earlier this week.

"I'm regretfully informed that my dear brother, colleague Mr Asad Qaiser, Speaker of National Assembly of Pakistan, and his family members got Covid-19 positive," Mustafa Sentop said on Twitter.

Read full story here




10:15pm: Sindh to roll out community testing to gauge impact of coronavirus

As the pandemic tally in the province soared past 7,000 on Saturday, surpassing that of Punjab, Sindh Chief Minister Syed Murad Ali Shah ordered community surveillance to gauge the impact and spread of the coronavirus.

In a video statement, the CM, announcing that the province's tally had climbed to 7,102 with the emergence of 427 more cases on Friday, directed relevant authorities to carry out seroprevalence studies as part of the planned community surveillance.

Read our full story here




9:10pm: Another 16 contract coronavirus in G-B to swell region's tally to 356

The Gilgit-Baltistan government has said that 16 more people have been diagnosed with Covid-19 to bring the region's tally to 356.

Out of the 16 positive cases, two were reported from Gilgit, 11 from Astore, and one each in Ghizer, Hunza and Ghanche.

Five more patients have recuperated from the mysterious disease in the region.




9:00pm: Balochistan reports three more deaths, 36 new Covid-19 cases

The Balochistan Health Department has confirmed three more casualties due to coronavirus to raise the provincial death toll to 19.

36 new local transmission cases also increased Covid-19 tally in the province to 1,172.

183 patients have recovered from the mysterious disease in the province so far, according to the daily situational report.




8:45pm: Sindh ministers take a jibe at PM Imran over 'conflicting statements' on lockdown

Sindh Information Minister Nasir Hussain Shah has come down hard on Prime Minister Imran Khan for making "contradictory statements" regarding coronavirus lockdown, saying "people will start doubting his [Imran Khan] mental health".

"He [PM Imran] asks people to take pre-cautionary measures and stay at homes and at the same time he also tells them that everything is okay," said the information minister on Saturday, adding that such statements reflects his mental state.

He said this while addressing a press conference flanked by Education Minister Saeed Ghani in Karachi.

Read more here




8:15pm: Sindh govt spokesperson stresses importance of social distancing

Sindh government spokesperson Murtaza Wahab, while sharing good news on Twitter, said a young man who went into home isolation after testing for Covid-19 on March 21 has recuperated.

"This shows how important social distancing and isolation is. Help Sindh government help you, stay safe, stay home," he wrote on Saturday.


Im sorry he tested positive on 21st March https://t.co/pJliX0kcgQ

— Murtaza Wahab Siddiqui (@murtazawahab1) May 2, 2020


7:45pm: 36,000 Afghan refugee families trapped in lockdown to get Rs12,000 each from UNHCR

Minister for SAFRON and Narcotics Control Shehryar Khan Afridi on Saturday said that the UNHCR has decided to replicate the government's Ehsaas Programme under which 36,000 Afghan refugee families trapped in lockdown would be provided Rs12,000 each.

Addressing a gathering of Afghan refugees after distributing food packages to 1,500 families of refugees at Afghan Refugee Camp in Islamabad's I-12 sector, Afridi said that in the second phase, UNHCR plans to distribute Rs12,000 to each family among 100,000 families.

Afridi said that 'good news' about peace process were coming from Afghanistan as Pakistan was facilitating peace talks to help bring peace in the war-torn country. He said restoration of peace in Afghanistan would help expedite dignified repatriation of Afghan Refugees to their own country.




Read more here


6:32pm: K-P health minister shares details of Covid-19 testing in the province
1. 1082 Corona tests conducted in KP yesterday, 1035 of these in our public sector labs. 13.6% cases have tested positive, & labs at KMU, ATH Abbottabad, HMC Peshawar, Swat and DI Khan are open and testing.
Testing numbers will increase within the next week as two things happen. pic.twitter.com/h7Z5MT8kJV

— Taimur Khan Jhagra (@Jhagra) May 2, 2020


6:15pm: K-P reports 11 deaths, 108 new Covid-19 cases in last 24 hours

Another 11 people succumbed to novel coronavirus in Khyber-Pakhtunkhwa during the 24 hours to bring the provincial death toll to 172 – the highest in the country.

The K-P Health Department also said that 108 new cases of Covid-19 have been reported, taking the tally to 2,907.

38 more patients recuperated from the mysterious disease to make raise total number of recoveries to 728 in the province.


KP #coronavirus report, May 2
2907 cases (108 new)
172 deaths (11 new)
728 recoveries (38 new)

Figures for cases reported show discovered cases. Actual cases will be significantly higher.

Provinces may have different standards for reporting deaths. KP reports by WHO standards. pic.twitter.com/wwNjv4xAGC

— Taimur Khan Jhagra (@Jhagra) May 2, 2020


5:45pm: First policeman falls prey to Covid-19 in K-P

A Khyber-Pakhtunkhwa policeman died on Saturday while undergoing treatment for Covid-19.

36-year old Faheem is the first police official who has succumbed to the coronavirus while performing his duties during the lockdown.

He was working in a bomb disposal squad of Nowshera police and had recently received an award for outstanding performance, said a K-P police official.




4:35pm: Govt will announce interest-free loans for small businesses

Federal Minister for Industries and Production Hammad Azhar said the government will announce an interest-free loan scheme for small businesses alongside "unprecedented" tax incentives for the country's construction sector.

He reiterated that the government would pay electricity bills for three months for businesses whose consumption is between 5 and 70KW.




4:00pm: 'Personally monitoring relief fund'

Prime Minister Imran Khan, while inaugurating a web portal for those unemployed due to the current pandemic, said he is personally monitoring the Corona Relief Fund and assured people that the funds would be utilised "in a transparent manner".

He added that the nation would be provided details of the fund's audit.

He reiterated, that to provide relief to the people, the government would contribute Rs4 to every rupee donated to the fund.


3:40pm: PM addresses ceremony in Islamabad
#Live Now: PM @ImranKhanPTI addressing a ceremony in #Islamabad. #PakistanFightsCorona #TogetherWeCan #COVID2019 #Covid_19 #Ehaas https://t.co/5vlax46VEr

— Radio Pakistan (@RadioPakistan) May 2, 2020


3:30pm: Fawad Chaudhry calls for a virtual session of Parliament

Minister for Science and Technology, Chaudhry Fawad Hussain says virtual session of parliament is the need of the hour.

In a tweet on Saturday, he said political parties of the country are harming themselves and people by opposing the use of technology.

Fawad Chaudhry said public representatives must play their role in the decision-making process in this difficult time.

He said soon after the situation returns to normal, parliament sessions can be held in the building.




3:15pm: Export target could decline to $22b this year: Razak Dawood

Advisor to Prime Minister on Commerce, Abdul Razak Dawood says the country's export target of $25 billion could not be achieved due to the ongoing situation of lockdown in the country.

In an interview with Voice of America, he said the export target could decline to $22 billion this year.

The advisor said exports decreased by 50% last month and home remittances also declined due to ongoing situation.

To a question, he said Pakistan could get benefits from low oil prices in the current evolving situation in the international market and there would be no larger impact of current account deficit because of a decline in petroleum prices.

Abdul Razak Dawood also vowed to open the industrial sector in the coming months to provide an opportunity to local exporters to get more benefits in the current scenario and a major shift in the international trade market.


2:50 pm: SAPM on National Health Services Dr Zafar Mirza addresses media
Live: SAPM on National Health Services @zfrmrza addressing news conference in #Islamabad. #PakistanFightsCorona #TogetherWeCan #COVID2019 #Covid_19 https://t.co/z1Fz4fzJ1l

— Radio Pakistan (@RadioPakistan) May 2, 2020


2:25 pm: Punjab to present recommendations to federal govt for reopening of markets

Punjab Chief Minister Usman Buzdar has said that the provincial government has prepared recommendations for the reopening of industries and markets.

"The federal government will be presented with recommendations regarding the opening of markets. We suggest to divide them into zones and open at different times."

During the talk with media, provincial Minister for Health Yasmin Rashid said that the field hospital established at Lahore Expo Center will be improved in the coming days.

"The field hospital has been set up people so they don't go home and infect people. Patients who need critical care are taken to two big hospitals," she added.


1:45 pm: CM Buzdar addresses the media 
Live: Punjab CM @UsmanAKBuzdar addressing a press conference in #Lahore. #PakistanFightsCorona #TogetherWeCan #COVID2019 #Covid_19 https://t.co/lCmx51c2Pt

— Radio Pakistan (@RadioPakistan) May 2, 2020


1:35 pm: 427 new cases emerge in Sindh

Provincial health authorities reported 427 new cases in Sindh, pushing the tally to 7,102 in the province.

Chief Minister Murad Ali Shah said 3,529 tests were conducted over the last 24 hour period and 46 people recovered during the same time period.

He added four people succumbed to the virus over the last 24 hours.


The following information is relevant to assess the situation of #COVIDー19 in Sindh as of 2nd May 2020 at 8 AM:

Total Tests 61020 (today 3259)
Positive Cases 7102 (today 427)
Recovered Cases 1341
Deaths 122

In the last 24 hours, 46 people have recovered from corona in Sindh

— Murtaza Wahab Siddiqui (@murtazawahab1) May 2, 2020
1:20 pm: Pakistan Navy continues ration distribution
#PakNavy continued country wide humanitarian support to deserving families during COVID-19 pandemic. PN Troops distributed food, other commodities & PPE in Coastal, Creeks area of Balochistan, Sindh, localities of Punjab & KPK. (1/2) pic.twitter.com/mqYb6Eg5m8

— DGPR (Navy) (@dgprPaknavy) May 2, 2020


12:50 pm: Stranded Pakistanis in India to be repatriated through Wagah

The Indian Home Ministry on Saturday granted special permission for the repatriation of stranded Pakistanis in the country.


#CoronaUpdate | Thanks to tireless govt efforts, especially Foreign Office, we are able to bring back 227 Pakistanis stranded in India despite the lockdown there. Preparations being made to have them cross over from Wagah this week. 46 Pakistanis were brought back earlier.

— Moeed W. Yusuf (@YusufMoeed) May 2, 2020


Read story here


12:20 pm: Category-2 payments under Ehsaas Emergency Cash initiative underway across Pakistan
The Rs.144bln #EhsaasEmergencyCash aims to benefit 12mn families in total. Currently,payments to category-2 are underway & as of #LabourDay2020, nearly 2.3mn category-2 beneficiaries have withdrawn aid of Rs.12,000 each. Payments to category-3 will begin by end of next week. 2/2 pic.twitter.com/x6yJZe8mFF

— Senator Dr Sania Nishtar (@SaniaNishtar) May 2, 2020


11:55 pm: Punjab reports 121 new cases

The Prime and Secondary Healthcare Department reported 121 new cases in the province.

The provincial tally now stands at 6,854 coronavirus cases.




11:15 am: Govt to launch web portal for unemployed today

Prime Minister Imran Khan will launch a web portal today to register and provide assistance to those who have lost their jobs due to coronavirus pandemic.

To mobilize additional resources, the prime minister has also set up a Covid-19 Relief Fund. These funds will be disbursed to those who have lost their jobs as a result of Covid-19 crisis.

Ehsaas Emergency Cash of Rs12,000 will be given to these individuals.




10:30 am: Businessmen demand easing of lockdown after 15th Ramazan

Business associations have demanded that the Sindh government ease the lockdown after the 15th of Ramazan while enforcing the standard operating procedures (SOPs) because the coronavirus pandemic is not showing any signs of a slowdown.

Read story here




9:45 am: NDMA releases data of medical equipment distributions 

The National Disaster Management Authority (NDMA) has released details of safety equipment distributed to hospitals and health workers across the country.

In four phases, NDMA distributed equipment to hospitals in all the provinces, as well as Islamabad, Gilgit-Baltistan and Azad Jammu and Kashmir.

A total of 153,565 N95 face masks, 3,891,588 face masks, 955,417 safety suits, 144,467 gowns, 1,033,643 gloves, 346,896 caps, 36,520 face shields, 211,244 shoe covers and 97,982 glasses were distributed across Pakistan.


9:40am: Shireen Mazari says govt is balancing people's needs

Federal Minister For Human Rights Shireen Mazari said there has been a decline in inflation for three successive months and lower petroleum product prices.

She said this month will reduce inflation even further.

She lauded the federal government for balancing people's needs and protecting them by providing monetary assistance and tree plantation jobs for the unemployed during this pandemic.


9:25am: Avoid bringing politics into coronavirus issue, says information minister 

Federal Minister for Information and Broadcasting Shibli Faraz stressed on the need for a collective response to combat the virus.

He asked opposition parties to avoid bringing politics into the issue.

The information minister said the relief package introduced by the federal government is for the entire country.

He said the partial lockdown in the country is keeping in mind the difficulties faced by daily wage earners and labourers, adding that Pakistan cannot afford a complete lockdown.


9:30am: Alvi says protecting medical staff is govt's top priority 

President Dr Arif Alvi reiterated the importance of unity amongst all stakeholders to win the fight against the pandemic.

He met with delegations of Pakistan Medical Association and Pakistan Islamic Medical Association in Karachi and lauded doctors and medical staff for fighting the novel coronavirus.

He said protection of paramedical staff is the government's top priority.


9:15am: Nationwide tally at 18,144 

After Punjab reported 393 new cases and 22 more were reported in Islamabad, the number of confirmed coronavirus cases in the country soared to 18,144.

The National Command and Operation Centre said 1,297 cases have been reported in the last 24 hours.

The centre reported 32 new deaths, raising the country's death toll to 417 while at least 4,715 patients have recovered.


8:30am: PM Imran wishes Russian PM speedy recovery

Prime Minister Imran Khan wished his Russian counterpart Mikhail Mishustin a speedy recovery and good health after he tested positive for the coronavirus.

The premier extended his support to Russia to help fight the pandemic.

Wishing PM of Russia Mikhail Mishustin a speedy recovery and good health. Corona virus is a common challenge and we stand together with our Russian friends in battling this challenge.@mfa_russia @governmentRF

— Imran Khan (@ImranKhanPTI) May 2, 2020
8:00am: Over Rs710m collected under Ehsaas Kafalat programme

Deputy Commissioner Rawalpindi Capt (R) Anwarul Haq said Rs710 million was collected under the Prime Minister's Ehsaas Kafalat Programme.

He said 59,642 deserving persons have benefited from this program.

A total of 26 senior officials have been appointed in the district for the distribution of funds.

He said' implementation of all coronavirus standard operating procedures (SOPs) during the disbursement of funds is being ensured.