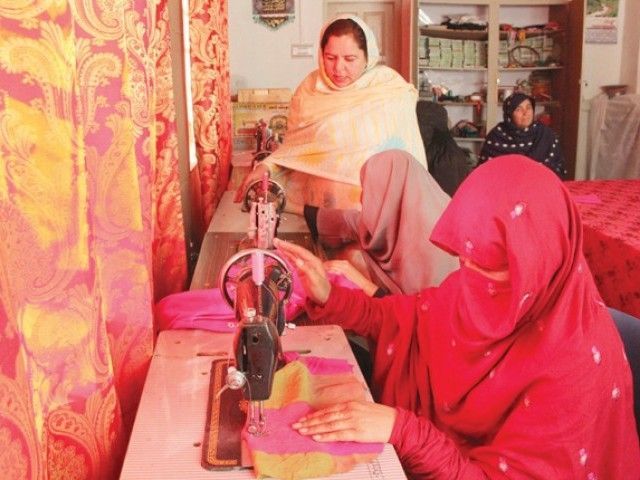 ---
Home-based women workers worst hit by crisis
Part of the informal sector, those who work from home do not enjoy social security, pension or other benefits
---
KARACHI: The imposition of a lockdown in Sindh to contain the spread of Covid-19 has adversely affected hundreds of businesses, while many people have also been forced out of jobs. It's not just shops and companies that have suffered the consequences of the lockdown - home-based women workers too also been facing severe financial constraints.

A recent survey conducted by The Express Tribune revealed that most home-based women workers do not enjoy financial support from their spouses, either because the men in their families have passed away or are disabled. Meanwhile, others come from families where both the husband and the wife work as daily-wage earners to make ends meet.

"I ran out of food in the second week of April because of which I had to borrow money from a middleman to feed my children," said Ghazala, a resident of New Karachi. A widow and mother of three children, she supports her family by doing embroidery work on bridal outfits from home.

"Many women in my area do similar home-based jobs. We work with some contractors who provide us with fabrics and the required embellishments," she explained. "Intricate embroidery work on bridal outfits is very time-consuming and it normally takes two to three days to complete a single outfit. However, we only earn Rs500 to Rs700 per outfit."

In another massive jump, 622 new Covid-19 cases emerge in Sindh

Ghazala added that she has been out work since the closure of shops and other businesses due to the lockdown. "I had some savings so I managed my kitchen expenses in the first week of April. However, I ran out of food and cash in the second week," she lamented.

She claimed that no welfare organisation or person had distributed rations in her area. As a result, she had to ask her contractor to lend her some money. "I have seen on TV how these welfare organisations are distributing rations daily, but I never saw any help coming to my area."

Home-based women workers in Hyderabad are also undergoing a similar situation, with most of them attached to the bangles-manufacturing industry. Contractors from different factories provide them with bangles at home for colouring and other work.

Shakeela Khan, a social worker from Hyderabad who is affiliated with the Home-Based Women Workers Federation (HBWWF), said that most of these bangle workers have been facing financial hardships due to the suspension of business activities.

According to her, women workers connected to the bangle-making industry of Hyderabad are already paid a meagre amount for their work.

Scavengers take flight from skies amid lockdown

"A woman could earn Rs3,000 per month in normal days but the lockdown has deprived them of even that," she said. "The husbands of most of these women workers are also daily-wage earners, so you can imagine what their situation would be like at the moment."

According to Zehra Khan, the HBWWF provincial general secretary, the prevailing lockdown has highlighted the need for social security laws more than ever before, especially for home-based women workers.

She said that home-based workers are not formally considered part of the workforce, therefore, they do not have access to social security, pension, or any other benefits under Pakistani law.

"Around 80 per cent of workers represent the informal labour sector in our country. They are either self-employed or attached with some informal industry," she said. "The majority of them are women who work from home. The government should do something to help these women out." 

Published in The Express Tribune, May 2nd, 2020.