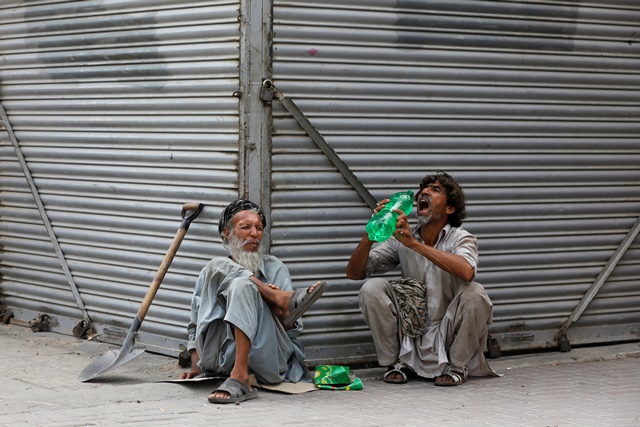 ---
As Covid-19 spreads globally, its severity and economic impact is showing. Economies worldwide are collapsing and people are losing jobs, with the number of jobless people set to grow during and after the pandemic. What matters in this catastrophe is the preparedness of governments. Social distancing measures implemented by different countries have resulted in people losing their sources of income. Therefore, citizens in developed countries have financially been supported by the state, e.g. Canada and Germany. Spain is putting in place a basic income support programme, which aims to create a permanent mechanism of providing a minimum sustenance for all.

In Pakistan, despair and hopelessness spread faster than the virus. One can see gloomy faces all around, of people who do not have the security of a minimum income and are vulnerable members of the society. The group already struggling with the health and economic crisis finds it difficult to follow social disconnectedness rigorously. To contain the spread of the virus, the Sindh government took the lead in locking down the province. The economic and psychological impact of the lockdown has been enormous, with the major concern being that of survival.

In this crisis, lower income groups have been hit hard. This will ultimately affect everyone associated with them. In such a period of despair, domestic violence is likely to increase, so is beggary and sexual and child abuse.

The pandemic will eventually affect every sector in the country, and the marginalised people will suffer the most. Pakistan's ability to fight the pandemic would have been better if it had less socio-economic challenges to battle with and a social protection mechanism in place with regular and committed support for the poor.

The pandemic has put Pakistan in a dilemma, where saving people's lives through social distancing would mean starvation. No doubt, it is the state's responsibility to provide basic sustenance to its vulnerable groups, but if such groups are in tens of millions in a country, it becomes almost impossible to provide quality and quantity of services. Pakistan is already facing demographic challenges, with an annual population growth rate of 2.04%. Work exploitation is rampant and thousands of wage earners do not even earn the minimum wage. It is estimated that about 24% of Pakistan's population lives below the national poverty line.

Today, there is a dire need to introduce a permanent instrument to assist the socially marginalised in Pakistan. A basic income support programme can help address structural problems and inequalities. Most importantly, such a programme is likely to help reduce abuse, alleviate poverty, and discourage labour exploitation in terms of low wages. It can also provide a database which will help in providing other kinds of social support to vulnerable groups.

However, this programme cannot change anything in the long term unless problems such as population growth, gender-based roles, and work exploitation are fixed. All these challenges make it difficult to take concrete measures to protect people from privation. The current social support programmes are limited and have been unable to change the fundamental inequalities. The Ehsaas Emergency Cash Programme has been launched to save the poor from starvation during the lockdown. However, such programmes cannot permanently alter people's living conditions and create increased opportunities for a respectable living for families.

Besides, a universal basic income support programme cannot just be created and sustained without radical and immediate changes regarding unchecked population growth and re-thinking of gender-based roles. If Pakistan has an extensive mechanism in place to address unemployment and poverty, the government would be better able to focus on catastrophes such as Covid-19 and ensure health facilities for all.

Published in The Express Tribune, May 2nd, 2020.

Like Opinion & Editorial on Facebook, follow @ETOpEd on Twitter to receive all updates on all our daily pieces.
COMMENTS
Comments are moderated and generally will be posted if they are on-topic and not abusive.
For more information, please see our Comments FAQ