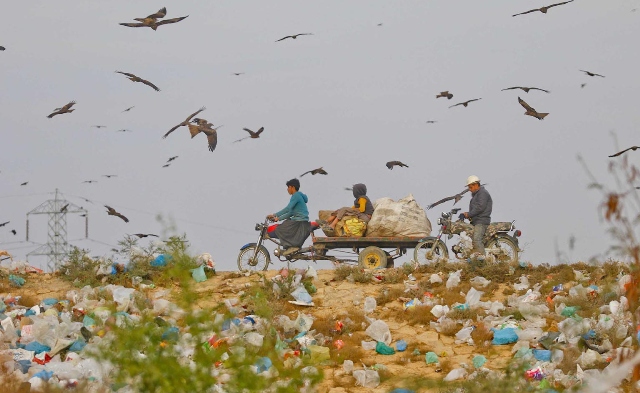 ---
KARACHI: As the lockdown led to a drop in human activity around Sindh's urban areas, it appears that thousands of the scavenger birds, such as black kites and crows, that normally swoop through the skies are fast disappearing.

In light of this phenomenon occurring during the breeding season, bird lovers and wildlife experts have expressed concerns that most of the bird population in urban centres would be badly affected in the coming months.

The apprehension arise out a previous trend, witnessed during the past few weeks, of birds finding it hard to survive the unusual circumstances following the lockdown.

"I think many newborn birds have already died of hunger," said Dr Syed Saud Arshad, a bird lover and veterinary doctor. "There was almost no food available for the newborn chicks during the first week of the lockdown," he explained, adding that some of the birds, such as pigeons, were also likely to lose their memory due to hunger.

Earlier, black kites and crows would migrate to Karachi's suburbs when faced with shortage of food and this migration was natural, he said. "But this is an unusual situation we are witnessing during the lockdown," he added.

Bilawal lashes out at Centre for 'disrupting unity' in fight against Covid-19

According to Zuhaib Ahmed, another pet lover, scavenging birds have disappeared from the city due to the closure of restaurants, shops and markets, and more importantly, the lack of garbage from these businesses.

"Garbage is their main source of food," he explained, adding that scavenging birds, when they couldn't find food in a region, would relocate for some time. "They rely on human activity for sustenance."

Ahmed also expressed the fear that the lockdown would directly affect newborn birds, which may lead to a drastic reduction in their population in the city.

Echoing similar views, Sindh wildlife department conservator Javed Ahmed Mahar noted that in some pockets of Karachi, where garbage was being dumped, the population of scavenging birds had multiplied, "but overall, we see a reduction [in their presence]."

According to wildlife experts, the increase in the population of black kites in the city in recent years was an indicator of the mounting trash in Karachi.

"These birds are a blessing for this city," said Mahar. "They are natural scavengers and help humans."

Akhtar Ahmed, a resident of Ibrahim Hyderi, witnessed this behavior firsthand when the number of black kites in his area drastically increased recently. He said that the birds were helping the residents clear the trash that was generated from the factories at the harbours and then dumped on roadsides.

However, the symbiotic relationship came to an end post-lockdown, as workplaces remained shuttered, reducing the garbage to a minimum. As a result, the scavenging birds fast disappeared from the city's skies.

This moved Dr Arshad, and his friends, who share his love for birds, to take the initiative to regularly feed them, particularly pigeons, at different spots, including Nagan Chowrangi, Safoora Chowrangi, Nazimabad and Landhi. "We realised that they would die if we did not feed them in time."
COMMENTS
Comments are moderated and generally will be posted if they are on-topic and not abusive.
For more information, please see our Comments FAQ