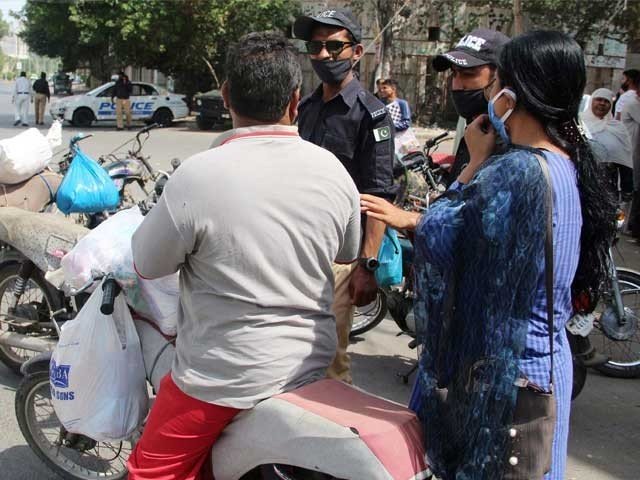 ---
In another massive jump, 622 new Covid-19 cases emerge in Sindh
With 446 fresh cases in Karachi, the city now has close to 5,000 coronavirus patients
---
KARACHI: Sindh Chief Minister Syed Murad Ali Shah said on Friday that 662 more cases were reported in the province on the day, raising the virus tally to 6,675, while six people succumbed to Covid-19 as the death toll climbed to 118.

In a video statement, the CM said that the 662 persons found infected also included 190 passengers among 438 who had arrived from Dubai, Sharjah and Colombo. Among them, he said, 92 passengers belonged to Sindh, 56 to Punjab, 24 to Khyber-Pakhtunkhwa and 18 to Balochistan.

"If we don't consider these 190 cases, the number reported on the day reduces to 472, showing that the pandemic is still playing havoc in Sindh," he said, urging citizens to strictly observe social distancing and pandemic guidelines issued by the World Health Organisation.

Bilawal lashes out at Centre for 'disrupting unity' in fight against Covid-19 

Speaking with regards to the geographical incidence of the virus, the CM said that the highest number of cases among 662 newly-reported ones belonged to Karachi, numbering 446. Of these, 173 were detected in Malir, 92 in east district, 70 in South district, 56 in Central district, 33 in West district and 22 in Korangi, he said. The metropolis has had 4,873 cases reported so far.

Elsewhere in Sindh, 17 cases were reported from Ghotki, 19 from Hyderabad, 11 from Jacobabad, 23 from Larkana, 15 from Shikarpur and six from Sukkur, the CM added.

Expressing worry over the rise in the incidence of the coronavirus, he said, "The virus is spreading day by day and therefore, extra precautionary measures must be adopted across Sindh."

He also lauded health workers, including doctors, paramedics and technicians, for working "selflessly," pointing out that as many as 485 Covid-19 patients were under treatment at different hospitals in the province, in addition to 733 accommodated at isolation centres. Besides, 4,044 are isolated at their homes, he said. The CM also shared that among the patients undergoing treatment, 45 were critically ill, including 16 on ventilator.