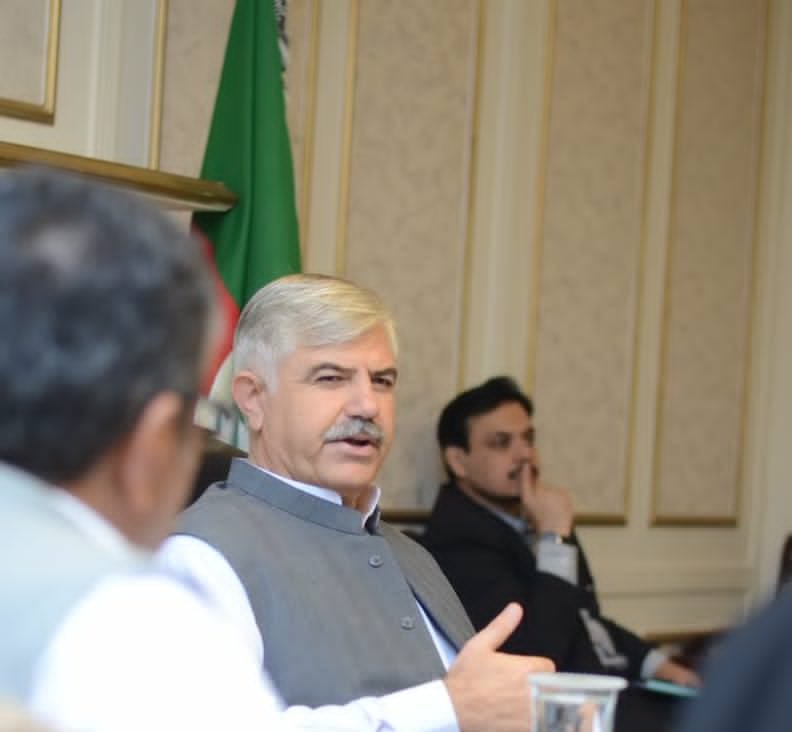 ---
K-P moves to give legal cover to virus measures
K-P govt grants Rs7m package for heirs of frontline workers
---
PESHAWAR: The provincial cabinet on Thursday approved the Epidemic Control and Emergency Relief Ordinance to give legal protection to all measures taken to control Covid-19 and other epidemics.

The ordinance will provide legal protection to measures, including keeping patients in isolation or quarantine, ban on public gatherings, interprovincial and inter-district transport, and other administrative measures.

The Khyber-Pakhtunkhwa (K-P) Cabinet meeting was held with Chief Minister Mahmood Khan in the chair.

Briefing the media on the cabinet meeting, CM's Adviser on Information Ajmal Wazir said that the cabinet has decided that head of a family or in-charge of businesses like restaurant and hotel, transport operators, traders, and businesspeople were legally bound to report coronavirus cases in the family members, or the employees and in case of violation they would be proceeded against with law which may be imprisonment or fine or both.

Wazir said that the measures taken by the government for public relief have also been given legal protection, adding that there would be a 20 per cent discount in fee of a private school that charges over Rs6,000 per month while 10 per cent discount would be ensured for less than Rs6,000 fees.

The adviser said the owner of houses and shops would not expel the tenants for three months if they fail to pay the rent and this period could be extended for six months if the emergency continued.

Wazir further said that the provincial cabinet has approved a uniform package of Rs7 million for heirs of the frontline workers who die of the Covid-19 pandemic. The meeting also approved the establishment of a K-P power transmission and grid system company under which the province would set up its grid and transmission system for power distribution.

The CM's aide added that keeping in view the prevailing Covid-19 situation, public holidays have been extended till May 15 while on the ban on inter-district public transport, parks, restaurants, hotels, recreation points, and other such areas will continue till next order. Meetings with jail inmates will also remain suspended, he said.

He said the cabinet has also allowed the milk shops to remain open after 4 pm while it also approved reopening of the Cattle markets for a smooth supply of meat and other products but before going with the decision, SOPs will have to be finalised and necessary measures must be taken.

The cabinet meeting also approved K-P Forensic Science Emergency Bill, 2020, under which an independent provincial forensic science agency will be established.

It also approved the status of full Khasadar for the security personnel who were working part-time or on half pay on the positions of the regular Khasadar personnel and they will be entitled to all benefits.

The meeting also approved the establishment of special courts under the Narcotics Control Act, 2019, and the Local Council Delimitation Rules, 2019. 

Published in The Express Tribune, May 1st, 2020.