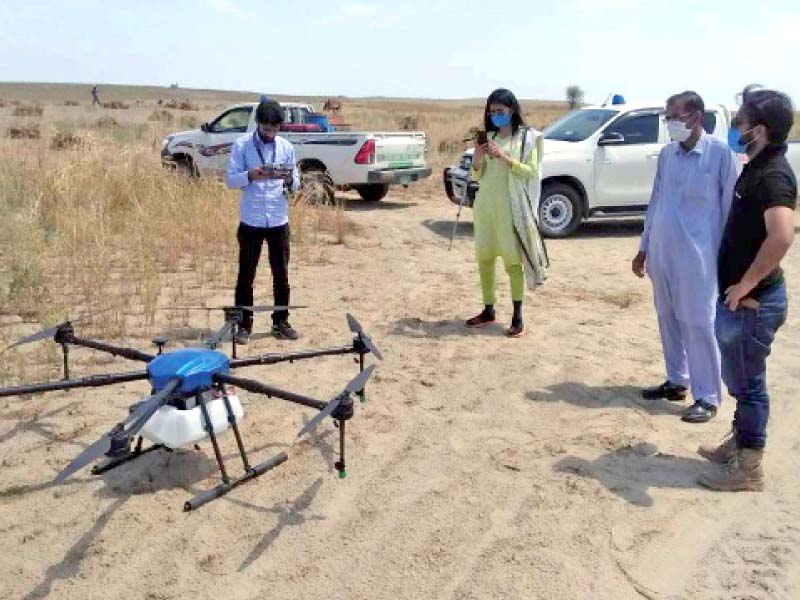 ---
NOORPUR THAL:

As millions of locusts have started devouring crops and greenery in Noorpur Thal tehsil, the local administration has come up with a strategy of digging deep pits to lay bare moistened land to attract the insects.

"We have dug 50-foot-deep pits around farmlands to eradicate locusts. As soon as the locusts gather inside the bait pit, we spray chemicals on them to eliminate them in huge numbers," Agriculture Deputy Director Dr Muhammad Sibtain said.

Assistant Commissioner Muhammad Saif told The Express Tribune that the strategy of day and night spraying over pits has so far eliminated nearly 30% of the swarms.

He said the authorities had brought a drone for spraying as usual spray which was being carried out for the past two months but had failed to eradicate the locusts.

"A drone has been procured to kill the locusts, particularly those resting on the trees."

The hired drone has four tanks of spray with a capacity of storing 50-60 litres per flight, official sources said.

The pests have reportedly spread over thousands of acres of land in Jatoiwala, Shah Hussain, Boranewala, Jamali Balochan, Daduwala, Khatwan, Katimar and Shahwala areas.

"It is a nightmare for local farmers, administration and people. We cannot step in the affected areas," a local resident complained.

In Noorpur tehsil, the locusts have even settled in the cemeteries. Local people are now afraid of visiting the graves of their loved ones.

Two months ago, sprays during day and night were carried out to eradicate the locusts in Thal. During the same time, locusts laid their eggs over thousands of acres of land, from which millions of nymphs hatched and swarmed in to devour crops.

In order to overcome the crisis, the district administration and agriculture department have recruited spray masters on daily wages to eliminate the pests.

A dozen spray masters are currently active in a quest to kill the insects. Each person is paid Rs800 per day and the extermination drive has been ongoing for a week. The administration has planned to recruit more individuals to help them eliminate locusts.

Moreover, the assistant commissioner has asked the cultivators to reap their crops as soon as possible, adding that the administration will not be responsible for any loss afterwards.

Published in The Express Tribune, May 1st, 2020.
COMMENTS
Comments are moderated and generally will be posted if they are on-topic and not abusive.
For more information, please see our Comments FAQ