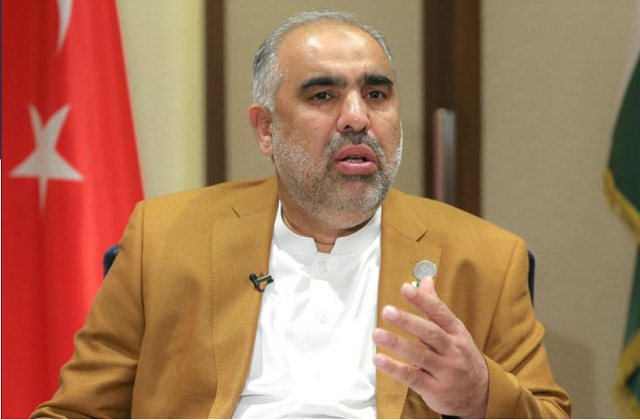 ---
National Assembly Speaker Asad Qaiser tests coronavirus positive
NA speaker's son and daughter were also diagnosed with Covid-19, confirms Qaiser's brother
---
SWABI: National Assembly Speaker Asad Qaiser tested positive for the novel coronavirus and went into self-isolation, he confirmed in a tweet from his official handle on Thursday.

"I tested positive for coronavirus and quarantined myself in my house. I urge the entire nation to take preventive measures," he wrote on Twitter soon after he received his test report from the National Institute of Health (NIH) in Islamabad.

Sindh Governor Imran Ismail falls prey to coronavirus

Abdul Wahid, brother of Asad Qaiser, confirmed to The Express Tribune that the NA speaker's son and daughter were also tested positive for the contagious disease and have been quarantined.

Earlier, Qaiser's brother-in-law and sister were diagnosed with the respiratory disease caused by the global pandemic.

He has joined the list of politicians who have contracted the deadly disease that has so far infected more than 16,500 people and claimed 358 lives across the country.

Just three days ago, Governor Sindh Imran Ismail had tested positive for Covid-19 but vowed to fight the highly contagious disease.

PPP MPA in Thar contracts coronavirus

"I believe this is nothing against what we [are] prepared for," the governor wrote on his official Twitter handle.

On Wednesday, a Tharparkar-based MPA of the Pakistan Peoples Party (PPP), Rana Hameer Singh, had contracted the virus.

The lawmaker reportedly met and spent time with Jamaat-e-Islami (JI) MPA Abdul Rasheed, who has also contracted the virus, during the latter's visit to inaugurate an intensive care unit at an Al-Khidmat Foundation health facility in Tharparkar over a week ago.

Later, it was revealed that the family of Abdul Rasheed had also contracted Covid-19.

On March 23, Sindh Education and Labour Minister and prominent PPP leader Saeed Ghani was diagnosed with coronavirus.

However, after spending a few days in quarantine, Ghani recovered from the disease.

On April 21, Prime Minister Imran Khan was tested after Edhi Foundation Chairman Faisal Edhi, who met him a few days ago, was diagnosed positive for the respiratory illness.

Fortunately, the premier was reported negative a day after the test.

The earlier version of the story stated that the NA speaker hosted an Iftar-dinner party at his residence on Monday in violation of the government's policy of social distancing with a picture.

According to the spokesman of National Assembly Secretariat, the photograph used in the story is of a dinner hosted by Speaker Qaiser in honour of Imam-e-Kaaba during his visit to Pakistan in 2019. The error is regretted.